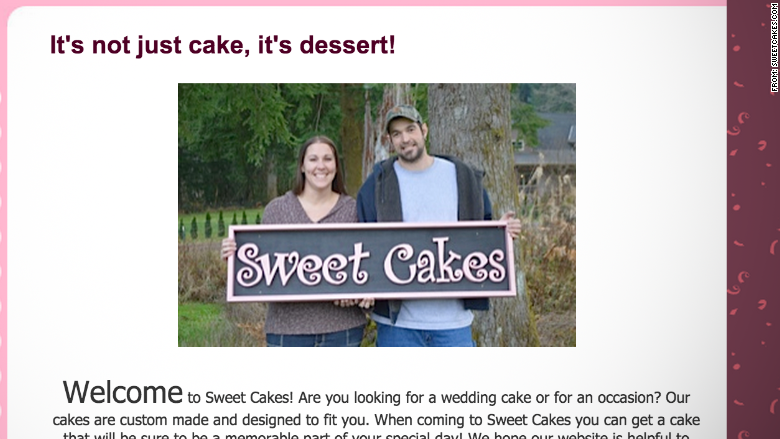 Refusing to bake a wedding cake for a lesbian couple has cost an Oregon bakery big bucks.
Sweet Cakes by Melissa shuttered its doors after a 2013 incident when the bakery's owners refused to bake a cake for a same-sex wedding, citing their religious beliefs. The lesbian couple responded by filing a civil complaint. On Friday, a judge recommended that the bakery be fined $135,000 in emotional damages to the couple they turned away.
A GoFundMe page was quickly set up for the bakery, which is owned by Melissa Klein and her husband. The couple now runs the bakery out of their home.
The bakery wrote on its Facebook page that the amount owed would financially ruin the Klein family, and that the money was not going to come from the business, but "would have to be paid from money that should be going to pay for food and housing for us and our five children."
Related: Crowdfunding helps Ferguson bakery rebuild
The campaign raised a little over $100,000 before it was taken off the site the next day.
The bakery wrote on its Facebook page, "Satan's really at work but I know our God has a plan and wins in the end!" It also said GoFundMe would give the bakery the funds already raised.
In a statement to CNNMoney GoFundMe said, "The campaign entitled 'Sweet Cakes by Melissa' involves formal charges. As such, our team has determined that it was in violation of GoFundMe's terms and conditions."
Related: 'We're crowdfunding our wedding'
A new fundraising page has been set up on the Samaritan's Purse website, which is a nonprofit Christian organization. It is not clear how much the bakery has raised from that page.
An email to the Kleins was not immediately returned, but an automatically-generated response offered details on how to donate, and also said, "We feel all Americans should be able to live by their faith at home and in the work place and not fear being punished for it by the government. God bless."
The final decision about how much the Kleins have to pay will be made by Oregon State Commissioner Brad Avakian. He is expected to review the case later this year, and could raise the amount owed.