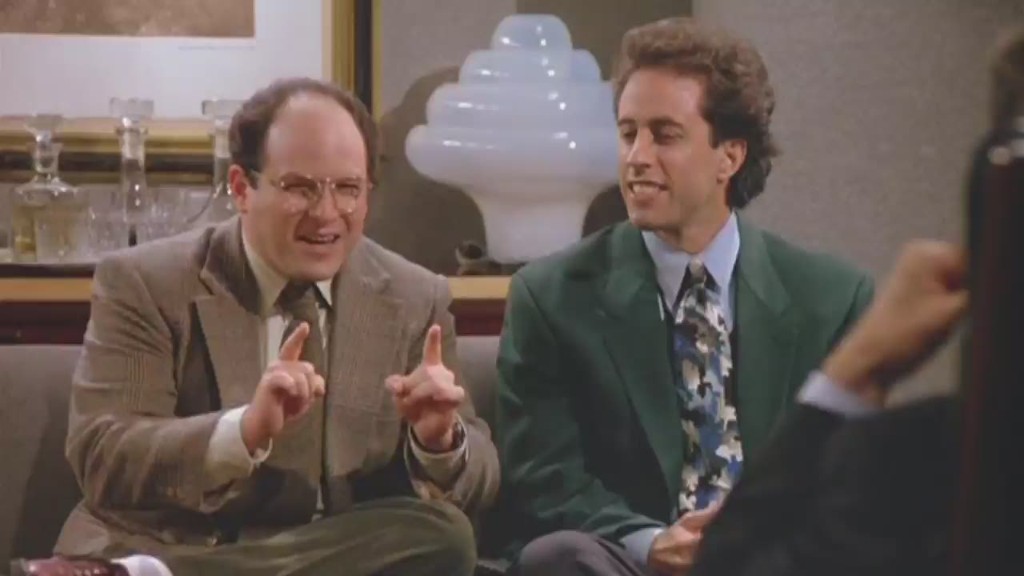 Jerry, George, Elaine, and Kramer are coming to Hulu.
The subscription-video-on-demand service announced Wednesday that it has agreed to a deal with Sony Pictures Television to bring every episode of "Seinfeld" to the service for the first time.
Hulu, which will start streaming "Seinfeld" in June, said it will be showing the original, and not syndicated, version of the series' episodes.
The 1990's NBC comedy is one of the most well known-brands in TV history, and was being pursued by many digital services for streaming over the last few years. Amazon and Yahoo had also sought the streaming rights, according to a report in the Wall Street Journal last month.
The announcement came at Hulu's Upfront presentation in New York on Wednesday.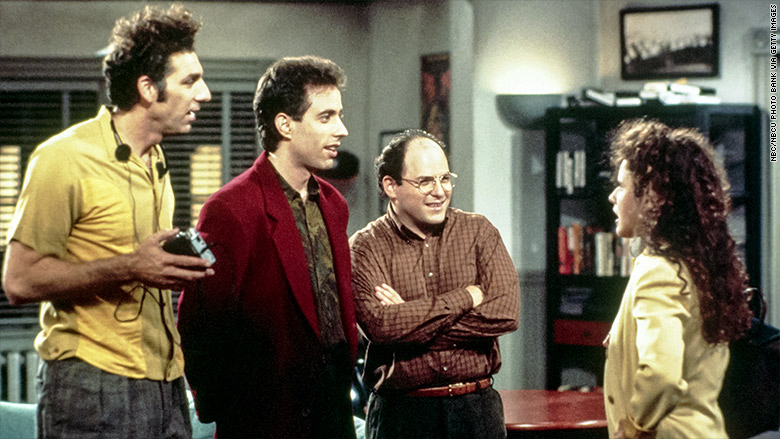 Series star Jerry Seinfeld made an appearance to announce the deal.
"You can watch the show whenever you want... I mean you could just put the DVD in, but I guess no one wanted to do that," Seinfeld said to a laughing audience.
During a Q&A session, an audience member asked Seinfeld what the show would be like today.
"Annoying," Seinfeld quipped. "What reason would Kramer have to come over? He would just text me... there goes the show."
"Seinfeld" isn't the first NBC comedy from the 1990's to make the jump online.
"Friends" joined the SVOD landscape premiering on Netflix on January 1.
Related: Netflix to stream every episode of "Friends"
Hulu presented some other deals and stats at its Upfront, an annual presentation that allows companies to buy ad time months in advance.
Hulu announced that it's now the exclusive SVOD home of new and upcoming AMC scripted drama and comedy series including the highly anticipated "Walking Dead" companion series "Fear The Walking Dead."
"AMC Networks has an incredible reputation and track record in producing captivating storytelling across a variety of genres for true connoisseurs of television," Hulu's CEO, Mike Hopkins said in a statement.
The Upfront also included special guests like J.J. Abrams and James Franco, who will be producing and starring in Hulu's upcoming nine hour event series based on the Stephen King book, "11/22/63."
Hopkins also reported that 700 million hours of Hulu were streamed in the first quarter of 2015, and that 61% of users no longer watch the service on their computer.
The web video company also made news prior to the Upfronts when on Tuesday it announced that cable operator, Cablevision, would offer Hulu to its customers.