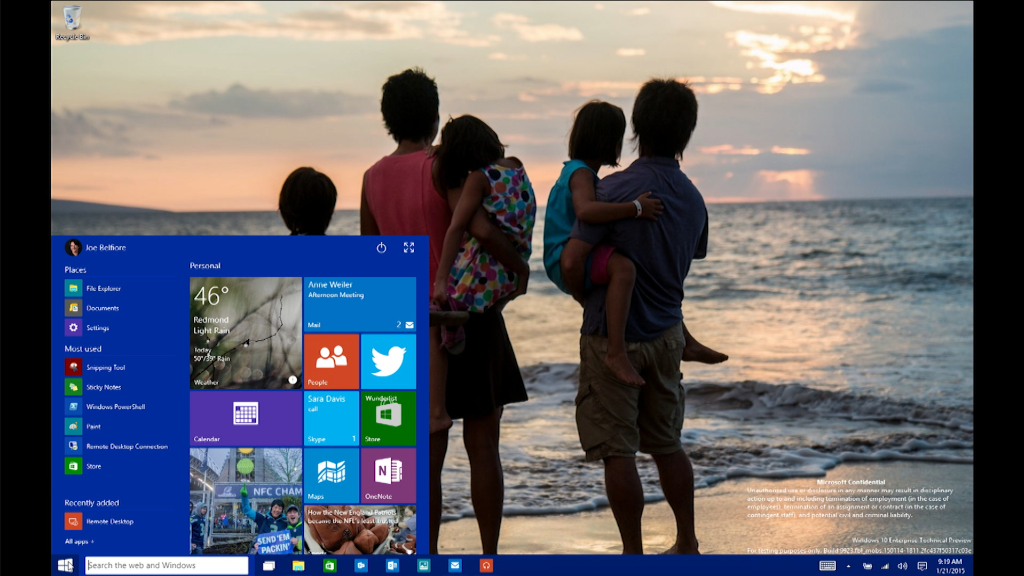 Microsoft's new browser will be called "Microsoft Edge."
At its Build developers conference in San Francisco, Microsoft (MSFT) said Wednesday the browser will replace Internet Explorer when Windows 10 debuts later this year. It was previously known as "Project Spartan."
Edge will use an "e" icon similar to the one Internet Explorer has used since 1996. Microsoft operating systems chief Joe Belfiore noted that the "e" icon "now has a completely different and better meaning than it has for a while."
Unlike Internet Explorer, Edge will support modern browser functions, such as extensions. Microsoft showed off Edge extensions for the first time Wednesday, so it's definitely starting way behind rival browsers Chrome and Firefox.
But Belfiore claimed that it would be extremely easy to build apps and extensions -- an app on Chrome could easily work on Edge with "virtually no work" and just a few tweaks.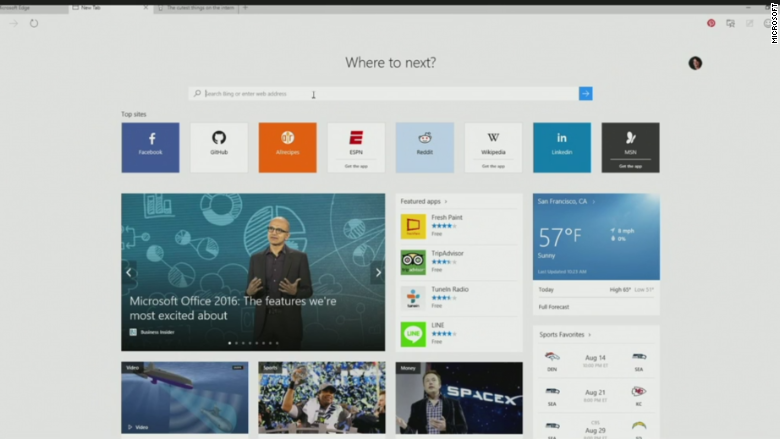 Windows for everyone, running everything. Microsoft also made several other Windows 10 announcements on Wednesday, including its grand ambitions for its new operating system.
Microsoft is seriously committed to getting Windows into the hands of everyone. It had already announced that Windows 10 will be a free upgrade to anyone using Windows 7 or 8. By 2018, Microsoft said its goal is to have 1 billion people using Windows 10.
That would make it by far the most used version of any operating system in existence. Right now, 500 million people are using Android KitKat -- currently the OS version with the highest user base in the world.
To get more people using Windows, Microsoft opened the door wide to developers to bring their apps to the operating system. Soon, you'll be able to run Google (GOOGL) and Apple (AAPL) apps on your Windows Phone or PC.
Well, kinda. Windows 10 is going to run an Android subsystem that allows app makers to bring Android apps to Windows with a few tiny tweaks. Similarly, Windows will support the same code iPhone uses for its apps, putting iOS apps in the Windows Store with little extra effort. That's how King (KING) brought Candy Crush to Windows, Microsoft said.
The Windows Store will also support "Win32" apps, letting companies like Adobe post their apps in the store, instead of requiring customers to navigate to a sea of websites to download them. Adobe, for example, will be able to put Photoshop in the Windows Store when Windows 10 debuts.
"Windows 10 represents a new generation of Windows built on an era of more personal computing, where the mobility of the experience is what matters -- not the mobility of the device," said Satya Nadella, Microsoft's CEO, at the event. "We want people to go from meeting Windows to choosing Windows to loving Windows."