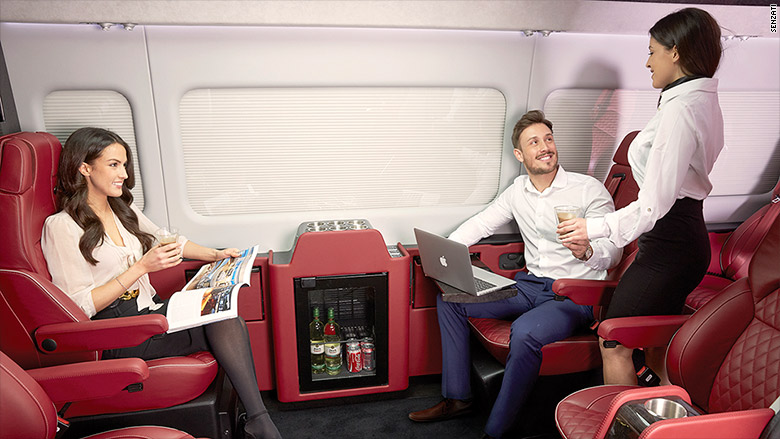 Special doors for the butler. Custom bathrooms. Multiple TV screens.
It's time to drop your preconceived ideas about Mom-friendly minivans. The ultra-rich are paying big bucks to get vans overhauled for high-end road tripping.
German firms like Klassen and Brabus have been operating in the market for years. But a new British entrant, Senzati, recently got into it after sensing increased demand for bespoke vehicles.
"It's like building a super-yacht. Whatever you want, you can have," said Senzati founder Dave Clarke, who focuses on customizing Mercedes-Benz and Volkswagen (VLKPY) vans.
Within three months of formally launching his small firm in February, Clarke said he shipped five customized luxury vans to customers in Malaysia, Indonesia and the U.K. His client list already includes royalty and heads of state.
Senzati plans to ship 12 vans in 2015, but expects deliveries will quadruple over the next two years.
Related: 7 quirky luxury products for the super rich
Clarke said his vans have some distinctive features, including a "hostess" door. The electric door option allows a hostess or butler to move between a vehicle's driver compartment and the passenger area, much like an airline hostess on a private jet. When passengers want service, the hostess can pop in. When they want privacy, the door zips shut and the hostess is out of sight.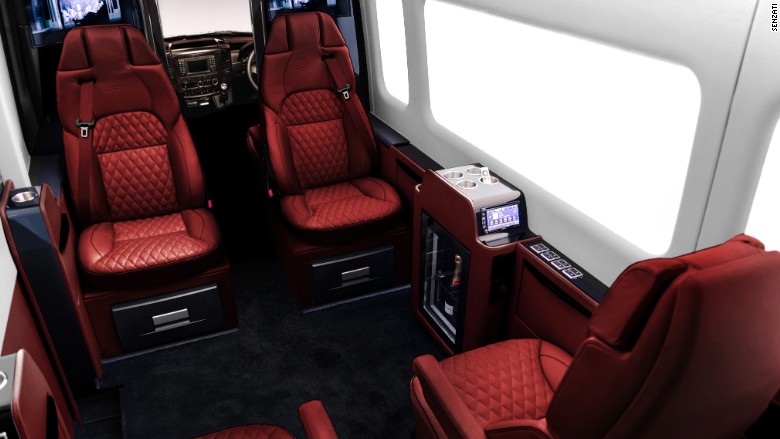 Senzati also prides itself on slicing up and reconfiguring its van doors and seating to ensure passengers don't have to climb over one another to get to their seats. Clarke said it makes the traveling experience more dignified -- a big selling point.
These vans, which frequently include multiple TV screens and custom bathrooms, start at £209,000 ($322,500).
Related: Audi is making diesel out of water and air
Larger rival firm Klassen, which crafts about 60 to 70 high-end vans a year, offers some slightly more affordable options starting around $170,000. But prices can go well over $3 million, depending on a client's demands.
Klassen spokesperson Jana Baum said one client from Qatar paid €3 million ($3.3 million) to completely redesign the interior of a bus so it would look and feel like his apartment.
Baum said the company has many Russian customers, but is experiencing growing demand from Qatar, the United Arab Emirates and Switzerland.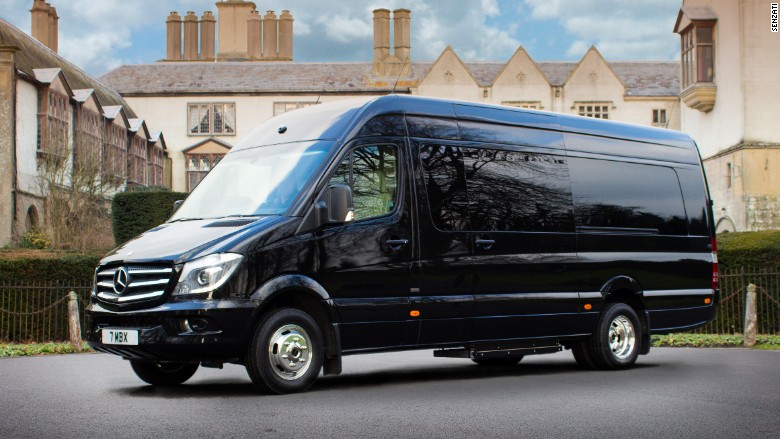 Competitor Brabus -- which ships roughly 25 custom vans a year -- has seen this niche segment grow by about 10% annually, according to company spokesperson Sven Dramm.
Like Klassen, Brabus sells a large portion of its vans to Russians. And even the struggling Russian economy hasn't hurt sales, which have doubled over the past four years.
"The [weak] ruble is not very good for our business, but in the end [our clients] still have the money and can afford them," said Dramm.
Demand from China has also been growing, he said.
Generally, most customers are businessmen who want offices on wheels that let them work while traveling.
But, apparently, it's not just about work. Many entourages include kids.
"Everybody wants a Playstation," said Baum from Klassen.