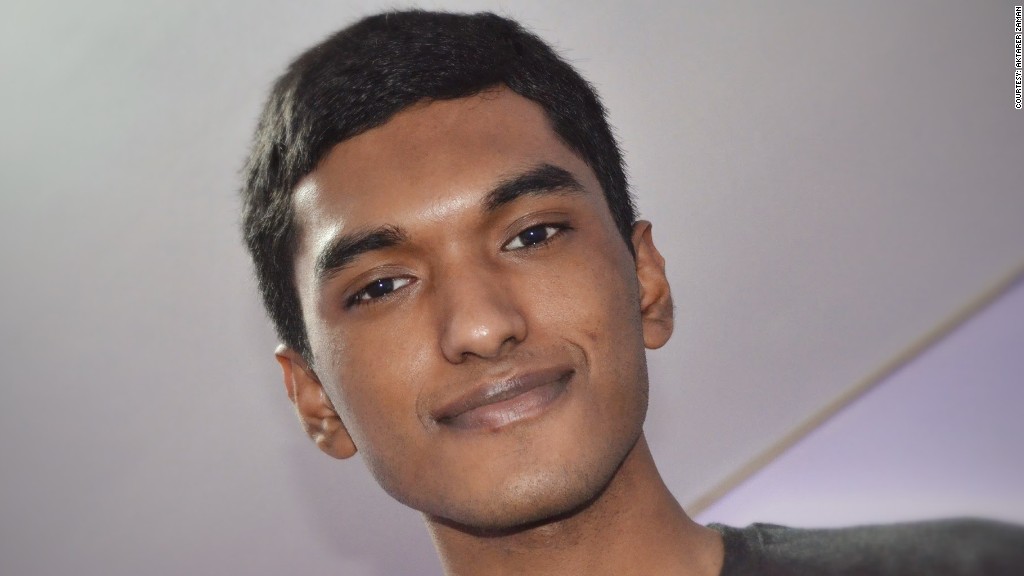 A Chicago judge dismissed a lawsuit filed by United Airlines against a 22-year-old.
United Airlines (UAL) and Orbitz (OWW) had filed a civil lawsuit in November against Aktarer Zaman, a young computer whiz from New York City, who launched a website called Skiplagged.com to help people buy cheap plane tickets.
Chicago Judge John Robert Blakey of the Northern District Court of Illinois said the court didn't have jurisdiction over the case because Zaman didn't live or do business in that city.
The dismissal "is definitely a victory," Zaman told CNNMoney. "It is pretty amazing...the court just shut them off."
Related: Why is United Airlines suing a 22-year-old?
Zaman's Skiplagged.com uses a little-known secret among frequent fliers to help people find cheaper plane tickets.
The basic idea behind Skiplagged is that it takes advantage of something called "hidden city" fares, where it might be cheaper to book a flight with a connection, and then never actually take the second leg of the trip.
For example, if you want to fly from New York to Chicago, it might be cheaper to book a flight from New York to San Francisco with a layover in Chicago, but never go to San Francisco. Hidden-city travelers can't check bags (they would go to San Francisco), and you can only book a one-way ticket.
The site is wildly popular. Last month the site had over 1 million visitors.
Related: Airlines saved $3.4 billion. You saved 66 cents
United and Orbitz sued Zaman for "unfair competition" and "deceptive behavior," alleging that the site promoted "strictly prohibited" travel. They wanted to recoup $75,000 in lost revenue from Zaman.
Orbitz and Zaman settled their portion of the lawsuit in February, but United kept fighting.
On Friday, United spokeswoman Christen David said "the decision was a ruling on procedural grounds and not on the merits of the case."
The spokesperson did not comment on whether United would continue to pursue legal action.
"We remain troubled that Mr. Zaman continues to openly encourage customers to violate our contract of carriage by purchasing hidden-city tickets," she said.
Related: Game is not over in United Airlines vs. 22-year-old
After CNNMoney profiled Zaman in December, he left his job at a computer software company in New York -- which he declined to name -- and committed all his time to Skiplagged.
Since he makes no money from the website yet, Zaman raised $79,000 on a crowdfunding site to help pay for lawyers to defend him. Zaman supports himself through savings and loans, but says he might turn to investors once the legal dispute is done for good.
Despite the case's dismissal in Chicago, Zaman says he anticipates the airline to come back with another lawsuit in another jurisdiction.
"The cynic in me says this is an uphill battle," says Zaman. "I'm not going to let my guard down."