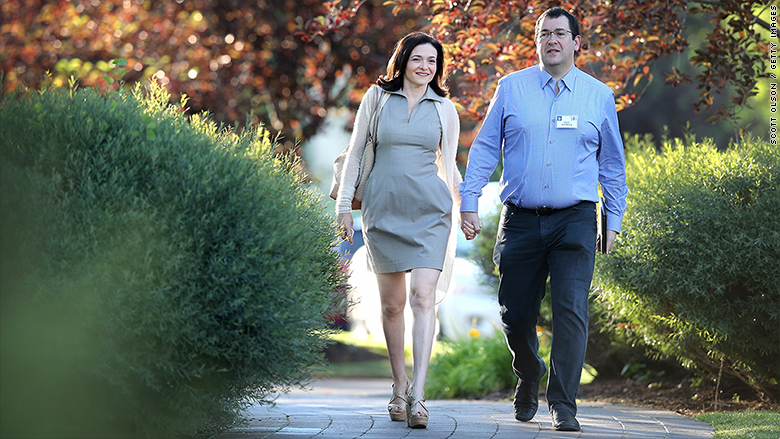 Silicon Valley entrepreneur Dave Goldberg, the husband of Sheryl Sandberg and CEO of SurveyMonkey, died suddenly on Friday.
"We are heartbroken by this news," a Facebook (FB) spokesperson said in an email to CNNMoney on Saturday.
Facebook CEO Mark Zuckerberg, in a Facebook post, said Goldberg died Friday evening while the couple was on vacation abroad. The cause of death was not immediately known.
Sandberg, one of the most prominent women executives in tech, flew back to the U.S. on Saturday morning, according to the post.
"Sheryl is a very strong person and knows we're all thinking of her," Zuckerberg wrote. "She is requesting privacy for now and will update us when she's ready."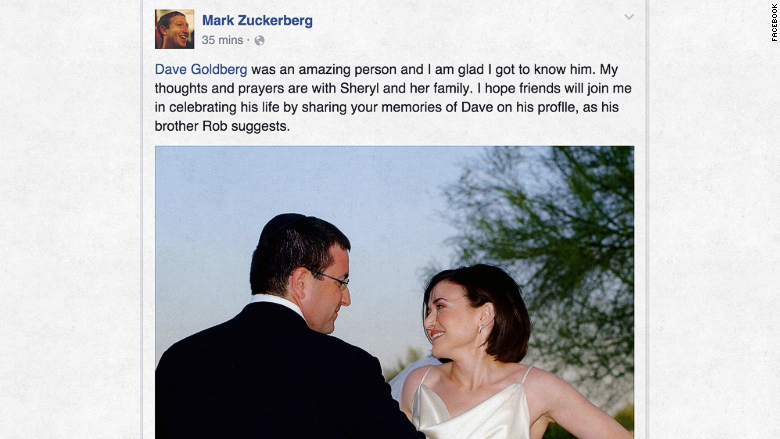 Goldberg, 47, joined SurveyMonkey in 2009. He had earlier founded online music startup Launch Media, which was acquired by Yahoo in 2001.
"Dave's genius, courage and leadership were overshadowed only by his compassion, friendship and heart," SurveyMonkey said in a statement. "We are all heartbroken.
Goldberg and Sandberg, who have two young children, married in 2004. At the time, Goldberg was vice president of Yahoo Music and Sandberg was a VP at Google, where she worked from 2001 to 2008.
Sandberg, who joined Facebook as chief operating officer in 2009, is the author of the best-selling book "Lean In." She has since become an advocate for equality between women and men -- on the job and at home -- through her organization LeanIn.org and op/eds and public appearances.
Sandberg has been very vocal about the importance of her marriage. In her book, she wrote about how a "lack of spousal support" can hurt a woman's career. "My career and marriage are inextricably intertwined," she wrote, calling Goldberg "a true partner."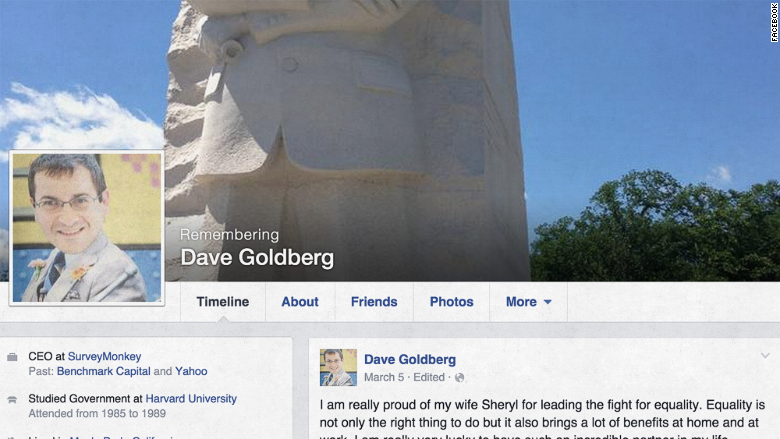 News of Goldberg's death drew a swift outpouring of statements from around the tech world Saturday.
Dick Costolo, the chief executive of Twitter, wrote: "Heartbreaking. One of the truly great people on the planet, Dave was of almost unimaginably remarkable character."
Goldberg's brother, Robert, set up a memorial page on Facebook, which quickly filled up with condolences.
"We mourn his passing and remember what an amazing husband, father, brother, son and friend he was," Robert Goldberg wrote. "No words can express the depth of loss we feel, but we want his children to learn how much he meant to all of you."
--CNN's Emanuella Grinberg contributed to this report.