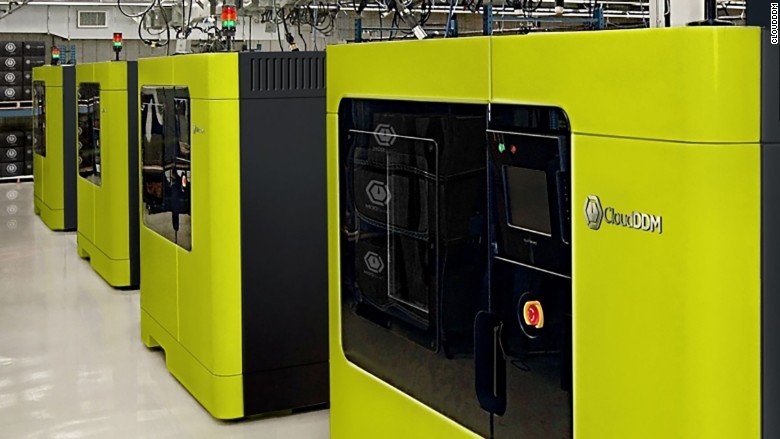 3D printing still a novelty? One startup wants to bring the tech phenomenon into large-scale manufacturing.
On Monday, CloudDDM unveiled a 3D printing factory embedded in the heart of UPS' worldwide hub in Louisville, Ky.
The first-of-its kind, fully-automated facility will be able to use the tie-in to UPS to ship its products quickly.
"We'll have 100 high-tech 3D printers running 24 hours, 7 days a week," said CloudDDM's founder Mitch Free. And it'll need just three employees: one for each of the eight-hour shifts. (UPS will handle all of the packaging and shipping logistics.)
Related: Martha Stewart: I love 3-D printers
CloudDDM uses 3D printers to make prototypes and product parts for corporate customers. Customers submit their orders online by uploading a 3D file; software immediately estimates the price. Orders start printing once a customer enter his or her credit card info.
"We are turning around orders that typically take a week to complete, in 24 hours," Free said, adding that orders can range from one to 1,000 pieces.
The fact that the factory can process hundreds of units at a time will cut costs for customers by at least 50% compared to traditional manufacturing, he said.
Free, an entrepreneur and manufacturing expert, got the idea for CloudDDM (which stands for direct digital manufacturing) a year ago when he noticed growing demand for prototypes parts.
When Free started looking for a strategic partner, UPS (UPS) came to mind.
"The speed factor is critical for product designers," said Free, who invested over $1 million in the facility. "Any package sent anywhere in the world with UPS goes through [its] worldwide hub. So why not locate the factory there?"
Related: Women take on manufacturing
New York-based Humanscale, a maker of ergonomic office furniture and tools, is one of 10 companies that have been testing Cloud DDM's services.
It started using CloudDDM eight weeks ago. Humanscale's in-house design lab has a small-scale 3D printer, but frequently uses outside vendors for larger orders, said Peter Kreider, the firm's prototype manager.
"We use 3D printing in prototyping virtually all of our new product developments," said Kreider. That means quick a turnaround is vital to get new designs finalized and manufactured.
Free has a roster of customers queued up, including Flextronics (FLEX), luxury watchmaker Devon Works and Stratos Aircraft.
As business picks up, he expects to expand the Louisville operation to as many as 1,000 3D printers. Beyond that, he has global ambitions.
"We are already exploring replicating our capabilities in Asia and Europe," said Free.