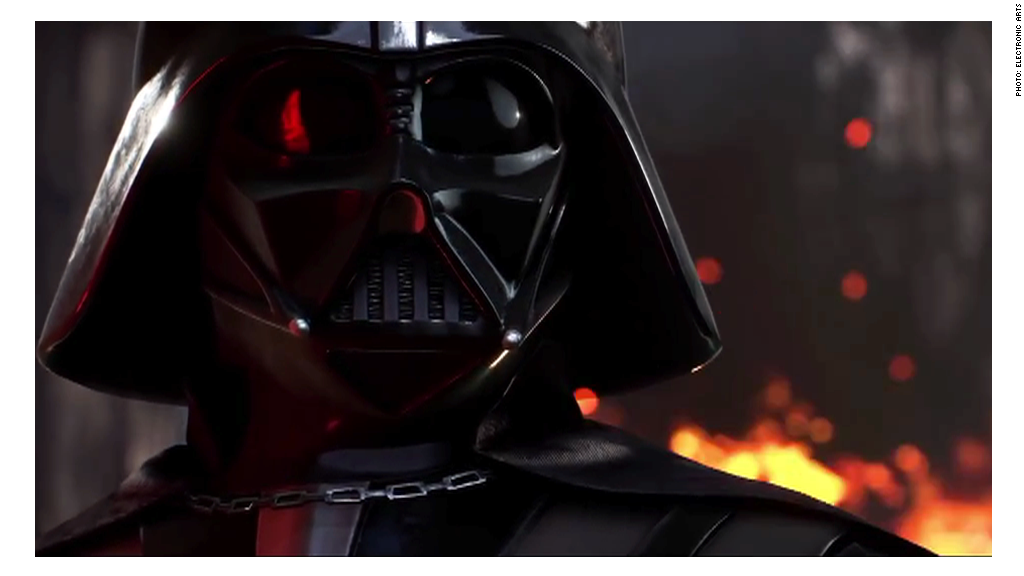 Disney's stock has gone into hyperspace this year thanks to excitement about the upcoming Star Wars movie. But it's not the only stock getting a lift from the Force.
Video game maker EA (EA), which is releasing "Star Wars: Battlefront" in November, is up more than 25% so far in 2015. And shares more than doubled last year.
EA released its latest quarterly earnings after the closing bell Tuesday. Sales and earnings beat forecasts. The stock popped 4% in after hours trading.
But that's not the whole story. To quote Yoda: "It is the future you see." And Wall Street likes it.
Related: Disney kicks off blockbuster summer with big earnings
For the next fiscal year, analysts think earnings will rise more than 10%. Those estimates could go up since EA raised its earnings outlook on Tuesday.
Analysts are also forecasting annual profit growth of 15%, on average, for the next few years.
There is a lot of hype about "Battlefront," especially since it is coming out just a month before "The Force Awakens" -- the seventh (or VIIth) episode in the Star Wars saga -- hits theaters.
Fans went nuts when a trailer for the game was shown at last year's big E3 video game conference.
Another trailer was shown at this April's Star Wars Celebration -- the same event that caused Twitter to implode when Han Solo uttered, "Chewie: We're home." in the latest preview for "The Force Awakens."
Related: Fans can't wait for the new Star Wars game
Disney CEO Bob Iger even touted the game during the House of Mouse's earnings conference call Tuesday.
Adding to the excitement? "Battlefront" features Jakku, the desert planet that is apparently an important location in the new movie. And yes. It's Jakku. Not Tatooine from the original trilogy. Okay. Geek rant over.
Back in this galaxy, EA has also found success with its many sports games. Madden NFL. FIFA. PGA Golf. NBA Live. NHL.
These are annuities for EA. Gamers are willing to shell out more money to upgrade to the latest titles thanks to new players and updated features. I was playing NHL on Sega Genesis in the early 90s!
Related: EA is one of the top stocks in CNNMoney's Tech30 index
EA is also in the process of making the shift to the mobile world. With more people playing games on their phones and tablets, EA can't rely solely on making games for the big consoles: Microsoft's (MSFT) Xbox and Sony's (SNE) PlayStation.
Digital revenue -- which includes mobile -- was up 25% in its most recent quarter. That followed a more than 30% jump in the last quarter.
The one knock on EA is that it might be a really risky stock given how much it has run up in the past year or so. Shares trade at 22 times earnings forecasts for this year.
That makes it more expensive than traditional gaming rivals Activision Blizzard (ATVI)and Take-Two (TTWO), as well as mobile game developer King Digital (KING) -- the company behind Candy Crush Saga.
Still, EA may deserve the premium because it has arguably the best portfolio of games in the industry. Sports and Star Wars have been a magical formula for Disney (DIS). It's working for EA too.