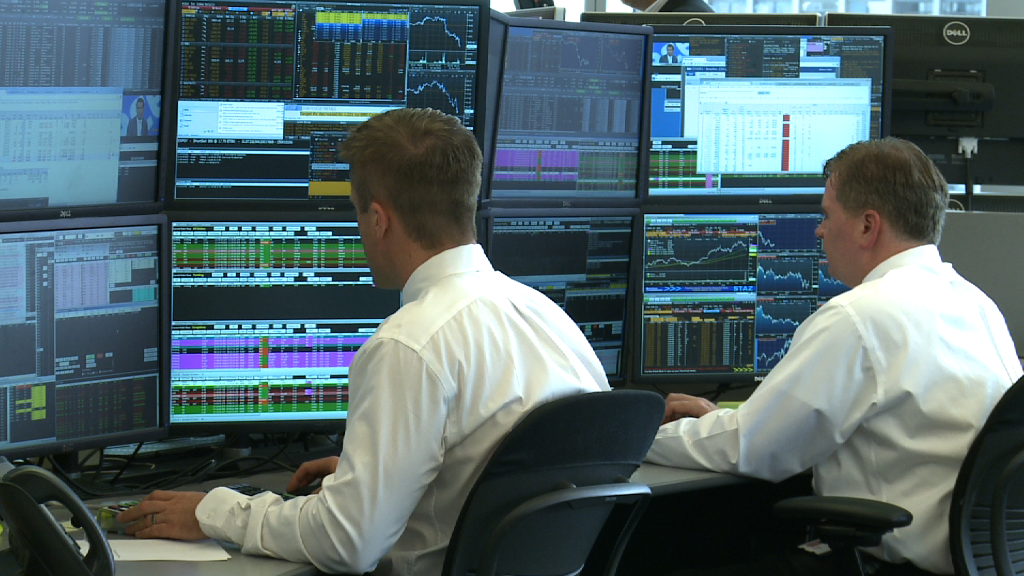 Hedge fund billionaires had a tough year in 2014.
Before you shed a tear for the poor masters of the universe, consider this: The top 25 hedge fund managers made a combined $11.6 billion last year, according to an annual ranking by Institutional Investor's Alpha.
While that's a vast sum of money, it pales in comparison with the $21.2 billion the top managers amassed in 2013.
Related: Will hedge fund fees come down to earth in 2015?
So what went wrong? These master investors didn't look so skillful last year.
Nearly half of the managers on the 25 highest paid list had at least one fund that underperformed the S&P 500. That means you would be better off putting your money in a basic index fund than with the highly paid hedge fund manager.
Poor performance explains why David Tepper, last year's top dog, plunged in the rankings. After three years in the top spot, Tepper fell to number 11 this time around. His Appaloosa Management hedge fund returned just 2.2% last year -- far below the S&P 500.
Related: Top reasons why workers quit their jobs
Another well-known name, John Paulson, actually lost money last year. After ranking third on the list last year, he doesn't even make it this time.
The new king of the hedge fund pack is Kenneth Griffin, founder of Chicago-based Citadel hedge fund. His strategy of investing in several different types of assets paid off in the firm's "multistrategy funds," which gained more than 18% last year.
Citadel made headlines recently for hiring former Federal Reserve chairman Ben Bernanke. Yet Griffin himself has been in the news lately for his high-profile divorce.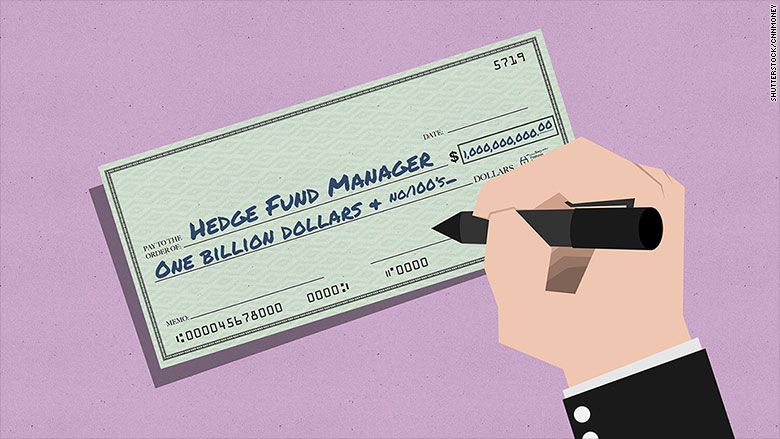 Related: This billionaire's wife wants $1 million a month after divorce
Hedge fund managers can still rake in hundreds of millions even if their performance isn't great because most have a fee structure where they get 2% of any assets under management. On top of that, there's a bonus-like fee if their funds outperform certain targets.
Related: What workers around the world really want
The fees that hedge funds charge have been under a lot of scrutiny, but top fund managers are still able to command the high prices.
Here are the top 10 earners on the list:
Kenneth Griffin, Citadel: $1.3 billion
James Simons, Renaissance Technologies: $1.2 billion
Raymond Dalio, Bridgewater Associates: $1.1 billion
William Ackman, Pershing Square Capital Management: $950 million
Israel (Izzy) Englander, Millennium Management: $900 million
Michael Platt, BlueCrest Capital Management: $800 million
Larry Robbins, Glenview Capital Management: $570 million
David Shaw, D.E. Shaw Group: $530 million
O. Andreas Halvorsen, Viking Global Investors: $450 million
Charles (Chase) Coleman III, Tiger Global Management: $425 million