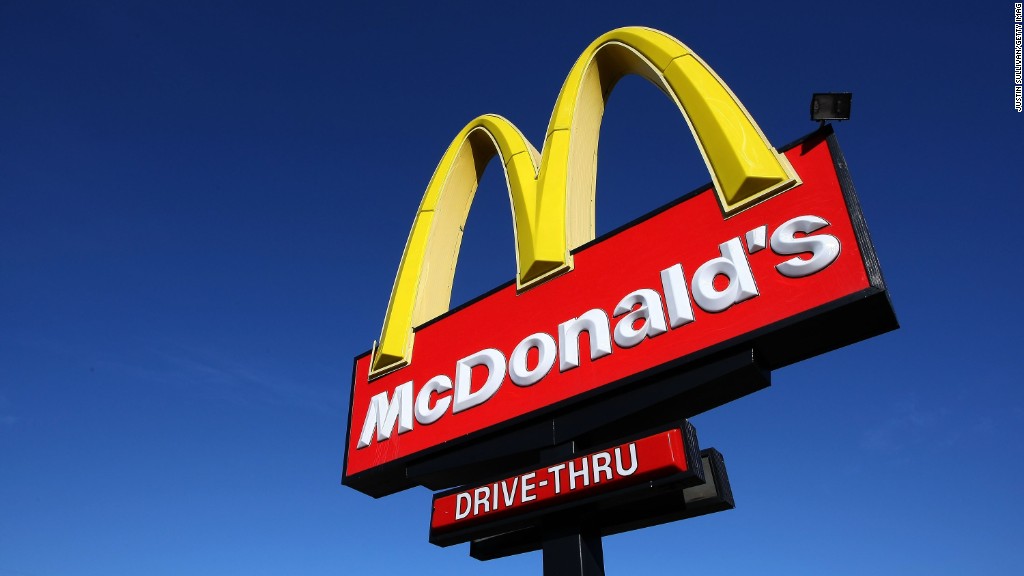 McDonald's has joined the list of companies facing scrutiny by European authorities for its tax affairs.
The European Commission is considering an investigation after campaigners claimed the fast food giant had dodged more than €1 billion ($1.12 billion) in taxes between 2009 and 2013 by diverting European revenues through a tiny subsidiary in Luxembourg.
U.K. anti-poverty campaign group War on Want joined forces with European and U.S. labor unions earlier this year to publish a report detailing the company's tax avoidance strategy.
"We are looking into ​the information gained by trade unions when it comes to McDonald's in order to assess if there is a case, or if we should open cases there," European Competition Commissioner Margrethe Vestager said.
Related: McDonald's CEO promises better food
The groups claimed that McDonald's (MCD) had reported taxes of just €16 million on €3.7 billion of revenue over five years, attributed to a Luxembourg-based entity that employed just 13 people.
European regulators began a probe last year into whether Amazon (AMZN) received illegal state aid from Luxembourg for over a decade, thanks to a preferential tax deal. A unit of Fiat (FCAU) is facing a similar investigation.
Related: McDonald's franchise owners not loving the wage increases
They're also pursuing cases against Apple (AAPL) and Starbucks (SBUX) over tax deals struck with the Irish and Dutch governments.
Verstager, Europe's top anti-trust official, has shown she's willing to take on powerful corporate interests. In just the last month, she's brought a case against Google (GOOG) over its search results, and unveiled plans to take on Russia's mighty Gazprom over gas pricing in Europe.
McDonald's didn't immediately respond to requests for comment.
-- CNN's Chris Liakos contributed to this article.