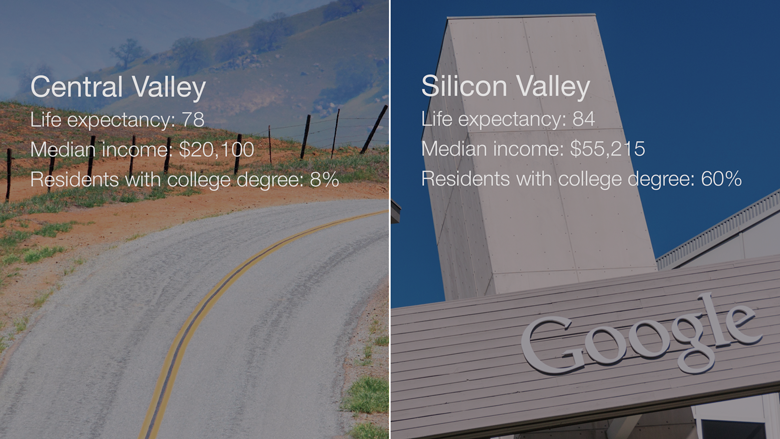 Only some California residents are finding it to be the Golden State.
Those who live in the tech Mecca of Silicon Valley enjoy the highest level of well-being in the nation. Residents live more than four years longer than the average American, earn nearly double the income and have nearly triple the number of graduate degrees, according to a recent report measuring opportunity in the nation's 435 congressional districts and Washington D.C.
Less than 100 miles away in the state's Central Valley, however, residents have the lowest level of well-being. In this agricultural hub, people live nearly a year less than the national average and an individual's earnings are roughly equal to the poverty line for a single parent with two children. Nearly four in ten fail to graduate from high school, far below the nation's norm.
As a result, California is the most unequal state in the nation when it comes to well-being, according to the report by Measure of America, which is a project of the Social Science Research Council.
Related: The American Dream is a myth, Nobel Prize winner says
The report provides a wider lens into inequality in America, said Kristen Lewis, co-director of Measure of America. Researchers examined life expectancy and median personal earnings to gauge health and standard of living, respectively. For access to education, they looked at school enrollment for those age 3 to 24 and at degree attainment for those 25 and up.
The three metrics indicate the chances Americans will be able to fulfill their potential and achieve whatever they define as happiness.
"It measures people's access to choices and opportunity," Lewis said.
What researchers found is that it really matters where you live. In Silicon Valley, life expectancy is 83.7 years and a typical resident earns $55,215 a year. Some 85.6% of younger residents are enrolled in school and 60% of those age 25 and older have at least a bachelor's degree. The area is also home to Stanford University and tech giants such as Google (GOOG), Netflix (NFLX) and Hewlett-Packard (HPQ), which offer lots of high paying jobs.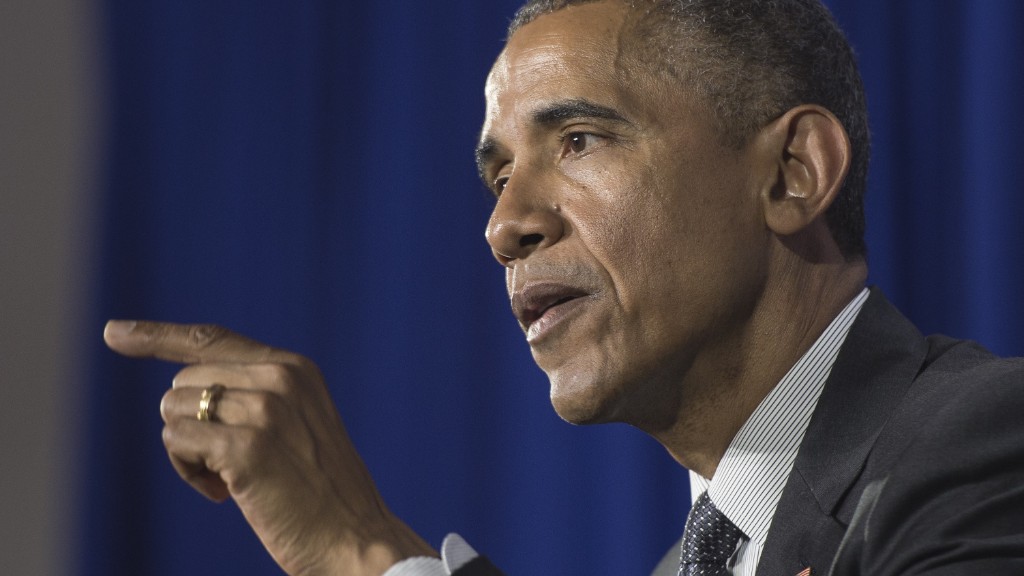 Related: It's expensive to be poor
Drive southeast and you hit the southern half of California's Central Valley, which has a large dairy industry and produces many types of crops, including oranges, raisins, almonds and cotton. Life expectancy is only 78.4 in this region and median income stands at just over $20,100. Only 73.5% of younger residents are in school and a scant 8.3% of older ones have at least a bachelor's degree.
Here are some of the other extremes found in California and around the U.S.:
Life Expectancy: San Jose, California, residents enjoy the longest lives, on average, at just under 84 years. That's longer than the average life span in Japan, the country with the oldest average life expectancy.
Those living in rural southeastern Kentucky, on the other hand, have a life expectancy similar to residents of Gaza and the West Bank, at 73 years.
Education: Residents of Los Angeles' beach communities, which include Santa Monica and Malibu, boast the highest high school graduation rate of 95.5%. Nationally, only 86.6% of folks have a high school diploma.
But in a nearby district that includes the largely Hispanic areas of East Los Angeles and some suburbs, nearly half of residents didn't finish high school. That's similar to what the nation's graduation rate was in the late 1960s.
Income: The tony Upper East Side of Manhattan claims the top spot for median personal earnings at nearly $61,000 a year, or twice what the typical American brings home.
At the other end of the spectrum is a multicultural district in and around downtown Los Angeles, where residents take home just $20,000 annually. That's comparable to the nation's typical personal income nearly 50 years ago.
Share your story. Are you living the American Dream?
Maps: America's Great Opportunity Divide