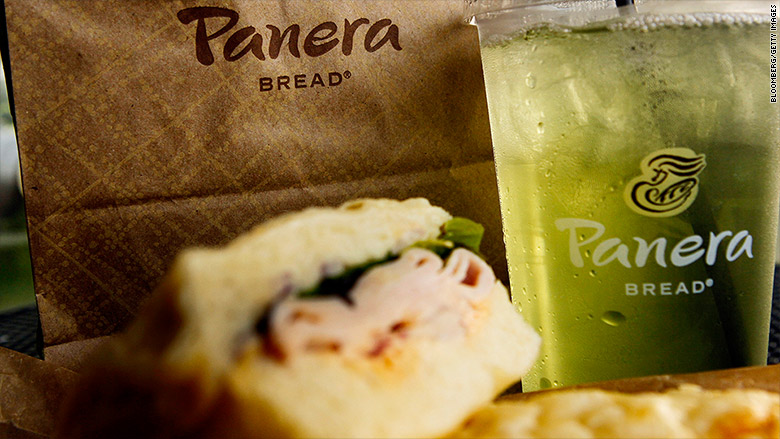 Good news: Panera Bread will no longer put Tert-Butyl-Hydroquinone in your sandwich.
The difficult-to-pronounce preservative is on a lengthy list of ingredients that the restaurant chain has promised to eliminate from its food by 2016.
Panera (PNRA) said it's the first national chain to publish a comprehensive list of artificial additives and preservatives that will be removed. The move affects 150 ingredients that the company uses.
"We are not scientists," said Panera founder and CEO Ron Shaich. "We are people who know and love food, and who believe that the journey to better food starts with simpler ingredients."
Panera is not the only restaurant company to hop on the healthy food bandwagon.
McDonald's (MCD) recently promised to stop using chickens treated with certain antibiotics. Chipotle Mexican Grill (CMG) has announced plans to cut all genetically-modified foods from its burritos and bowls. And Dunkin' Donuts (DNKN) has dropped titanium dioxide, an additive used in sunscreen and paints, from its powdered donuts.
The shift comes as consumers have become more aware of the unnatural ingredients used by the fast-food industry and are seeking healthy alternatives.
Related: Chipotle is now GMO-free
McDonald's, once the leading fast-food chain, has been struggling to revive sales as consumers' tastes have changed. It unveiled a turnaround plan Monday that includes better food made with higher-quality ingredients.
But the trend goes beyond fast food. Even some of the world's largest food companies have been making changes. Kraft (KRFT) is removing artificial preservatives and synthetic colors from its macaroni and cheese, famous for its bright yellow color. Nestle (NSRGF) is now making candy bars without artificial colors and flavors. Coke (KO)has removed a chemical used in flame retardant from its drinks.
Erik Olson, a health expert at the Natural Resources Defense Council, applauded Panera's decision to "eliminate a wide array of chemical additives from its foods."
"This is part of the company's quest to address consumer demands and potential health concerns," Olson said in a statement released by Panera.
Related: McDonald's CEO promises better food
Panera is doing away with common additives such as high fructose corn syrup and artificial trans fats. And it's also dropping artificial colors and flavors, including chemical compounds like azodicarbonamide, methyl cellulose and potassium bromate.
Panera, which has 1,900 restaurants in the United States and Canada, said it has already started eliminating some of the ingredients.
The company also said it would offer new "clean" salad dressings made without artificial flavors or colors.