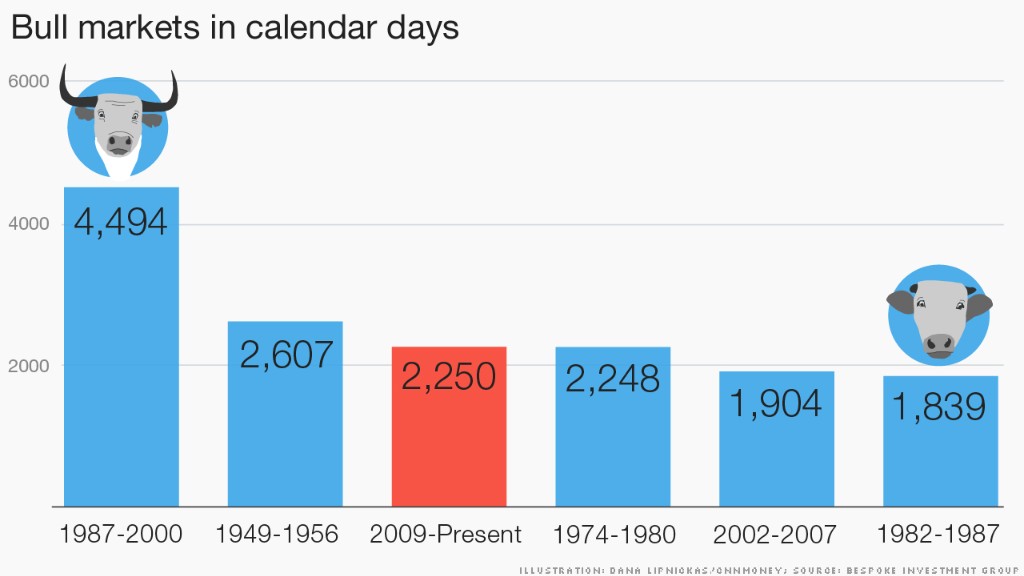 Looking for some good news? Check the stock market. Every day may not be positive, but the overall trend is up, up, up.
As of Wednesday, America's stock market has been on the upswing for 2,250 days. That means the rally that started in March of 2009 is now the third longest in U.S. history.
We're in the midst of a better run than the stock market surges in the 1970s and 1980s, according to an analysis by Bespoke Investment Management.
But there's still a long way to go for this bull market to become the best of all time. That prize belongs to the great stock marathon from December 1987 to March 2000. That lasted an incredible 4,494 days -- double the current bull market. It took the bursting of the tech bubble to bring it down.
Of course, what everyone wants to know is how long the good times will last.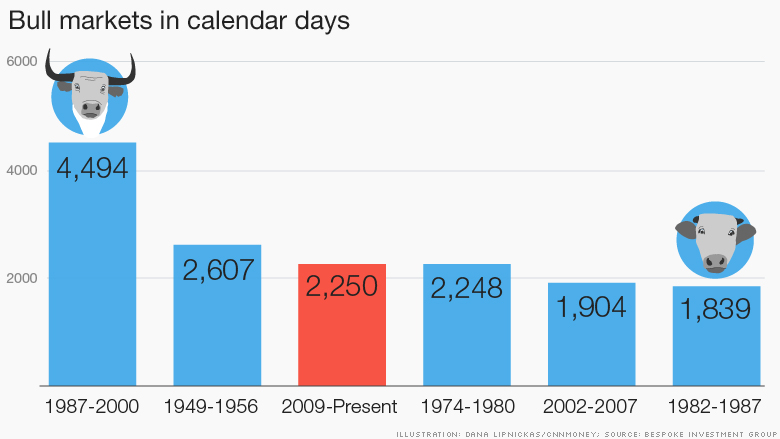 What is a bull market? Technically speaking, the bull market will end when there's a 20% or greater drop from the high point of the Dow, the S&P 500 or other major indexes. The current bull market has seen a few corrections -- when there's a 10% dip -- but nothing much bigger than that.
Even with a few lousy days for stocks lately, the S&P 500 is only off a mere 2% from its record high point at the end of April.
Related: How Warren Buffett's top 10 stocks are doing
What's next? As the bull market gets longer and longer, investors are getting jittery. Wednesday also marks the anniversary of the so-called "flash crash" when the Dow fell 600 points (just over 3%) in a matter of minutes, although that turned out to be a fluke caused by a rouge trader. There's talk that we're "overdue" for a correction and a bear market.
But remember this: Age is just a number for stocks.
"Business cycles don't die of old age," Morgan Stanley strategists wrote last year when the stock market wobbled in the fall. "Business cycles tend to die of overheating (excessive hubris and debt)."
The biggest risks to stocks right now are the Federal Reserve and major geopolitical events.
If the Fed raises interest rates too quickly, that could trigger a downturn. The bull market in 1980 ended after then Fed chairman Paul Volcker declared a war on inflation and hiked interest rates dramatically.
Related: America's capsizing economy: Can it right the ship?
Similarly, unforeseen geopolitical moves also bring surprises, especially if the U.S. or European governments take dramatic action such as getting involved in military conflicts or enacting major trade restrictions.
The other fear is when stocks are overvalued, such as during the tech bubble. There's a lot of debate about whether stocks are too pricey. On Wednesday, Fed chair Janet Yellen caused stocks to fall somewhat after she said equities valuations are "generally quite high," but she was quick to point out she doesn't see a bubble.
For now, most experts still think the bull market has room to run, albeit a bit more slowly than the big gains of recent years.
"We think that because of the significant downturn that we experienced in 2008 and 2009, this particular bull market could have a longer run than average," says Tracie McMillion, an asset allocation strategist for Wells Fargo.