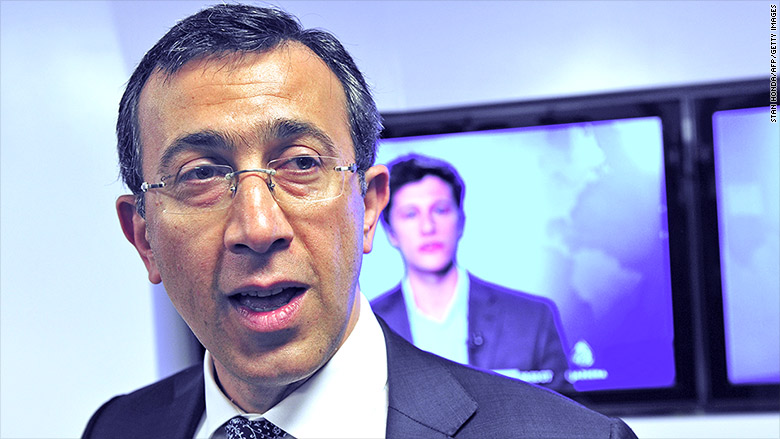 The embattled CEO of Al Jazeera America was pushed aside Wednesday, ending more than a week of public turmoil that included the resignations of three top female executives.
The announcement capped a turbulent week for Ehab Al Shihabi. His company was sued for $15 million, AJAM was cited for alleged sexism and anti-Semitism and Al Shihabi was blamed by one departing executive for presiding over a "culture of fear."
He was replaced by Al Anstey effective immediately, according to a release from the Qatar-based parent company Al Jazeera Media Network.
But Al Shihabi said he won't be going too far. An hour after Anstey's appointment was announced, Al Shihabi told AJAM staff in a terse email that he will remain at the channel as chief operating officer.
An employee described the mood in the newsroom on Wednesday as "quite celebratory, though tempered" by the news that Al Shihabi is staying on as COO.
The employee said Al Shihabi's time as COO would be short-lived and that he would soon leave the company.
An AJAM spokesperson did not immediately respond to a request for comment.
Related: Al Jazeera America loses another exec
Three top officials at the channel, all women, stepped down in the last week. One of those officials, Marcy McGinnis, ripped Al Shihabi in a front-page story in the New York Times on Wednesday.
"I didn't want to be there anymore because I didn't like the culture of fear," McGinnis told the Times. "People are afraid to lose their jobs if they cross Ehab."
When McGinnis was reached on Wednesday, she had not heard that Al Shihabi had been replaced.
"Oh my gosh," she said, upon learning the news.
Related: Al Jazeera America exec tells staff he will fight lawsuit
In an effort to contain the crisis, Al Shihabi told staffers at an all-hands meeting last week that the company would fight the lawsuit, which was brought by AJAM's former director of media and archive management Matthew Luke.
In an indication of the tension in the newsroom, Al Shihabi said to his staff, "I trust all of you. Well, I trust some of you."
Luke claims that Osman Mahmud, who serves as senior vice president for broadcast operations and technology at the channel, frequently pulled women off projects to which they had been assigned by other managers. Luke also asserts that Mahmud made disparaging remarks about Israel.
Anstey is taking on a difficult task. He will have to restore morale in the newsroom, but even before the company's problems went public, AJAM had been beset by anemic ratings, reaching a meager 30,000 viewers per night.
Anstey has been with Al Jazeera since 2005. He's been the managing director of the company's English language channel since 2010.
"I'm delighted to be leading Al Jazeera America into the next stage of development," he said in an internal memo announcing the shakeup. "The United States is a remarkable country, with amazing people across the nation who are looking for in-depth, trusted, and inspiring stories."