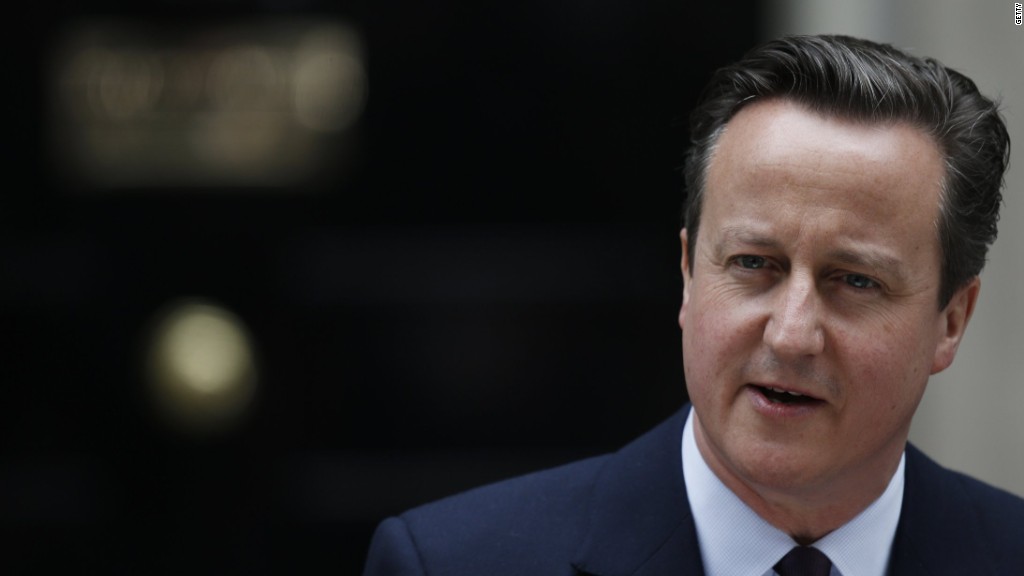 U.K. investors woke up Friday to a surprise election win for Prime Minister David Cameron, and cheered the result.
London's benchmark index, the FTSE 100, rallied by 2%. The FTSE 250, which tracks many mid-sized British companies, surged by about 3%.
The pound jumped 1% to $1.54 late Thursday after an exit poll predicted Cameron's Conservative Party would be able to remain in office. The currency built on those gains Friday as results made clear he would be able to govern without a coalition partner.
Britain's borrowing costs also fell as its government bonds got a boost.
"The [U.K. bond] market will clearly be reassured by the Conservatives' plans to eliminate the rest of the budget deficit," explained Vicky Redwood, chief U.K. economist at Capital Economics. Yields on 10-year bonds -- which move in the opposite direction to prices -- fell to just below 1.9%.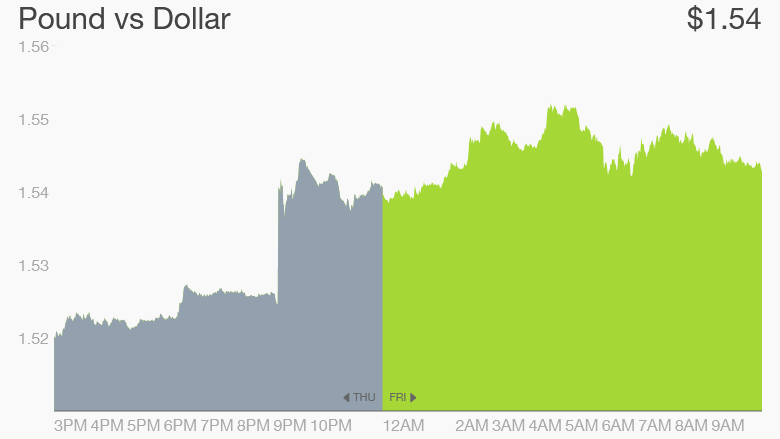 Related: Cameron defies polls with surprise election victory
An absolute majority for the Conservatives seemed unfathomable only 24 hours ago, based on pre-election polling. The surprise victory came as a relief to markets, which had feared days or weeks of uncertainty about who would run the world's fifth biggest economy.
Voters appear to have given Cameron credit for Britain's recovery from recession: The U.K. enjoyed the fastest growth of any major developed economy last year, and unemployment has fallen rapidly.
Despite its record of harsh austerity and the promise of more hefty spending cuts to come, voters preferred Cameron's party over left-of-center Labour, which had pledged to raise taxes on the rich and take a tougher approach with some businesses.
Berenberg chief economist Holger Schmieding said the result was generally positive for U.K. growth,
"It averts the risk of a tilt towards leftist policies under a Labour government," he said.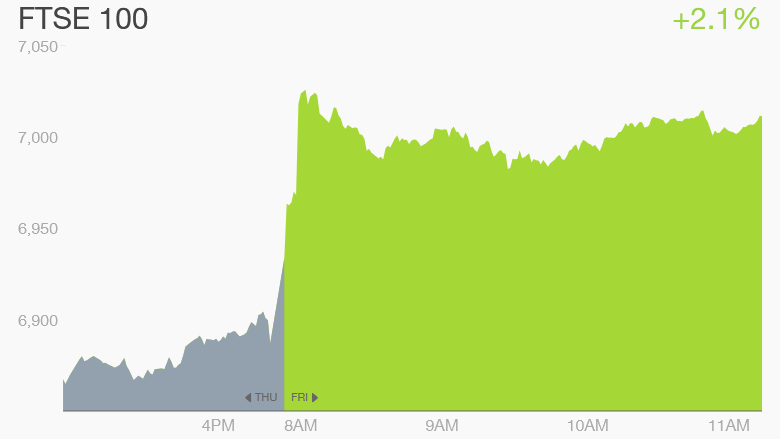 Shares in three major British banks surged in London as investors expressed relief that they would avoid higher taxes and tougher regulations favored by Labour.
Lloyds Bank (LYG) was up by about 6.5%, Royal Bank of Scotland (RBS) advanced by 5% and Barclays (BCS) rose by 4%.
But it won't all be plain sailing for Cameron in his second term as prime minister.
Investors may quickly refocus on the risk presented by Cameron's commitment to give the British people a vote on whether to leave the European Union. The referendum is expected to be held by the end of 2017.
"There is one elephant in the room and that is the EU referendum," said Tim Besley, professor of economics at the London School of Economics.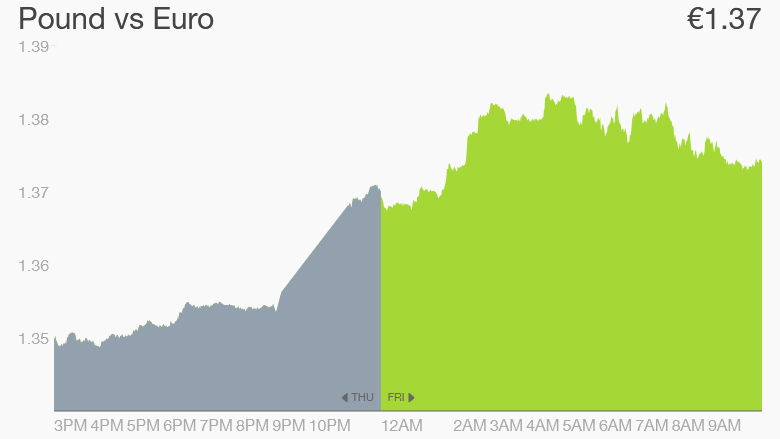 Related: U.S. and UK: Best business buddies?
Opinion is divided over what withdrawal from the EU would mean for the economy in the long term, but many businesses -- including American companies with a big presence in Britain -- are worried about the uncertainty they would face in the run up to the vote, and the potential loss of easy access to European markets.
There's another cloud on the horizon. Huge gains for the Scottish National Party could renew fears of a breakup of the U.K.
-- CNNMoney's Alanna Petroff contributed to this report.