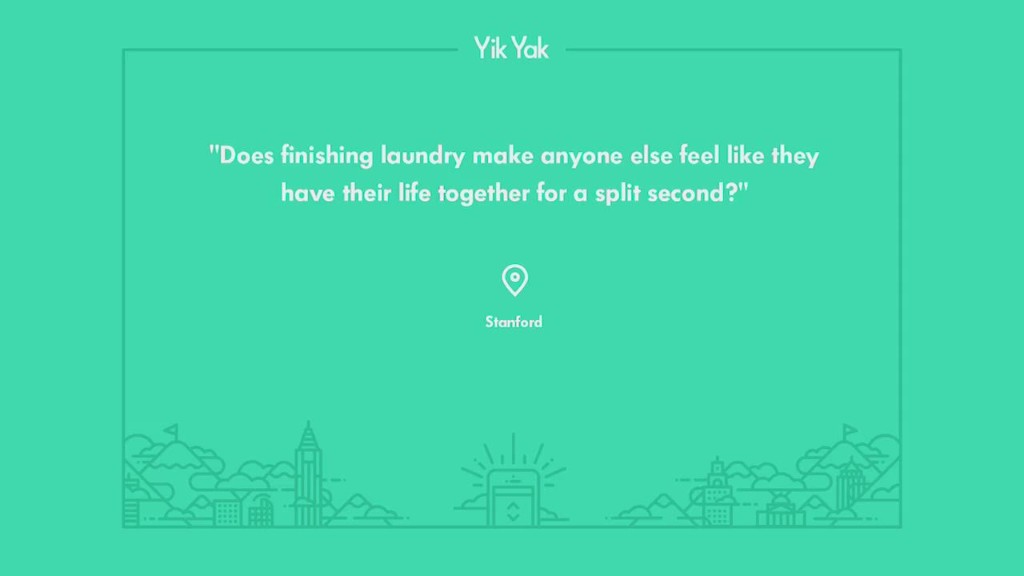 The popular anonymous app Yik Yak finds itself at the center of a growing controversy after a prominent member of a feminist group was murdered at a Virginia university.
Grace Rebecca Mann, a junior at the University of Mary Washington, and member of UMW's Feminists United, was killed in April. Mann was a vocal leader in the group, and she was particularly outspoken about an incident in which the school's rugby team engaged in chants calling for violence against women -- including rape and necrophilia.
Mann was harassed on Yik Yak before her murder, after members of the rugby team incorrectly assumed that the Feminists United called for the college to suspend the team's members. Mann was named in the "Yaks" and she had said that she feared for her safety, though it's unclear whether her murder was related to the harassment on Yik Yak.
Steven Vander Briel, a former UMW rugby club member and roommate of Mann's, has been charged with first-degree murder. He is accused of strangling Mann to death.
The feminist group claims that the college's administration didn't go far enough to protect them from the harassment.
With the help of the national women's rights organization Feminist Majority Foundation and attorneys Debra Katz and Lisa Banks, the campus group brought a Title IX complaint to the Department of Education on Thursday. They hope UMW will take action to stop the harassment and work to prevent it in the future.
The complaint alleges that the group's members feared for their safety after more than 700 sexist, threatening Yaks were posted about Feminists United or the group's individual members.
"Gonna tie these feminists to the radiator and grape them in the mouth," said one Yak. The app, which allows people to post social media messages without revealing their names, filters out certain words, such as "rape," but users have found ways to get around that by using similar sounding words.
"Dandy's about to kill a bitch...or two," said another.
"Can we euthanize whoever caused this bulls--t?" another said.
The group says they complained to UMW's administration, but the university's staff told them to take up their case with Yik Yak.
"While the University has no recourse for such cyber bullying, Yik Yak and other social media sites do," the University's Title IX coordinator Leah Cox told the students in an email, according to the complaint. "If you find yourself the subject of an abusive or threatening comment on social media, please immediately file a report so that the site can take administrative action."
The university denied the group's request to shut down access to Yik Yak on campus, citing First Amendment concerns. That also would not have completely blocked access, since Yik Yak can be accessed on mobile networks that the university does not control.
After members of Feminists United reached out to Yik Yak, they say the company did not respond to their requests. Though the complaint is not directed at Yik Yak, Katz, the group's attorney, said, "Yik Yak does have some responsibility here."
"What we're seeing is increased use of Yik Yak for cyberbullying over race, gender and sexual orientation," Katz told CNNMoney.
She also said that she believes prosecutors and the university need to get to the bottom of whether Mann's killer was posting on Yik Yak and directing threats at her. Since Yik Yak posts are anonymous, that could be tricky to pin down. In its privacy statement, Yik Yak says it doesn't collect users' names or contact information, but, upon request, it could provide law enforcement with certain identifying information, including a user's location IP address or data about a user's device.
A spokesman for Yik Yak said the company is working to make changes to its app, including improving filters for abusive content.
"It's always disappointing to see rare instances occur that simply don't represent what Yik Yak is all about, and guarding against misuse is something we take very seriously," the company told the Post. "We've taken significant measures so far by adding filters, pop-up warnings, reporting, and moderation within the app, and we will constantly work to enhance these measures."
The university did not respond directly to the complaint. But a spokesman said the college responded to the students' complaints.
"To the university's knowledge, no known reports of direct threats of violence and/or sexual assault have gone unheeded," the university said in a statement. "The University of Mary Washington's No. 1 priority has been and continues to be the creation and maintenance of a safe environment where all students can learn and grow."