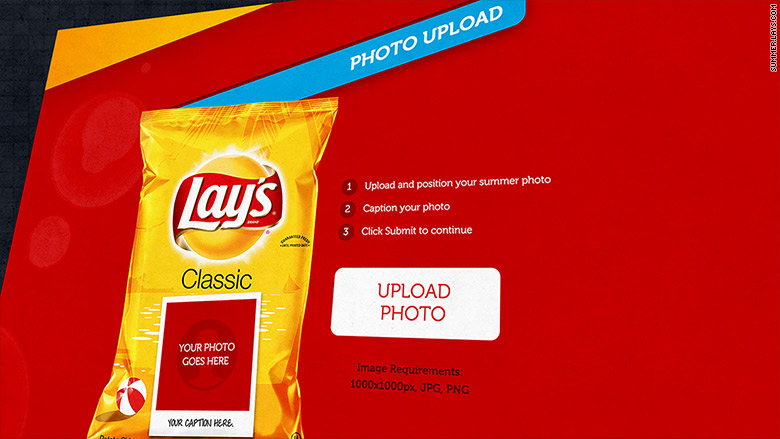 Lays is offering consumers the chance to have their summer photos printed on a bag of chips, because...why not?
Lays is celebrating Summer with a social media stunt. It's offering consumers the chance to upload photos of themselves, their dogs, or whatever please them to an interactive tool called the Lay's Summer Bag Creator.
The first 10,000 chip lovers to do so will receive an actual bag of chips emblazoned with their photo and a caption. Everyone else will get a digital version of their personalized bag of chips that they can share on Facebook (FB), Instagram and Twitter (TWTR).
Related: 'Share a Coke' is back with more of your names on bottles
"The 'Lay's Summer Days' promotion is a way for us to celebrate our fans and the season by personalizing their connection with the brand in fun, unique way," said Tina Mahal, senior director of marketing at Frito-Lay, maker of Lays and a division of Pepsi (PEP).
The promotion, which runs through July 4, includes other summer-themed packaging, where Doritos, Cheetos, Fritos and other Frito-Lay chips will come in bags that reveal a hidden image when exposed to sunlight.