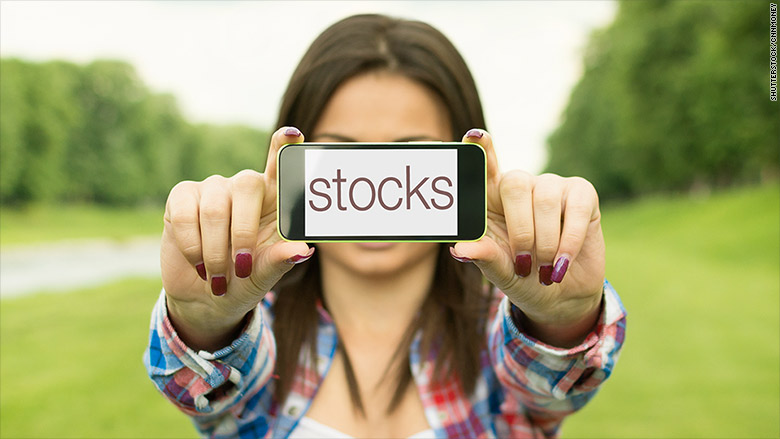 People of all ages want Apple stock.
It's by far the most popular stock for almost all age groups, according to data from trading platform TD Ameritrade (AMTD) provided to CNNMoney.
Apple is the first stock most people buy when they open a TD Ameritrade account.
But what stock do people buy next? The list gets a lot more interesting, especially when parsed by age groups. Just as tastes in fashion and music diverge with age, it holds true for stocks as well.
Millennials are far more likely to buy stock in newer technology and Internet companies. Facebook (FB) is the second most popular stock among ages 25 to 34, according to TD Ameritrade.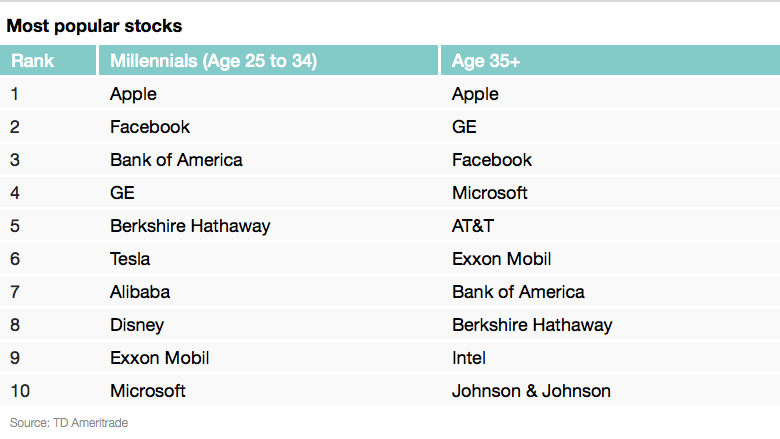 The biggest generational difference is millennials' love affair with electric car company Tesla (TSLA) and China's eBay Alibaba (BABA). Both companies are already among their top 10 holdings and quickly moving up the ranks of most popular stocks among young people.
Both neither Tesla nor Alibaba appear among the top 20 stocks of TD Ameritrade clients over 35.
Robinhood, a new trading app popular with millennials because it offers free trades, found that other stocks in the top 10 list for young investors are GoPro (GPRO), the specialty camera maker, and Box (BOX), a cloud software company.
Related: What it will take for stocks to move higher
But the minute you look at portfolios of people who are over the millennial age group, General Electric (GE) gains in popularity. It's the second most popular stock for investors over 35.
And when it comes to Baby Boomers, who are 65 or over, they are the only group that would not buy Apple as their first purchase. Their first stock is more likely to be GE.
AT&T (T) and Johnson & Johnson (JNJ) are also favorite stocks of Baby Boomers. AT&T is third most popular among those 65 and over.
The stock hasn't be a stellar performer -- it's only returned about 35% in the past five years, but it has a high dividend yield of 5.5%. Retirees or those close to retirement often prefer that steady dividend stream to the high growth bets like Tesla.
Related: Apple stock is making regular Americans rich
But Apple wins the popularity contest, hands down. The average TD Ameritrade client holds 10% of their equity portfolio in Apple (AAPL)stock. No other company even comes close to that.
All those clients deserve kudos. Apple has been a terrific stock bet. The shares have risen from about $35 in May of 2010 to $125 today. That's a 250% return -- far better than the gains of the overall stock market.
"I'm sure any financial adviser would say I'm nuts. They would say diversify, but I trust in Apple," Alex Gerb of Maryland told CNNMoney. He bought Apple stock in college and still holds it nearly a decade later.