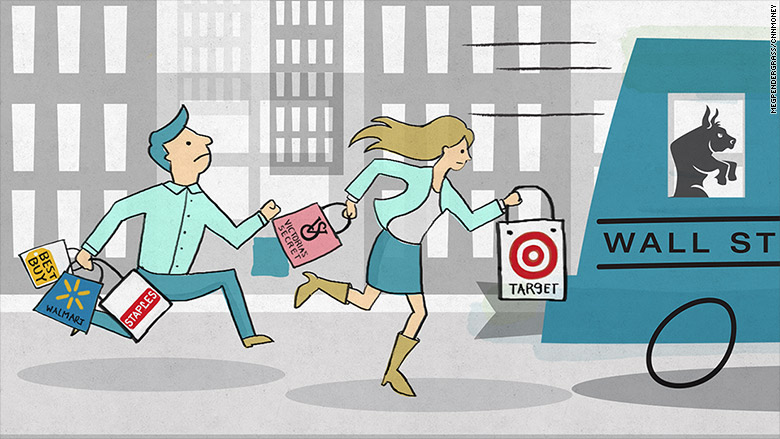 The stock market is powering ahead, without waiting for slow-poke consumers to catch up.
Wall Street advanced to fresh all-time highs last week despite mounting evidence that the American economy isn't all it's cracked up to be.
Not only did growth grind to a halt during the first quarter, but now there are signs that the second quarter may not be much better.
This week could be a key test of the market's ability to rally in spite of -- rather than because of -- U.S. consumers. Pivotal earnings reports are on tap from some of the world's largest consumer companies, including Wal-Mart (WMT), Target (TGT) and Best Buy (BBY).
Lethargic consumer spending has slowed the economy. Even though the job market is humming along and energy costs are down a lot from a year ago, Americans just don't seem willing or able to open up their wallets and spend like they have in the past.
"The consumer is being a bit cautious and judicious before using the newfound gas windfall," said Mark Luschini, chief investment strategist at Janney Capital.
While that cautious approach is a positive for the longer term health of consumers, it's problematic in the near-term since consumption accounts for 70% of the U.S. economy. Without consumers, the American economy simply can't take off.
Related: The global economy has a 'titantic problem'
Alarming retail sales: The latest depressing consumer news emerged last week. Government stats show retail sales flatlined in April from the month before, missing expectations for a slight increase.
The year-over-year numbers were more alarming. Sales inched up just 0.9% from April 2014, the most anemic increase since October 2009 when the economy was emerging from the recession.
A number of major companies provided further evidence of the sluggish consumer environment. Kohl's (KSS) shares plummeted 13% last Thursday -- their worst day ever -- after the retailer revealed a slowdown in sales driven by poor store traffic.
Macy's (M)also surprised investors by posting a contraction in first-quarter profits. The department store blamed severe weather, the West Coast port strike and a new wrinkle: A slowdown in sales from international tourists due to the stronger U.S. dollar.
Related: Macy's sales slump as foreign touirsts stop spending
Consumer stocks are hot: Despite all of this, consumer stocks have excelled this year. The consumer discretionary sector of the S&P 500 is up nearly 6% this year. That's second among the 10 sectors behind only health care and is double the broader index's gain.
While stocks didn't go nuts last week, the S&P 500 did manage to eke out another all-time high. The Nasdaq, which is home to many tech companies like Apple (AAPL) and Amazon (AMZN) that do rely on consumer spending, is up a healthy 6.5% on the year.
But how long can stocks rally in the face of anemic consumer spending?
Huge week for retail world: That trend will be in focus this week as corporate "report cards" are due from a handful of retail companies.
Luchini said he's "eager" to hear from consumers like Wal-Mart because it appeals to a much wider swath of the American population, including less affluent shoppers who are most likely to benefit from the tumble in gasoline prices.
Wal-Mart is scheduled to hit the earnings stage on Tuesday, along with Home Depot (HD)and T.J. Maxx parent TJX Cos (TJX). Other big-name consumer companies poised to release results this week include Target, Best Buy, Lowe's (LOW), Staples (SPLS), Gap (GPS) and L Brands (LB), which is the owner of Victoria's Secret.
Let's hope these companies offer signs of healthier consumer spending ahead. Otherwise the bull market in stocks may have to tap the brakes and wait up for consumers.