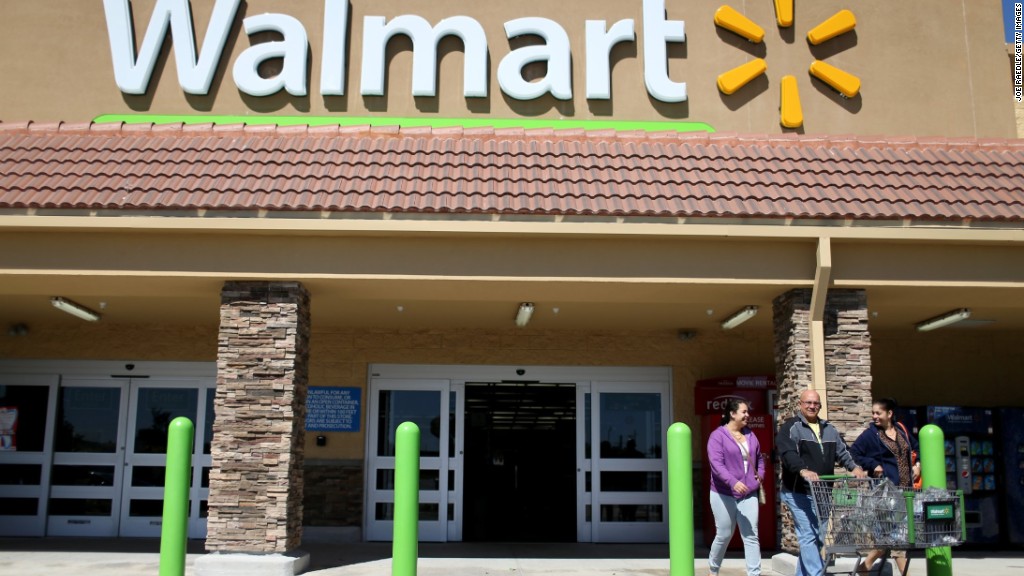 Walmart reported profits Tuesday morning that missed Wall Street's forecasts -- and the recent pay hike for Walmart employees is one reason why.
Walmart raised the minimum wage for its workers to $9 an hour in April. Its most recent quarter closed in April, so the higher pay was only in effect for one month.
The company said that the wage increase reduced earnings by 2 cents a share in the quarter. Investments in its online business also hit profits.
Still, Walmart's chief financial officer Charles Holley said he expected the wage increase to have a positive effect over the long-term because employees will have more to spend.
The company's sales also fell short, the latest sign that consumers aren't spending much right now. Even though Walmart said its customers were benefiting from lower gas prices, the company's overall sales fell slightly to $114.8 billion.
Walmart is not the only company that has boosted worker pay recently. Target, T.J. Maxx owner TJX and McDonald's (MCD) have as well.
Holley said that lower food prices impacted sales as well, and that comparisons to last year were tougher -- especially in home entertainment.
"We didn't have anything like 'Frozen' this year," Holley said, referring to the blockbuster movie from Disney (DIS) that was released on DVD in March 2014.
Also weighing on results: The strong dollar. International revenue was down 6.6%.
Related: Walmart ups pay well above minimum wage
Walmart, the largest retailer in the country, issued earnings guidance for the current quarter that was below Wall Street's forecasts too -- due largely again to the higher wage expenses and strong dollar. Walmart said the pay hike would cut profits by another 4 cents per share in the quarter.
Shares of Walmart (WMT) fell nearly 4% on the news.
There have been growing concerns about weak consumer spending in the past few weeks, and Walmart's results are likely to add to those fears.
"The customer is still somewhat cautious," Holley said.
Macy's (M) and Kohl's (KSS) both reported disappointing sales last week. Home Depot (HD) and TJX (TJX) both reported better-than-expected sales on Tuesday morning, however.
But Walmart has bigger challenges than just the economic backdrop.
Walmart is also facing tougher competition lately from warehouse giant Costco (COST) and a resurgent Target (TGT)-- as well as Amazon (AMZN).
Costco in particular appears to be a major thorn in Walmart's side. Walmart said that revenues at its Costco competitor -- Sam's Club -- fell 3% in the quarter.
Related: Is Costco America's best retailer?
Holley said that lower gas prices were also an issue for Sam's Club.
Walmart is trying to gain ground online though. It just announced plans last week to test a new unlimited shopping service to compete with Amazon's popular Prime feature.
And Walmart said that global online sales were up about 17% in the quarter.
Walmart CEO Doug McMillion seemed pleased -- even if Wall Street wasn't. He said in a statement that the quarterly results were "solid."
But he added that the company needs to "continue to get better at consistently running great stores, clubs and e-commerce everywhere we operate."
Related: Walmart challenges Amazon Prime
Rekated: Walmart fired 2,200 to fix plumbing issues. Really?