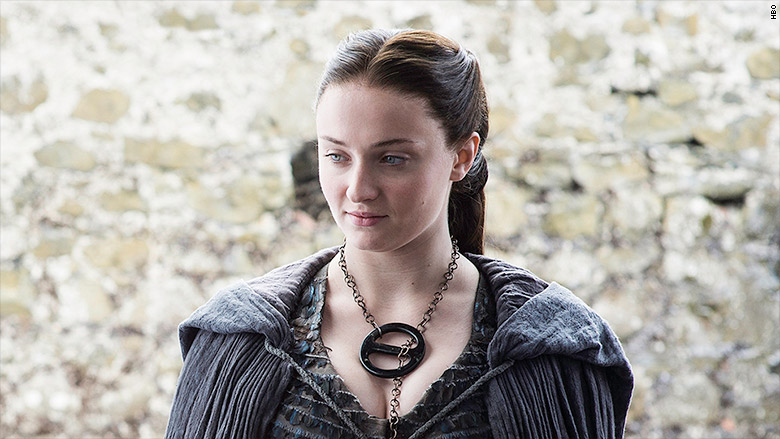 Many fans were outraged over a rape scene that took place on Sunday night's episode of HBO's "Game of Thrones." That includes Missouri senator Claire McCaskill, who said she was done watching.
"Ok, I'm done Game of Thrones," McCaskill tweeted Tuesday morning. "Gratuitous rape scene disgusting and unacceptable. It was a rocky ride that just ended."
The rape scene that Senator McCaskill is referring to involved Sansa Stark, the pure and sympathetic daughter of House Stark, who was raped on her wedding night while another character Theon Greyjoy was forced to watch.
"Game of Thrones," one of the most popular shows on HBO (which, like this website, is owned by Time Warner (TWX)), often portrays graphic sex and violence.
However, the Sansa rape scene in the last minutes of Sunday's episode, "Unbowed, Unbent, Unbroken," upset even the most ardent fans.
"It's cruel to strip Sansa of the agency she's been accruing so painstakingly, but to do so by literally stripping her is so cheap, such an obvious choice, I felt offended as a fan," wrote Vulture's Nina Shen Rastogi.
The female fan culture website "The Mary Sue" also took a stand, writing a post Monday on why the site will no longer cover "Game of Thrones."
"There's only so many times you can be disgusted with something you love before you literally can't bring yourself to look at it anymore," wrote the site's editor in chief, Jill Pantozzi. "That is where I currently find myself in relation to 'Game of Thrones.' The staff of The Mary Sue feels the same."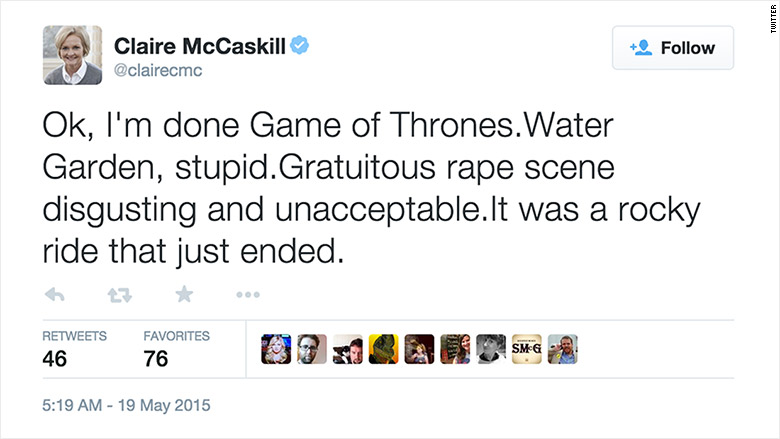 The actress who plays Sansa, Sophie Turner, defended the scene telling Entertainment Weekly that "when I read [it], I kinda loved it."
For many fans, it was upsetting and also seemed unnecessary given that the plot development was not in the books that the TV series is based on.
"Yes, more and more, they differ... but all of us are still intending that at the end we will arrive at the same place," "Game of Thrones" author George R.R. Martin said on his blog Monday.
This was not the first time that "Game of Thrones" has been criticized about a rape scene.
Last season, critics and fans were shocked by a scene that involved Jaime Lannister raping his sister Cersei -- a moment that some readers believed to be consensual in the books.