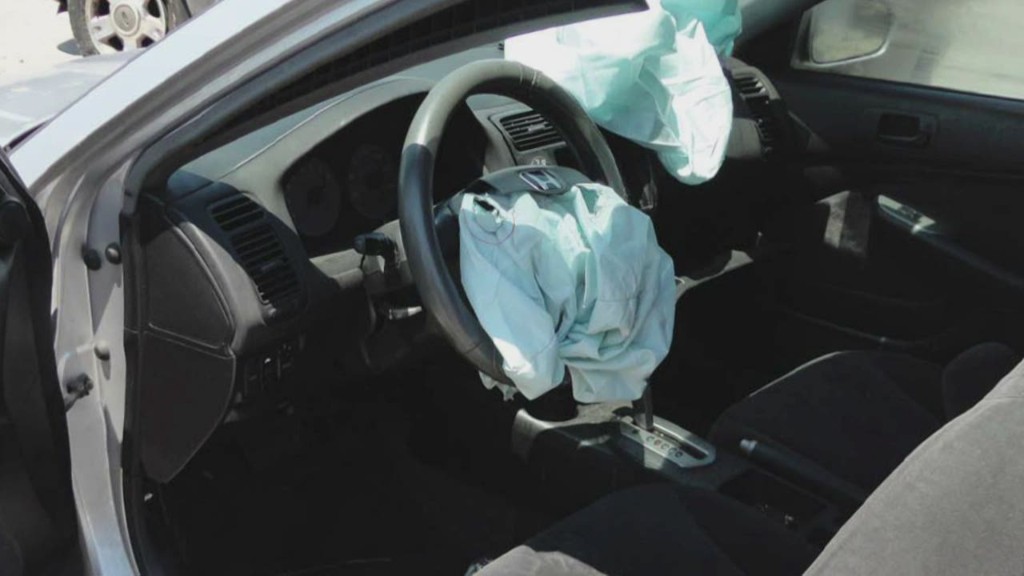 Takata is nearly doubling the size of its already massive recall for faulty airbags, making it the largest auto recall in history.
The company has already recalled airbags used in about 18 million vehicles for the problem. This move will bring that number up to about 34 million autos. That is nearly one out of every seven cars on U.S. roads today.
The recall is one of the largest consumer product recalls ever.
At least five U.S. deaths and one in Malaysia have been tied to the faulty airbags. But Japanese auto parts maker Takata, the world's No 4 maker of airbags, has previously resisted demands by regulators to get all the affected airbags off the road.
Related: How airbags (should) work
The airbags have been known to explode and send shrapnel into the face and body of both the driver and front seat passenger. Victims appeared to have been shot or stabbed, according to police who responded to the accidents. While there is at least one case of an airbag exploding when a car was simply stopped at an intersection, in most cases it exploded after an accident.
The Center for Auto Safety cites more than 10 other cases of an exploding airbag causing serious injury, including vision damage from shrapnel hitting a driver in her eye.
Most of the fatalities and most of the recalled cars were made by Honda (HMC).
Related: Cars with recalled airbags - Is yours on the list?
But dozens of different models are affected, most of which were built between 2000 and 2011. Consumers can check to see if their car is included in the recall by going to a special website created by the National Highway Traffic Safety Administration at http://www.safercar.gov/rs/takata/index.html. But it could take some time to have all the recalled vehicles show up in that database, so car owners should check back in a few weeks as well.
Related: Takata airbag victims looked like they had been shot or stabbed
It's not yet known what is causing the airbags to explode, admitted Mark Rosekind, the administrator of the National Highway Traffic Safety Administration.
"When are we going to find out? We don't know. [But] we can't wait and risk the safety of the American people before we move forward," he said.
Rosekind could not even definitively say whether the airbags being installed in the recall cars are totally safe.
"But we know they are safer," he said.
Takata had previously insisted that the airbag problems were limited to cars in regions with very humid weather, and it sought to limit the scope of the recall to those areas.
NHTSA initially agreed to that limited recall, but later pushed Tataka and 11 separate automakers to expand the recall. The agency even fined Takata $14,000 a day, the maximum, for failing to cooperate with its probe. That's added up to $1.2 million as of Tuesday.
The daily fines were suspended Tuesday but further fines are possible.
"We are pleased to have reached this agreement with NHTSA," said Takata CEO Shigehisa Takada. "[It} presents a clear path forward to advancing safety and restoring the trust of automakers and the driving public."
But critics were not satisfied with Tuesday's action.
"Today's expanded recall is already too little, too late for people injured and their families," said Rich Newsome, an attorney representing seven airbag victims suing Takata.
Before this, the biggest recall on record was from Ford, which recalled 21 million cars in 1980 for a transmission problem that could allow cars to shift out of park, according to Clarence Ditlow, executive director of the Center for Auto Safety.
Recalls of this size and scope are likely to happen more often as the auto industry becomes more global, pushing different automakers to use parts from the same suppliers, said Karl Brauer, senior analyst at Kelley Blue Book.
"Ironically, the use of common parts is meant to save money, yet a recall of this size will cost the industry billions," he said.