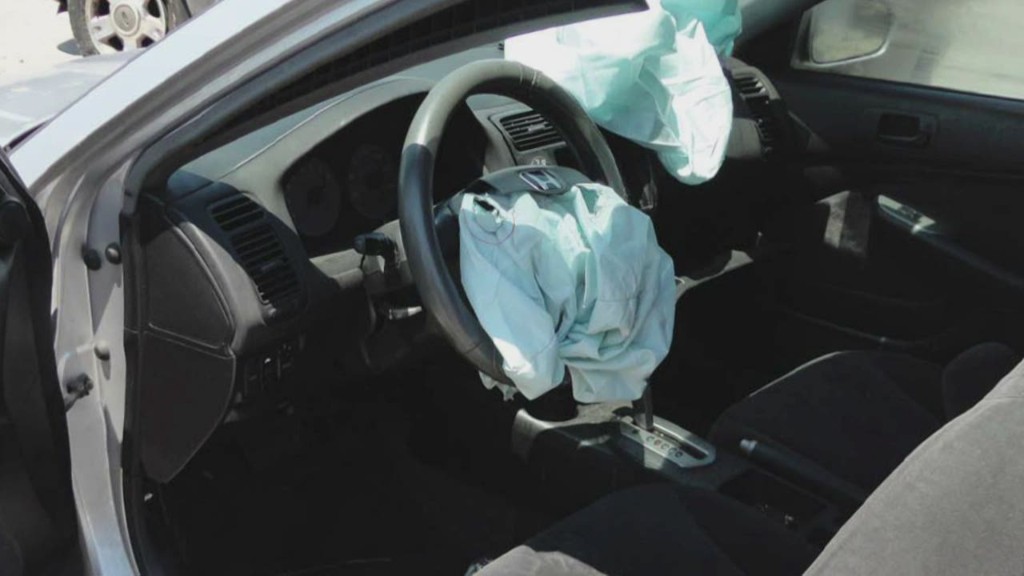 There's a good chance you might be affected by the recall to fix exploding Takata airbags.
With 34 million cars, the recall announced Tuesday represents almost one out of every seven cars on the road needing to be repaired.
And while Honda (HMC) cars are most likely to have recalled airbags, they are spread across 10 other automakers as well.
So there are very few brands that have not been affected by a defect that can send shrapnel into the people seated in front of them, causing death or serious injury.
Here's what you should do:
How do I find out if my car is included in the recall?
The National Highway Traffic Safety Administration is in the process of listing all the cars being recalled on a Web site dedicated to the Takata recall. That site includes a way to enter your vehicle identification number, or VIN, to see if your car is included in this or any other recall. The VIN can be found on your registration or on a plate on the dashboard visible through the windshield of most cars.
List: All recalled cars with exploding airbags
However, NHTSA does not yet have a list of all the cars included in the Takata recall, or all their VINs. So even if your VIN doesn't show your car having any open recalls, it's a good idea to check back in a few weeks to see if it has been added.
If my car has one of the dangerous airbags, what should I do?
You should contact a dealership that sells your model of car to get the airbag replaced. Even if you don't know the dealership that originally sold the car, any other one that handles that brand should be able to help you. If you have a brand that's been discontinued, such as a Pontiac, you can contact any other GM dealer, such as Chevrolet or Buick.
Related: Airbag maker Takata announces largest auto recall ever
It may take a while for your dealer to make a repair. There are not 34 million replacement airbags ready to be installed, and NHTSA is working with manufacturers and Takata to prioritize which cars should get repaired first. Those in states with high humidity will have a higher priority, as will the older cars, since humidity and age are believed to contribute to the problems caused by the airbag defects.
The airbags will be replaced at no cost to the owner, even if the car is no longer under warranty.
Should I have my airbag disabled if it can't be replaced right away?
No. Definitely not. Most mechanics are not allowed to disable airbags. Even if you're able to find one who would be willing to disable yours, safety experts say it's a bad idea.
"You save more lives by leaving the airbags in place than you would lose lives by the airbag exploding," said Clarence Ditlow, executive director of the Center for Auto Safety. Even if a driver is wearing a seatbelt, he said, airbags can provide life-saving protection in a crash. And only a small percentage of even the recalled airbags are likely to explode if they deploy.
Related: Most notorious recalls ever
Is there anything I can do if I have to drive a car with a defective Takata airbag for several months?
The closer someone is to an airbag when it goes off, the more at risk they are. So shorter drivers, who have shorter arms, are more at risk that taller drivers. For example, police reports about some of the accidents involving exploding airbags show some of the victims only a little taller than 5 feet.
"If a family has only one car, the taller person should drive," said Ditlow. He said if a family has two cars, one with a recalled airbag and one without, the taller driver should regularly drive the car with the recalled airbag. And that car should be left at home when possible.
While most of recalled airbags are on the driver side, a significant percentage are passenger side airbags. If you have a passenger airbag that needs to be replaced, passengers should sit in the backseat with their seat belts on.