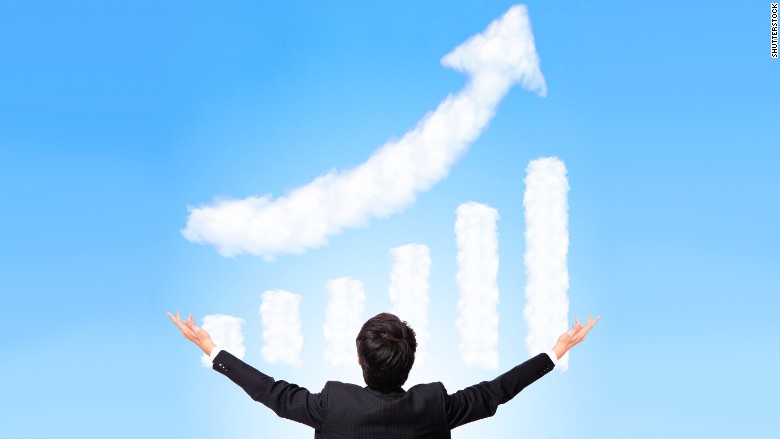 Investors are starving for growth.
After years of double-digit profit growth from the economic rebound and a lot of cost cutting, Corporate America's momentum has stalled. Some are even warning things could be at a turning point.
Just look at profits -- it's hard to find them right now. U.S. companies are projected to increase earnings by an anemic 0.6% in 2015, according to S&P Capital IQ. That's not good for the stock market, which is largely powered by the health of companies' bottom lines.
While the profit outlook looks bleak in many corners of the stock market, some companies are still posting impressive growth.
Here are the 10 fastest-growing companies in the S&P 500.
The list is based on an analysis of 2015 projected earnings per share by S&P Capital IQ. This doesn't mean these will be the top stocks (or that they will hire a lot of new workers), but these companies are expected to have an amazing financial year.
1) Southwest Airlines
Projected EPS growth: 77.2%
Cheap oil has been a godsend for the airline industry -- and Southwest Airlines (LUV) is no exception. The four major carriers saved a combined $3.4 billion on fuel in the first three months of the year, allowing them to haul in record profits.
2) American Airlines Group
Projected EPS growth: 74.6%
Airlines aren't just soaring because of fuel savings, they are also capitalizing on an industry-wide wave of consolidation that has wiped out competition. American Airlines Group (AAL) is a great example of that. It was acquired out of bankruptcy in 2013 by rival US Airways Group, forming the largest airline in the world.
3) Adobe Systems
Projected EPS growth: 61.5%
One of the only tech stocks on this list, Adobe Systems (ADBE) is growing rapidly as it shifts its focus to red-hot cloud services and a more stable subscription model.
4) General Motors
Projected EPS growth: 49.2%
Auto companies like General Motors (GM) are also cheering the 40% year-over-year tumble in oil prices. One benefit: Consumers are once again buying gas-guzzling SUVs, which carry higher profit margins than other models.
Related: SUVs are king of the road again
5) Delta Air Lines
Projected EPS growth: 39.6%
Even though fuel costs have shrank, Delta Air Lines (DAL) and other carriers haven't been forced to pass along those savings to consumers due to heavy demand. That's frustrating to travelers but it's great news for people who own airline stocks.
6) Ford Motor
Projected earnings growth: 37.6%
Profits at auto makers like Ford (F) are accelerating as the improving jobs market gives consumers greater confidence to replace their aging cars and trucks. The average vehicle age now stands at a lofty 11.4 years, according to S&P Capital IQ.
7) Marathon Petroleum
Projected earnings growth: 34.5%
The only reason an energy company is on this list is because of a 2011 decision to spin off Marathon Oil's (MRO) refining and pipeline business into Marathon Petroleum (MPC). Shares of the exploration and production company are down 23% over the past year due to the oil plunge. However, refiners actually benefit from lower oil prices. That's why Marathon Petroleum shares have rallied 17% this year.
8) Gilead Sciences
Projected earnings growth: 34.5%
Biotech companies like Gilead Sciences (GILD) are growing rapidly as they roll out innovative drugs and acquire smaller rivals. Gilead's hyper growth has been fueled by strong demand for its hepatitis C treatments Solvaldi and Harvoni.
9) Morgan Stanley
Projected earnings growth: 32.7%
Morgan Stanley (MS) has shifted its focus from volatile trading to more stable wealth management. The Wall Street firm is also benefiting from a wave of mergers and acquisitions, which helped lift first-quarter revenue to the highest level in nearly eight years.
10) Salesforce.com
Projected earnings growth: 32.2%
Companies are increasingly jumping into the cloud -- and that's great news for software maker Salesforce.com (CRM). Not only is it the leading provider of customer-relations management software, but it now it's catching up with Oracle (ORCL) in customer-service software too.
Related: 10 'sin stocks' with huge cash flows
Sources & methodology
For this analysis, S&P Capital IQ looked at all companies in the S&P 500 with a market capitalization of at least $20 billion. Real-estate investment trusts, or REITs, were excluded because their unique structure deemphasizes the importance of earnings since they return so much money to shareholders.
S&P also excluded companies whose profit growth is being driven by one-time accounting and legal items, including by acquisitions and prior-year legal expenses.