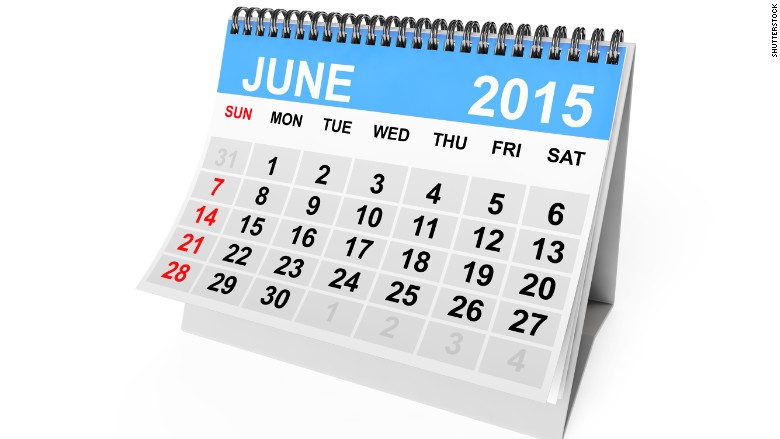 The Federal Reserve is 99% unlikely to raise interest rates in June.
Reason No.1: America's economic growth is slowing down.
The Fed's committee expressed doubt that the economy could improve enough before its June meeting to justify a rate hike, according to minutes from its April meeting released Wednesday afternoon. There was some speculation earlier this year that the bank would raise rates in June.
Any hope of a June rate hike seems all but wiped out.
"Many participants, however, thought it unlikely that the data available in June would provide sufficient confirmation" to raise its key interest rate, the minutes said.
Investors exhaled after the news and sent the stock market briefly higher, although only the Nasdaq ended the day in positive territory. The yield on 10-year government bonds fell to 2.26%, further confirmation that investors aren't as worried now.
Related: Top 10 warning signs for stocks
Going forward: America's economic slowdown has been a mix of temporary factors, like cold weather, and longer-term concerns like the strong U.S. dollar.
The Fed has kept interest rates at zero since December 2008, and it hasn't raised rates in almost a decade. A rate hike would be the central banks' green light on the economy's health.
Related: You aren't spending enough to boost the economy
Fed committee members were disappointed that consumers and businesses aren't spending much this year. That unexpected slip in spending is dragging down economic growth.
The minutes come just before Fed Chair Janet Yellen gives a much anticipated speech about the state of the economy on Friday.
America's economic outlook has remained gloomy even into the spring. Many economists expected a scenario like last year: bad economic growth during the winter months followed by a pick up in the spring and beyond. That hasn't happened so far.
America's economic growth was nearly flat in the first quarter of 2015, and the Atlanta Federal Reserve projects second quarter growth won't peak above 1%.
Wednesday's Fed minutes reaffirm what many economists already believe: a Fed rate hike won't happen until September or later. Stay tuned.