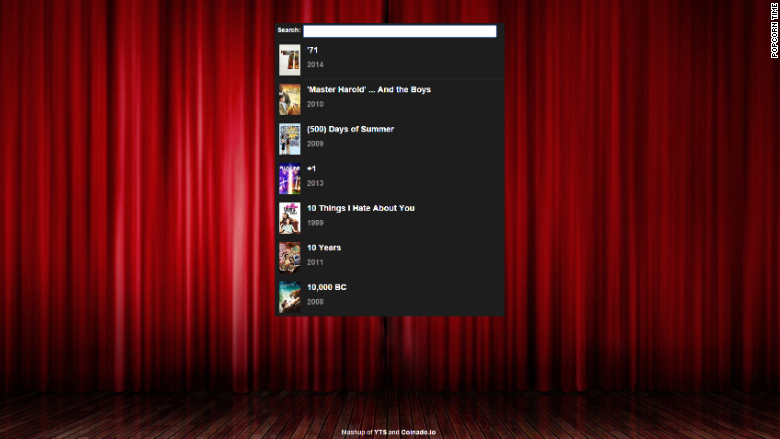 Popcorn Time, a controversial streaming service for pirated movies, is now easier than ever to use.
All you need to access the so-called Netflix for pirated movies is a Web browser. Previously, Popcorn Time viewers had to download separate software onto their PCs, Macs or Android smartphones.
On Tuesday, the people behind Popcorn Time launched PopcornInYourBrowser.net. The site lets you choose from thousands of movies that have been shared using the torrent protocol -- a peer to peer network that allows people to share media with one another.
Though not all torrents are illegal, Popcorn Time has had a reputation for disregarding copyrights. The first Popcorn Time website was shut down after the founders decided they were no longer interested in debating copyright infringement. The Popcorn Time app was removed from the Google (GOOGL) Play store within 24 hours of its debut there in May 2014, though the app can still be loaded onto Android phones by bypassing the Play store.
New versions of Popcorn Time have developed over the past year. But last month, U.K. regulators blocked access to some of the Popcorn Time websites.
Popcorn Time has gained popularity thanks to its simple interface and its commitment to covering users' digital tracks. Since it's an open-source project, new developers have taken the code and expanded its scope. For instance, last year, Popcorn Time gave users the ability to stream pirated movies directly onto their television sets using the Chromecast app.