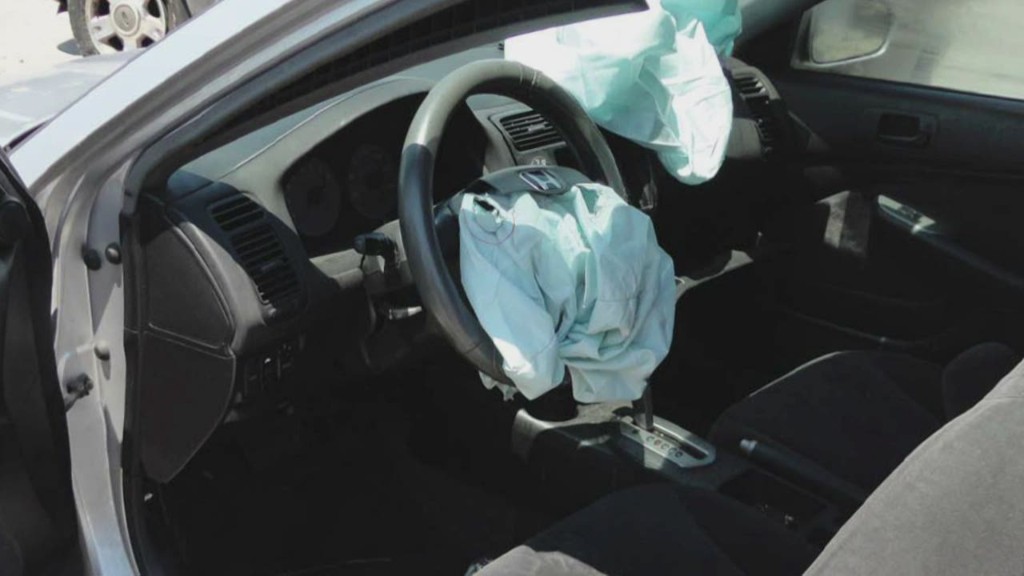 It will take at least two years, and perhaps as many as five, to replace all the Takata airbags in the record number of cars being recalled.
Part of the problem is that it will take a long time to make all of the replacement airbags for the 34 million U.S. cars affected by the recall. Finding all the owners and getting them to bring the cars in will also pose a challenge. And it will be hard for dealers to repair so many vehicles.
All of these complexities mean the recall-related repairs could take as much as five years to complete, according to Jack Gillis, the auto expert with the Consumer Federation of America.
The airbags are at risk of exploding and sending shrapnel into drivers and front-seat passengers. At least six deaths have been tied to the problem worldwide, which has affected mostly older cars.
Related: Recalled cars with exploding airbags - Is yours on the list?
Takata said it so far has made just under 4 million of the replacement airbags, most of which have been installed. The manufacturer is currently building 500,000 of them a month, and expects to double that capacity by September.
Swedish parts maker Autoliv, the world's largest airbag manufacturer, is also rushing to fill the demand. It plans to build 25 million replacement airbags by the end of next year. Autoliv has just under 40% of the global market for airbags, or about twice that of Takata, which is the second largest maker.
Related: Airbag recall - What you should do now
But an estimated 52 million vehicles worldwide have airbags that must be replaced, according to Kevin Pollack, vice president for Stericycle ExpertSolutions, which is working with some of the automakers affected by this recall.
"No one was sitting on 30 million extra airbag inflators," he said.
Pollack thinks that most of the repairs that do get made will be done within the next two years. He also estimates that about 25% to 30% of the cars will never be repaired. That would leave about 10 million cars on the road with defective airbags.
Some cars are nearly 15 years old and have had multiple owners, which makes identifying the current owners difficult. And even though the airbags are replaced at no cost to the owners, many don't know that, which makes them reluctant to bring their car for repairs.
And the diverse nature of the recall -- covering at least 15 different brands and roughly 60 different models -- means even many of the owners who have heard about the recall might not know if their car is affected.
"Because it is not brand centric, it'll be more difficult to find the owners," said Gillis.
"There's no question that it's the most complex recall of all time, and it's one that the system may not be capable of handling," he said.