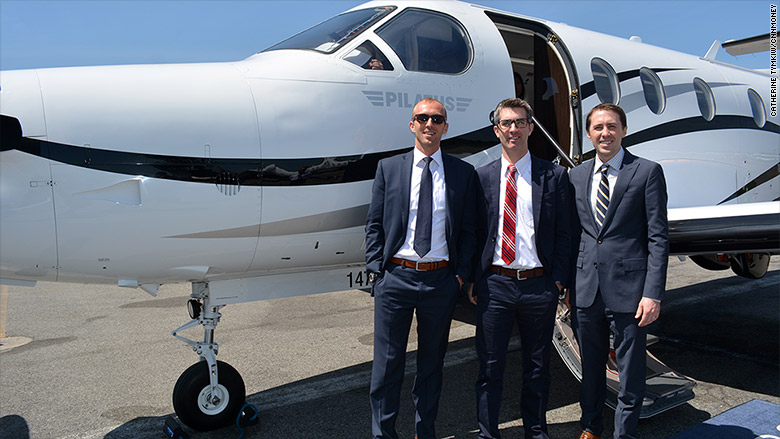 Traveling can be a hassle and, let's face it, most of us aren't buying our own jets anytime soon. But what if you could "subscribe" to a service that made it easier to fly on private planes?
A new startup called Beacon aims to do just that.
It doesn't come cheap. For $2,000 a month, Beacon will offer unlimited flights between New York and Boston, as well as two vacation hotspots -- Nantucket and the Hamptons.
Three of Beacon's four founders are vets of the airline startup world: They previously launched Surf Air, which has a similar subscription model for California flights.
But where Surf Air owned all of its planes, Beacon will partner with companies that already own and operate small aircraft.
CEO Wade Eyerly told CNNMoney on a recent flight with reporters that he realized the service had nothing to do with the planes. "It had everything to do with the time [fliers] saved."
And that's Beacon's mission.
So far, it has landed $3 million in pre-sales and hopes to sign up 350 to 500 members by the time it starts flying in late summer/early fall. The goal is to operate 15 to 20 flights a day so if you miss one flight, you don't have to wait three hours for the next one. And you can book up to four flights at a time. (Each one will accommodate 6 to 10 people.)
Booking is easy with Beacon's app. You pick your departure and arrival cities, check availability and, voilà, you're good to go.
Related: America's worst airline for customer satisfaction is...
Providing top-notch service is at the top of Eyerly's list. Beacon requires an initial 90-day commitment and then it's month-to-month. "Every month I have to make your experience right," he said.
Beacon expects to have two types of clients: frequent flying execs who want more time with their family, and companies that travel regularly between cities in close proximity.
"We're a gateway drug for private flying," said Eyerly. "It's not a mass market play by any means, but for people who are commuting with great frequency, it's life-altering."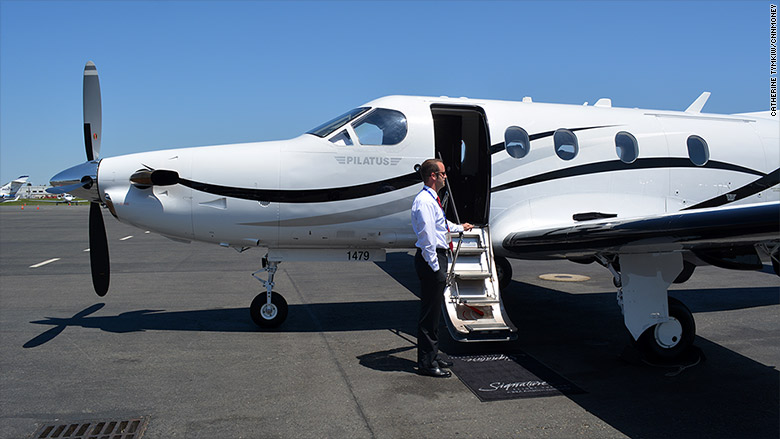 And there are no long security lines.
A decade ago, Eyerly worked in former Vice President Dick Cheney's press office at the White House. He traveled 27 days a month and was randomly screened on nearly every flight, so eliminating that was a priority.
But that doesn't mean clients aren't screened. Beacon runs a background check on every customer and makes sure they're cleared on the No Fly List.
Related: Flying car companies aim for takeoff in 2017
Eyerly said Beacon plans to add service between New York and Washington, D.C.
While he wouldn't disclose how much Beacon has raised, he said it takes $5 million to $6 million to get a venture like this off the ground. Boston-based Romulus Capital has led Beacon's investments thus far.
Eyerly said he has received help from industry insiders, like the original founders of JetBlue (JBLU), David Neeleman and Joel Peterson. "Those guys have been so generous with their time and counsel," he said.
Eyerly sees this as just the beginning. "There are 44 markets ... where we think this model works very well."
"The easiest way to see where and how this works is the Obama administration's high-speed rail map. Anywhere high-speed rail works, we work," said Eyerly. "The difference is our infrastructure is already built."