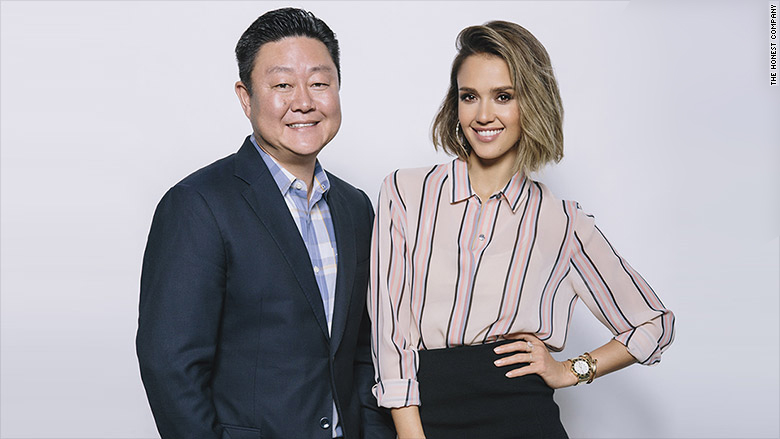 Brian Lee is a hustler. And he knows how to harness the power of a celebrity name.
Those two traits have made him an entrepreneur extraordinaire.
"I say that it's a blessing and a curse," said Lee. "I come up with a lot of ideas and I want to start them all."
Lee has cofounded three high-profile startups -- LegalZoom, ShoeDazzle and The Honest Company.
The Honest Company, his firm with Jessica Alba that makes eco-friendly products, is estimated to be valued at $1 billion.
Lee won't talk about the numbers. But he's comfortable revealing some ballsy moves he made early on.
Related: From Wall Street newbie to millionaire by 27
Lee went to UCLA for law, became a tax attorney and subsequently dumped that career.
"I was one of the worst attorneys. I didn't enjoy law," he said. "I always knew that I wanted to start something but didn't know what yet."
But his background sparked the idea for LegalZoom, an online service for people to draft documents like wills, leases and trademark registrations for far less than it cost to hire an attorney.
"The first VC meeting I had to raise money was when the market crashed in 2001," said Lee. "I was told that I'd never raise capital in this environment and I should get my job back."
He didn't. Lee and his best friend from law school each invested $25,000 and founded LegalZoom in 2001.
To gain traction, he cold-called O.J. Simpson defense attorney Robert Shapiro in the middle of the night. "He picked up and almost hung up on me," Lee said. "I yelled 'WAIT!'"
By the conversation's end, Shapiro had become a cofounder.
Today, Lee said the firm has over 3 million customers.
Related: The best advice I ever got
Shapiro connected Lee with Kim Kardashian for his next venture ShoeDazzle, an online shoe subscription service inspired by Lee's wife Mira.
"I watched all the money she spent on shoes and knew there had to be a better model," he said.
ShoeDazzle curates a personalized shoe selection for its 18 million members and sends them a pair every month for $39.95, with free shipping. In 2009, Kardashian and Lee launched the startup, which was acquired by JustFab in 2013.
The Honest Company, which offers a subscription service in addition to selling products in stores, is by far Lee's biggest success. "It was Jessica's idea," said Lee. "She's extremely passionate about non-toxic children's products but she didn't know a lot about business."
The Honest Company logged $150 million in revenue in 2014, up from $10 million in 2012 (the year they launched).
"I had the epiphany that she was really onto something after I had my first child," said Lee. "You want to do everything to keep your child healthy and safe."
Related: She's the queen of million-dollar verdicts
Lee's Midas touch extends to his childhood.
He was eight and living in Orange County, Calif., when he got the idea to repackage his Halloween candy into Ziplock bags to sell at school.
But entrepreneurship also runs in his family. His college-educated father, who brought the family to California from South Korea with "$500, two suitcases and a dream" started as a furniture factory worker and eventually launched his own stainless steel import business.
"It really struck a chord with me as a kid," said Lee.
Related: She mines popular memes for millions
In addition to his startups, Lee has also cofounded VC firm BAM Ventures, which invests in early-stage startups.
"This is my advice to entrepreneurs. It's easy to give up, but believe in your ideas," said Lee. "Surround yourself with people you respect and are smarter than you."