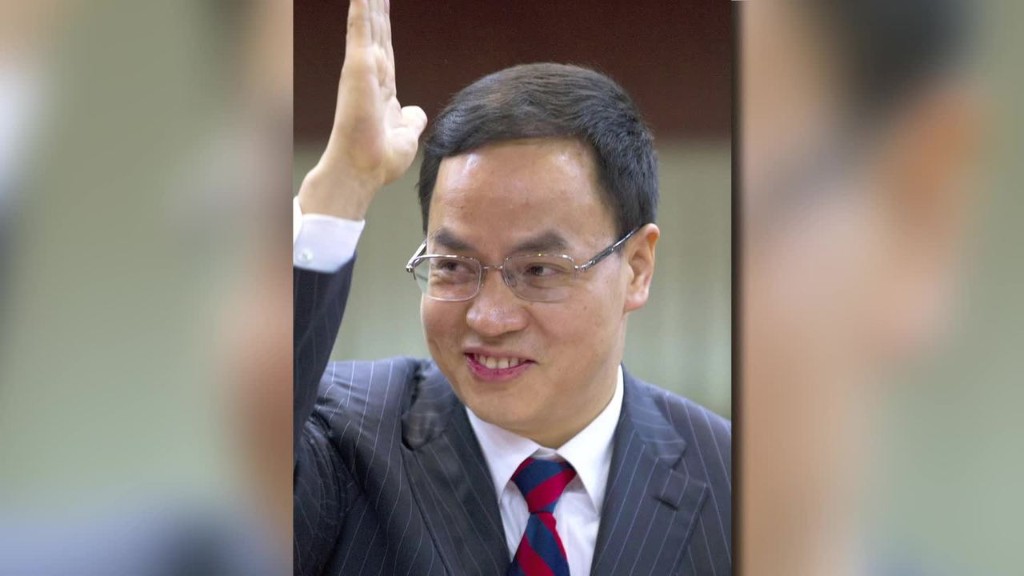 Losing $15 billion doesn't seem all that funny.
But China's one-time richest man Li Hejun showed a sense of humor when he broke his silence on the stock crash that nearly halved the value of his solar power company last week.
The founder of Hanergy (HNGSF) appeared relaxed in a video interview published by Chinese state media Xinhua, just hours before Hong Kong regulators said they were investigating the firm.
Hanergy Thin Film shares plunged 47% in just over an hour on May 20 before trading was halted, by which time the company had lost $19 billion in value.
Li, who held over 80% of the company, appeared to lose as much as $15 billion, but it has since been revealed that he was betting the stock would fall.
Related: China's richest man lost $15 billion in one hour
As his shares were crashing, Li was speaking at a renewable energy conference -- instead of attending Hanergy's annual shareholder meeting.
Li told Xinhua that he knew the stock was heading south fast as he got up to deliver his speech. As the stock was suspended, Li carried on with his day.
He hopped into his car to drive two hours to another engagement, where he had lunch and spoke to 200 entrepreneurs about green energy.
"I even joked that it's not easy for me to deliver this speech as my company has lost 140 billion yuan today," he said in the interview.
His good humor continued. Li said talk of a probe by market regulators was "purely a rumor" and said Hanergy's business "had never been better."
Hong Kong's Securities and Futures Commission said Thursday its investigation into Hanergy "has been active and is continuing," adding it felt it had to comment given reports denying such measures had been taken.
Related: Chinese stocks have surged over 100%
Before last week's collapse, Hanergy's shares had surged over 600% in the past year. At its peak the company was valued at more than $45 billion -- making it bigger than Sony (SNE) -- and paving the way for Li to climb up the ranks and become China's wealthiest man.
Regulators have plenty of angles to pursue.
Days before the crash, Li upped his bet that the shares would take a dive. He increased his short position in Hanergy by 796 million shares, according to a stock exchange filing. He also purchased an additional 26.4 million shares.
Investors taking a short position borrow shares to sell, betting they'll turn a profit by buying back the shares once prices drop.