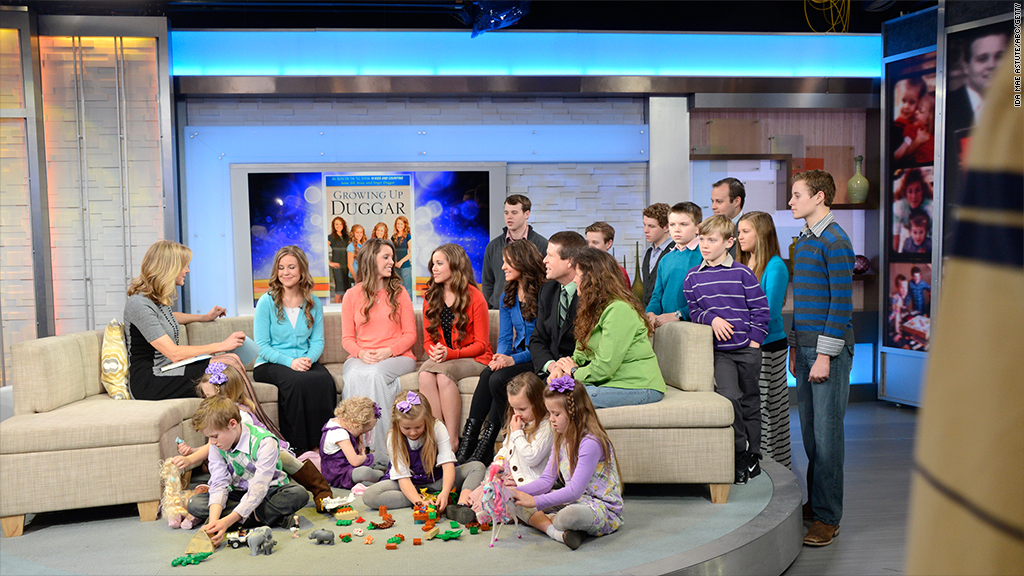 The scandal-scarred show "19 Kids and Counting" is in limbo, and one person connected to the show's production says bluntly that the reality is simple: "The show's over."
TLC's executives, however, are apparently unwilling to decide that -- and clearly unwilling to announce it. The official word is that no decision has been made.
The reasoning is complicated. While there is an Internet clamor for TLC to pull the plug, the channel's executives are considering the business ramifications, the channel's longstanding relationship with the famous Duggar family, and the feelings of its audience.
One factor some critics are forgetting is that the show is not currently in production, meaning there are no camera crews following around any of the Duggars right now. This takes away some of the urgency from TLC's internal deliberations.
"Cancelling" the show would really mean "deciding not to resume production as planned." And that decision doesn't have to be made immediately.
Eventually, it probably will be. It is hard to imagine "19 Kids and Counting" returning to TLC's lineup in the wake of the revelation that Josh Duggar molested several girls, including siblings, when he was a teenager.
Related: Hulu checked with TLC before removing '19 Kids and Counting'
Many viewers will never look at Josh Duggar or his parents the same way again.
The person connected to the production, who spoke on condition of anonymity, acknowledged as much.
But where "19 Kids" ends, another show may well begin. Earlier this week, People magazine reported on a possible spin-off.
"A source close to the Duggars says a new plan may shift focus away from the large brood headed up by Jim Bob and Michelle Duggar, and instead focus on newlyweds Jill and Derick Dillard, and Jessa and Ben Seewald," People said.
A spin-off would keep the family in business with TLC. And that's fundamentally what this is all about. "19 Kids" has been a boon for TLC and for the Duggars. Both parties have made a whole lot of money from the relationship.
"19 Kids" is one of TLC's highest-rated shows. And TLC is one of Discovery Communication's most valuable assets. The fate of the show is obviously being orchestrated at the highest levels of the company.
The executives involved are feeling the pressure from the press and from social media campaigns against the reality show.
Related: '19 Kids and Counting' sees sponsor exodus amid scandal
The views of advertisers are critically important, as well. More than a dozen advertisers have sought to distance themselves from the "19 Kids" franchise, even though no episodes are currently airing.
A cancellation announcement might relieve the pressure -- and satisfy journalists who are calling and e-mailing for updates several times a day -- but create new headaches at the same time.
Why? Because this controversy has become political -- a red versus blue fight that's playing out on social networks and cable newscasts.
TLC is in many ways a "red state" channel, one with a fan base among evangelicals who may not want to see "19 Kids" go. (While commentators have focused on legal questions in this case, some high-profile Christian conservatives have called for forgiveness.)
TLC has to wonder whether some fans of "19 Kids" will reject the channel's other reality shows if TLC appears to mistreat the family.
Maybe that's why the channel is "butting out," in the words of one executive, while the Duggar family deals with the scandal.
Related: '19 Kids and Counting' episodes yanked over scandal
That may or may not be literally true, but it's what TLC wants observers to think. Pulling "19 Kids" from the schedule, but not canceling it, was the closest thing to "butting out" that TLC could publicly do.
Announcing something more -- for instance, that production won't be resuming as planned -- risks the appearance that the entire Duggar family, including the molestation victims, are being punished.
Conversely, announcing a spin-off anytime soon risks the appearance of exploitation and further reactions from advertisers.
Thus it's not surprising that TLC representatives declined to comment when contacted for this story.
The channel canceled another popular show, "Here Comes Honey Boo Boo," when the matriarch of the show was reported to be dating a registered sex offender last year.
The Duggars' case, while disturbing, is different in several ways, and is getting a lot more outside attention. TLC wants to be seen as sensitive and methodical while handling it.
To that end, two sources with knowledge of the channel's plans said Thursday that no announcements about the franchise are imminent.