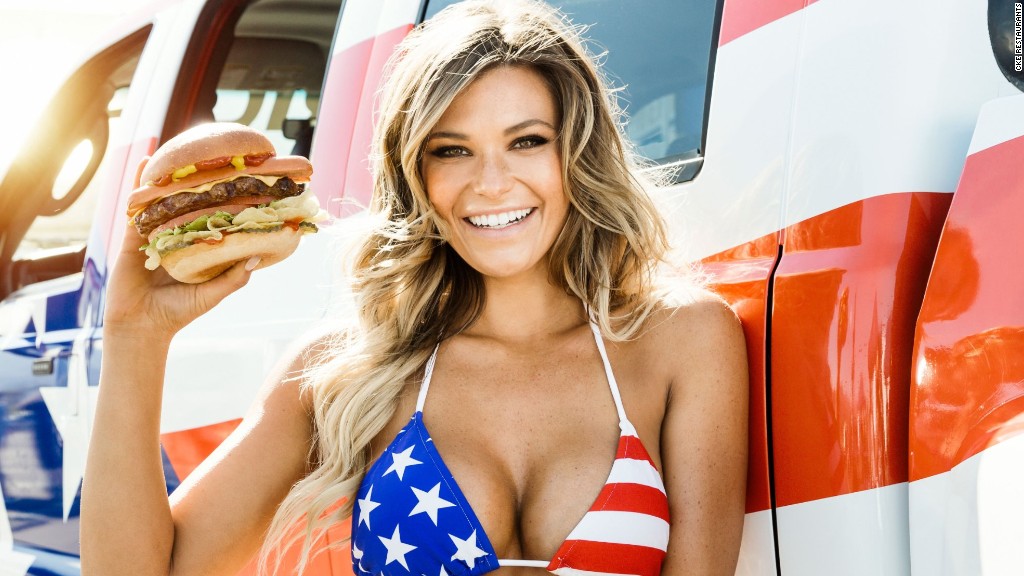 Carl's Jr. wanted to make "the most American thing ever." The result is an ad campaign for a thousand-calorie, hotdog-hamburger-hybrid that stacks a swimsuit model, a hot tub, and a pickup truck in front of the Statue of Liberty.
Carl's Jr. -- known in some regions as Hardee's -- is launching its new ad for The Most American Thickburger on Thursday, and it features model Samantha Hoopes chowing down on the burger wearing an American Flag bikini.
But the restaurant's CEO, Andrew Pudzer, told CNNMoney's Cristina Alesci "the most American thing ever" is not intended for all Americans.
"Our target customer is that 18 to 34 year old, young, hungry guy that wants to come in and get a big, juicy, delicious burger," he said.
And the Most American Thickburger happens to be one of the restaurant's biggest. At more than 1,000 calories, the beef patty is stacked with a hotdog, potato chips and cheese.
While many fast-food chains have been trying to cater to a health-conscious customers by removing food additives and genetically modified ingredients, Carl's Jr is confident about heading in its indulgent direction.
"We actually sell more of the delicious, big, indulgent burgers, by far, than we sell of any of the healthful products we sell," Pudzer said.
With $3 billion in sales last year and growth that outpaced many of its competitors, Carl's Jr. has reason to stick with its high-calorie food and the "sex sells" advertising it's known for.
The Thickburger ranges from 1,030 to 1,230 calories and starts at $5.79 or $8.29 for a combo meal, according to the company's website.