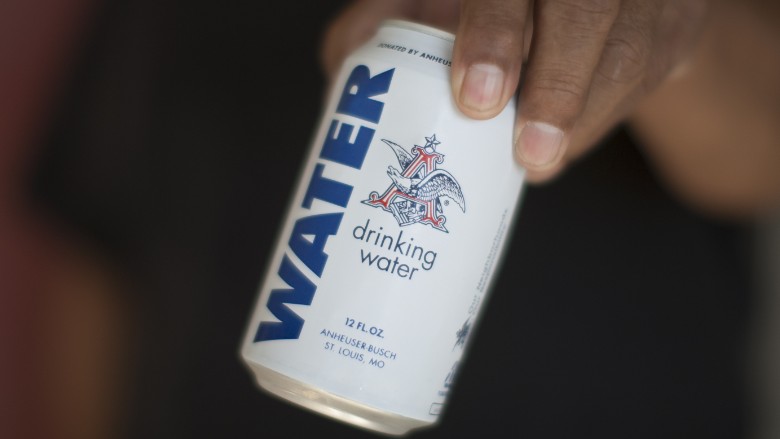 Texas and Oklahoma, this drinking water's for you.
Anheuser-Busch is producing cans of drinking water at it Cartersville, Ga, brewery to be distributed to flood victims in need of clean drinking water in Texas and Oklahoma.
The production of water began last week and ramped up on Thursday. The first shipment of about 50,000 cans of water should be delivered to Texas and Oklahoma in the next couple of days.
"Relief workers and people in the region are in need of safe, clean drinking water as they work to recover from the storms, and this is one way Anheuser-Busch can help our friends and neighbors," said Rob Haas, senior general manager at Cartersville.
The Cartersville brewery continues to make beer at the same time it is bottling the water, so there should be no shortages of beer in its normal delivery area.
Related: After floods, Texas braces for more downpours
This is the latest effort along these lines by the brewer of Budweiser, Bud Light and Michelob beers, which has distributed about 73 million cans of drinking water since 1988.
"When a need for water looks imminent, we can count on Anheuser-Busch to help. They are a proactive partner with a priority to help communities during times of stress and disaster," said Cindy Erickson, CEO American Red Cross of Eastern Missouri.
Anheuser-Busch also has a brewery in Houston but the location in Cartersville is the one that typically produces water to respond to natural disasters. In 2012 it produced water to help victims of Hurricane Sandy even though the company has a brewery in Newark, NJ as well.
The cans have the Anheuser-Busch logo, but otherwise are white with the word WATER in large letters.