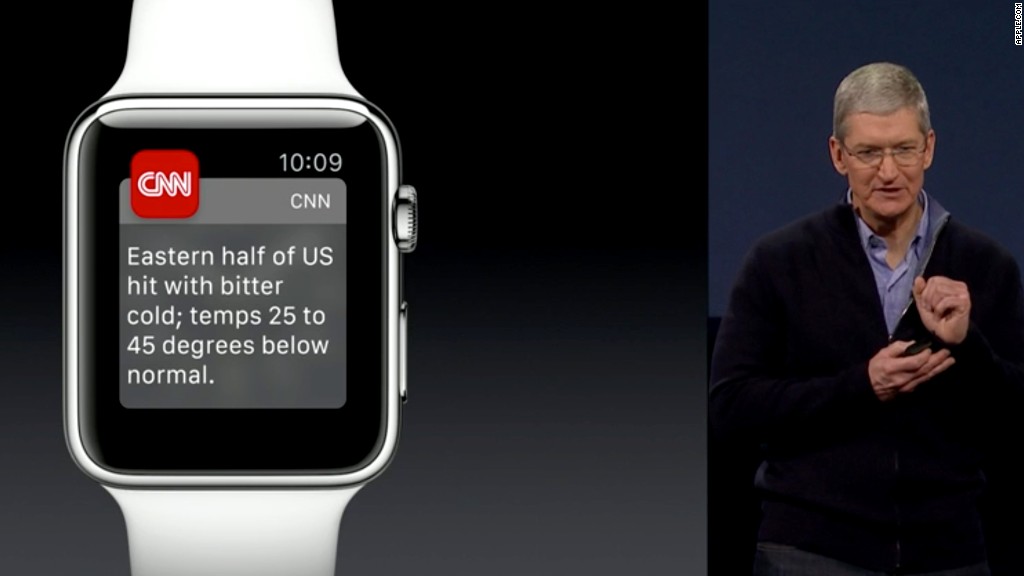 The Apple Watch is gearing up to be Apple's most successful product debut.
Since the devices first went on sale in April, Apple (AAPL) has received 7 million orders in total and shipped 2.5 million watches so far, according to a Global Equities Research report, citing tracking methods used by app developers.
Apple is expected to deliver about 5 million Apple Watches by the end of the quarter, which is two times more than analysts expected, Trip Chowdhry, Managing Director of Global Equities Research, told CNNMoney.
This would beat the company's previous "new category" debuts -- the iPod, iPhone, and iPad.
When the iPod first went on sale in 2001, Apple sold just 125,000 units in its first quarter of availability.
Six years later when the iPhone hit the market, Apple sold 1.1 million units.
Apple shipped 3.3 million iPads during the first three months of sale five years ago in 2010.
And, while the Mac wasn't the first in its category, it still only sold 50,000 within the first three months of sale in 1984.
Compared to these past product launches, there's no doubt the Apple Watch would be Apple's most successful device debut to date. However, its sales have had a major advantage: The Apple Watch is the first consumer product Apple has released in more than one country on the same day.
Consumers in nine countries were able to place an order for the Apple Watch when pre-sales began April 24. International customers had to wait weeks and months for the first iPhone and iPad.
Demand for the watches is expected grow stronger as the year progresses as well, for two reasons.
First, as more people receive their watches, they're likely to influence other people to buy one.
"Each week at least one existing Apple Watch owner is showing their Apple Watch to about 15 to 20 people," Chowdhry said. On average, two of those friends, colleagues or strangers will place an order for the device.
The second reason is Apple's continued push into corporate sales, which began last year when it partnered with IBM (IBM) to produce enterprise-level software for iPads.
Companies including SAP (SAP), IBM, Oracle (ORCL) and Salesforce (CRM) are said to be developing Apple Watch apps that let employees track sales metrics and manage their meetings. As companies roll out apps for the watch, employees might have another reason to use it -- at work instead of just at home.
Apple, on the other hand, has been trying to temper investor expectations for the watch. It will relegate the Apple Watch to the "other" section of its quarterly earnings report, where sales figures will be combined with ones for the iPod and Apple TV.
However, if Apple Watch sales end up as high as expected, you can bet that Apple will say how many watches it has sold.
The Apple Watch is the company's first new consumer product in five years -- and its first since Steve Jobs died. Apple still relies heavily on a single product -- the iPhone -- for most of its revenue.
The Apple Watch comes in three models. The cheapest -- the Apple Watch Sport -- costs $349. Apple has to sell "just" 3 million of these to reach $1 billion in sales.