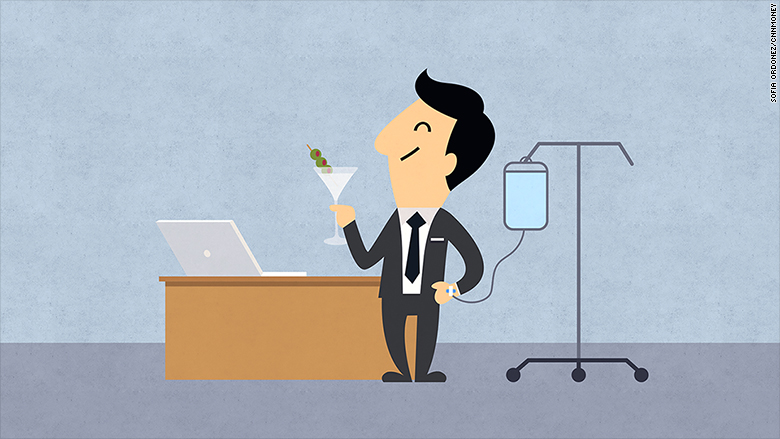 All the Don Draper liquid lunching and Wolf of Wall Street champagne-popping come with a price: a big, fat hangover.
Advertising ranks atop the prestigious list of the most hungover industries, according to The Hangover Club, a New York City-based company that sends nurses to homes and offices toting intravenous hydration and other medicine to relieve those who were over-served the night before. The service, which delivers IV electrolytes, headache and nausea medicine and various vitamins, can cost up to $250.
The finance industry came in a close second, followed by corporate law, internet/media and finally, public relations, the survey showed, which included about 500 of The Hangover Club's clients.
Related: Rich men drink more than anyone else, study finds
It's no wonder that these fields top the list, according to The Hangover Club's co-founder, Asa Kitfield, because they're centered around entertaining clients. Before he got into the on-demand hangover business last year, Kitfield spent several nights each week partying in his digital advertising job.
"When clients have big budgets with you, they want to be entertained," he said. "The same thing goes for finance and these lawyers. We would go out pretty hard and the next day would be rough."
New York's IV hangover bubble
Kitfield's is one of many services that now cater to tired, not-so-poor, huddled masses of those who had one-too-many cocktails.
Back in 2013, a New York urologist and his surgical resident son started The I.V. Doctor, peddling their electrolyte, anti-nausea and headache medicine, pro-recovery cocktail to offices in the financial district and mansions in the Hamptons. Since then, a number of businesses like The Hangover Club have cropped up, all marketing some variation of instant, in-home hydration that will have you back on your game within an hour.
Related: This doctor cures hangovers for $250
For all the new supply, there seems to be enough demand to go around. Kitfield said that since The Hangover Club started nine months ago, his business has doubled every month. In May, he said they did about 300 IV drips.
He already has about 30 nurses working for him, either on a full-time or part-time basis, and is seeking funding to open a physical location in the city. The hope then, he says, would be to franchise.
"We've had an incredible response with our customers," he said. "And a ton of franchising requests."