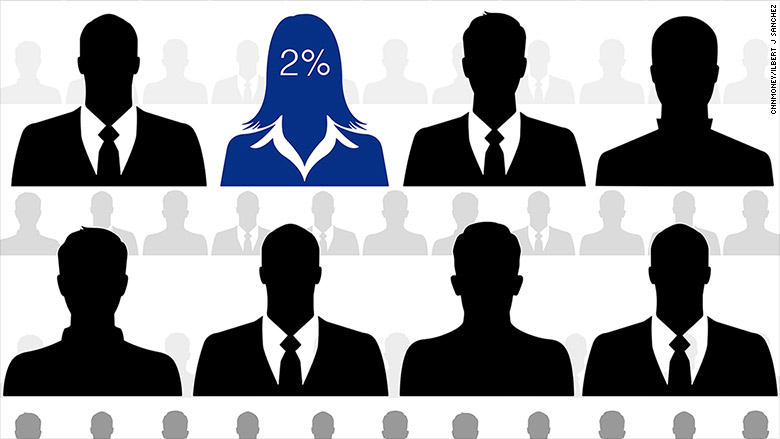 Women make up over half of the U.S. population. They control the majority of consumer spending and earn more college degrees than men. But they still aren't in charge of many investments.
Managing money is big business. There's $12.6 trillion in U.S. stock mutual funds alone. Only 2% of that money is handled my female investment managers, according to a report by Morningstar.
"When you exclusively manage a deal, you pull the trigger," says Tracy Chen, a portfolio manager for Brandywine Global, an investment manager with about $66 billion in assets. "It is important that women are given the responsibility to be complete decision makers."
Most people don't care about the gender, race or any other characteristics of their investment managers. They just want to see their money grow.
Related: Still missing: Female business leaders
But there are performance reasons that should make everyone want to see more female investment managers.
While decision making may vary from person to person, Chen has found that women tend to have more long-term investment styles and are more risk averse than men. Those traits help make more money over time.
Some like Sallie Krawcheck, the former head of wealth management at Bank of America, have gone as far as to say the financial crisis might not have been as horrible if more women had worked on Wall Street. Krawcheck saw too much "group think" among the mostly white, mostly male managers and executives.
Related: Female investors often beat men
"I didn't observe evil people trying to rip clients' faces off," Krawcheck told CNNMoney. "I observed a lot of people thinking the same thing."
Katrina Dudley has seen the power of diverse viewpoints first-hand. She co-manages the Franklin Mutual European Fund, valued at just under $3 billion, along with a male colleague.
"I don't think funds should be exclusively managed by men or women. Women and men bring different perspectives to the table which adds quality to discussions," says Dudley.
She stresses that as women earn more, they are investing more, and firms need to employ managers that better reflect the diversity of their clients.
Related: Another Wall Street movie is coming. This time, it will star a woman
At the moment, female participation in this financial industry is low.
Dudley's company -- Franklin Templeton -- is actually one of the best in terms of promoting female fund managers. At Franklin Templeton, 14.7% of all investment managers are women. That's second only to Dodge & Cox, which leads the way with 25% women fund managers.
Both firms are well above the industry average. Even when combining both female managers who work on their own and those who work on a team, only 9.4% of the 7,700 portfolio managers of U.S. open-ended mutual funds are women, according to Morningstar.
Dudley got into fund management because she wanted to make a difference in people's lives.
"I help parents send their kids to college by investing and carefully stewarding college funds. So it is a very rewarding profession," says Dudley.
Too often in the male-dominated financial industry, Dudley has seen women let their male colleagues dominate a discussion.
"Speak out. No one can hear what you're thinking," Dudley advises young women.