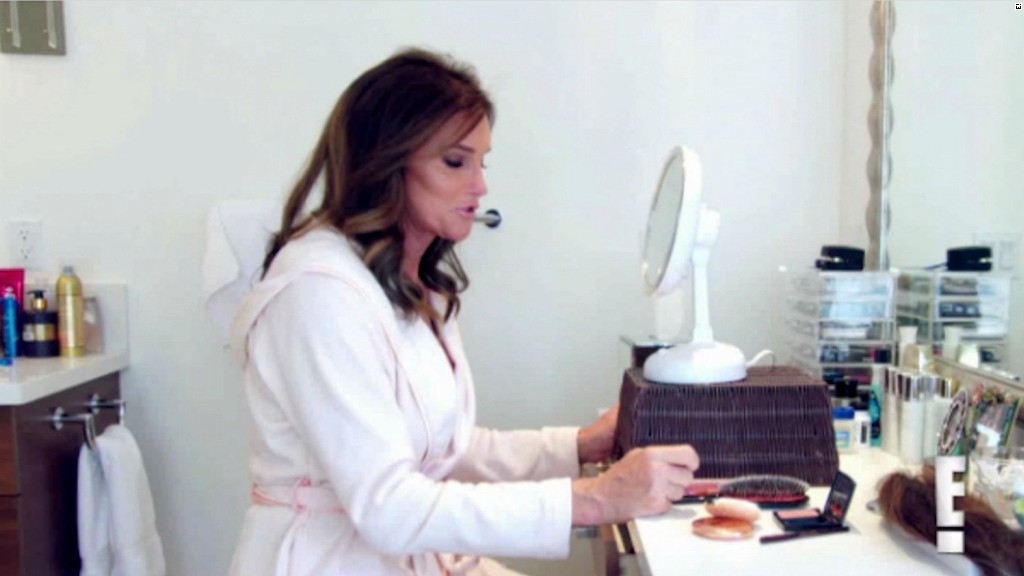 Now that Bruce Jenner has revealed her new name, Caitlyn, the E! cable channel is promoting the name of her forthcoming reality show: "I Am Cait."
The channel announced the show's name on Wednesday morning -- the latest in a series of carefully timed announcements surrounding Jenner's gender transition.
E! also released a video trailer for the new series. In it, Jenner calls herself "the new normal."
You can watch the trailer here.
In synergistic style, E! rolled out the video on NBC's "Today" show. Both E! and NBC are owned by Comcast.
The eight-episode show is premiering on July 26. E!, of course, has been in business with Jenner and his famous family for many years through "Keeping Up with the Kardashians" and assorted spin-offs.
Executives at E! have sought to emphasize that they're taking the responsibility of telling a transgender celebrity's story seriously and sensitively.
At the same time, "I Am Cait" is another chance for both Jenner and E! to profit.
Related: Why Caitlyn chose Vanity Fair for her debut
Brad Adgate, research director at Horizon Media, said he expects ad rates for the show to be about four times higher than typical prime time E! shows.
E! originally announced the series, without a title, back on April 24, the same day ABC aired a two-hour interview with Jenner. ABC's Diane Sawyer even mentioned the E! series during the interview.
Cameras started rolling in May. But Jenner mostly stayed out of the public spotlight that month.
Monday's release of Jenner's Vanity Fair cover, with the headline "Call Me Caitlyn," was the next triumphant step in her public transformation.
The cover photo was accompanied by an in-depth article by Vanity Fair writer Buzz Bissinger.
Related: Meet the writer with exclusive access to Caitlyn Jenner
According to Bissinger, Jenner is confident that she has "full creative control" over the reality show because she is an executive producer of it.
But Jenner's four oldest children -- Cassandra, Burt, Brandon, and Brody Jenner -- have doubts, according to Bissinger, and they have chosen not to participate in the series.
Among other things, "They disagree with their father's decision to use not only the same production company that made 'Keeping Up with the Kardashians,' but many of the same people, including several original executive producers," he wrote.
Jenner told Bissinger that she was initially "terribly disappointed and terribly hurt," but has come to accept the children's decision.
Bissinger also interviewed the head of programming at E!, Jeff Olde, who said "I Am Cait" is "not at all a Kardashian spin-off" and that "we will not resort to spectacle."
Olde, who is gay, also said, "This is so far beyond television, on a personal level. If I get one thing right in my professional career, it will be this."
Related: Caitlyn Jenner to receive ESPYs award
Molly Shiels contributed reporting.