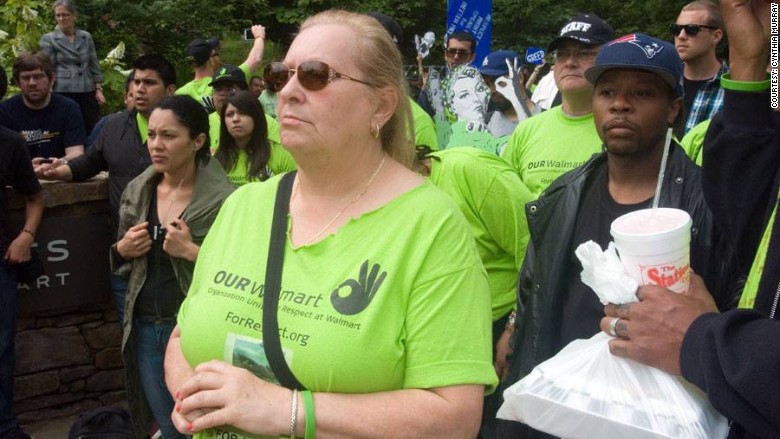 Many Walmart customers know Cynthia "Cindy" Murray. She's worked for 15 years in the fitting room at the Laurel, Maryland store, helping shoppers decide what fits and what doesn't.
On Friday, she will stand before Walmart's CEO and board in the big University of Arkansas arena in Fayetteville, Ark. She brought her best black slacks and dress shirt for the speech -- clothing she bought at Walmart on her $13.60 an hour salary.
Her message to the Walton family and board that control Walmart is simple: treat workers better...and hold the CEO to the same standards that associates are held to.
"The CEO is still getting rich, but it's our blood and sweat that runs the store," Murray told CNNMoney.
Murray is allowed to give a speech on such a big stage because she owns Walmart (WMT) stock. She has just over $2,000 worth.
Related: Why I love my Disney stock
More and more Walmart employees have realized that buying Walmart stock isn't just a good investment, it gives them an opportunity to have a small say in how things are run.
Their advocacy has helped push the company to raise starting pay to at least $9 an hour and to better protect the rights of pregnant workers.
"Walmart is pleased to be making more than a $1 billion investment in our associates this year, including raising wages, creating new training programs and giving associates more control over their schedules," company spokesman Brian Nick told CNNMoney.
CEO pay under fire: Now one of the top issues for Walmart associates -- the cashiers, greeters and shelf stockers -- is CEO pay. Associates get evaluated by very specific criteria for their pay increases and bonuses. They think executives should have similarly clear and rigorous "pay for performance" standards.
Related: The 15 highest-paid CEOs
Murray thinks something is off. She is trying to figure out how the company's stock has grown little over the past few years (it's down 14% so far in 2015), yet CEO Doug Mcmillon got paid about an $18 million bonus (roughly $15 million in stock options and nearly $3 million in "non-equity incentives.")
Murray had to buy all of her Walmart stock on her own. It came right out of her paycheck over the years. She and her husband, a truck driver, barely get by. They aren't on food stamps or other government aid, but they pray about money often.
"I don't eat the best," Murray, now 59, says. "I had to skimp on groceries to pay the light bill."
Associates like Murray only receive bonuses if their store meets tangible sales and profit goals and if they individually perform well.
"I've had times when I got nothing or $42," says Murray.
She feels that Walmart has really changed during her time there and that's why she joined Our Walmart, the campaign to better working conditions that is supported by the United Food and Commercial Workers Union.
Related: Walmart raises pay well above the minimum wage
Getting a say on pay: Shareholders get to vote on executive pay every year at the annual shareholder meeting. It's a non-binding vote, meaning the company's executive compensation committee doesn't have to follow it. But the board has noticed that more shareholders like Murray are voting against the pay plan.
"We believe the compensation of our [executives] for fiscal 2015 properly reflects our company's performance in fiscal 2015," the company said. It released a lengthy report detailing how they calculate CEO pay.
Research firm Institutional Shareholder Services studies executive pay issues across many companies. While it concludes that Walmart's CEO pay isn't far off from its peers, it does note that the company's sales growth has slowed and there are worries about e-commerce.
"Walmart appears to be a poster child for growing concerns about the increasing complexity of executive pay programs," the ISS report says.
Related: 'This is a new low even for Walmart,' say fired workers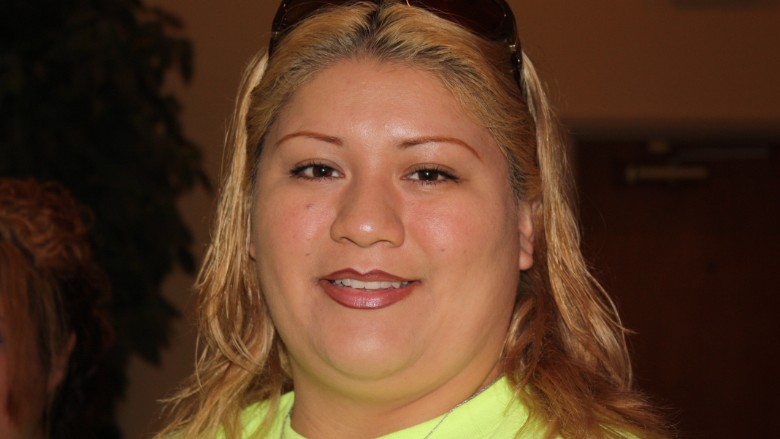 Workers speak up: Venanzi Luna came all the way to Arkansas this year from California. She was a deli manger at Walmart for eight years until the company closed her Pico Rivera store in April.
"The CEO makes so much money. He gets paid no matter what. If the associates have a bad quarter, we don't get a bonus," Luna, age 35, says.
Luna made $14.30 before the company closed her store. Her raises were typically 20 cents. She was thrilled to get 60 cents one time. She tried to take classes at a local college, but she claims that Walmart made that difficult. As a deli manager, her supervisor insisted that she stay later at times to go over the stocking and inventory.
For the past few years, she has tried to make the journey to the shareholder meeting as part of the Our Walmart movement. She is always amused by the videos they play in the arena.
She remembers the first time saw video of Justin Timberlake pretending to be a Walmart employee. He was smiling and laughing.
Related: Ex-Wal-Mart CEO Duke retired with $140 million
"How would it be for him working at a Walmart on a Saturday when it's the most busy and customers are yelling at you and there's no backup?" Luna wondered.
She really liked working at Walmart at first, but then the company cut staff at her store and she often found herself running between the deli meat slicer and then over to the bakery to try to help customers.
The CEO pay and bonus issue is her top concern too.
"It shouldn't be that he gets a bonus no matter what. The associates don't get that. It's a double standard," Luna says.