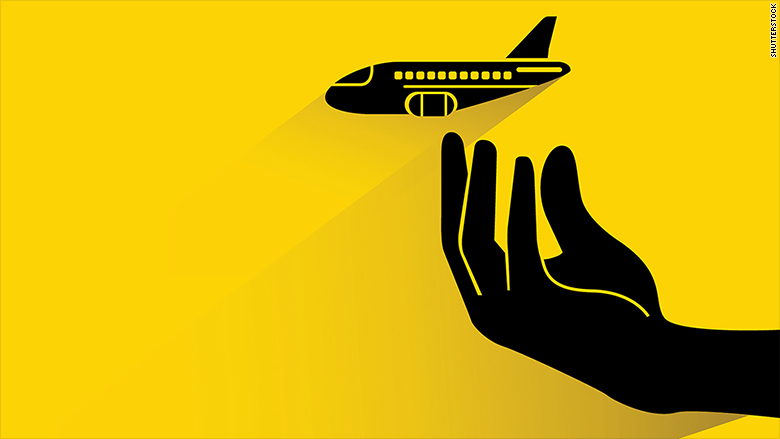 For investors, the next best thing to a fortune teller is the Dow Jones Transportation Index.
The index -- often referred to as "Dow Transports" for short -- is made up of 20 top railroad, airline, trucking and delivery services stocks. Think: Delta (DAL), FedEx (FDX) and Union Pacific (UNP).
When it goes up, the rest of the stock market often follows. And when it goes down, well, you get the idea.
Right now, the Dow Transports (DJT)is sinking. It peaked on December 29 and has been sliding pretty much since then. It's now down 9% in 2015.
"There's anxiety among investors," says Scott Clemons, chief investment strategist at Brown Brothers Harriman. "It's like a movie where the main character keeps walking by the scary door. The suspense is building."
But experts say: Don't panic.
Related: Pay attention to the chaos in the bond market
Stock market 2015: The Dow Transports is often a leading indicator of where the stock market is headed because people and businesses ship and send more stuff when the economy (especially the business economy) is doing well, and they pull back when it isn't.
But it's not a perfect gauge.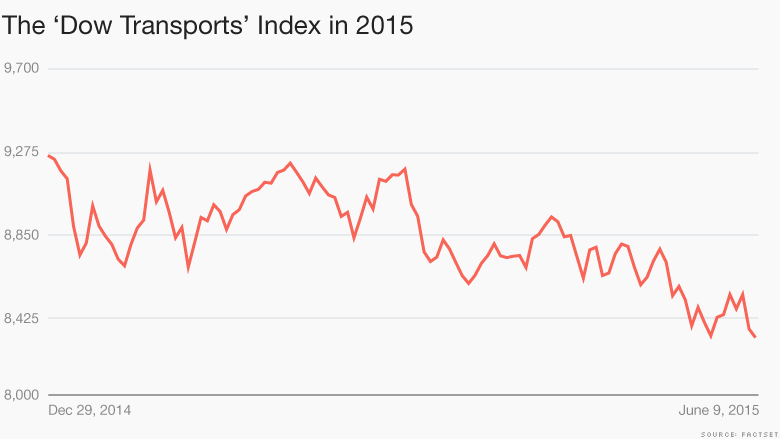 The stock market overall is still having an OK 2015. The Dow is flat, while the S&P 500 is up 1% and the Nasdaq is over 5% higher.
It's all about oil: The dramatic fall in oil prices at the end of last year and in January was, at first, a great boost to a lot of transportation companies. Airlines are saving billions of dollars on fuel and are on track to have their most profitable year ever.
But the stock market priced in those gains a while ago.
Now oil prices are rising again. Crude oil bottomed out just below $43 in March. It's now back up to $60.
"The [Dow Transports] stocks are the mirror opposites of oil," says Bill Stone, chief investment strategist for PNC.
Every time the oil price goes up a bit, stocks like Southwest Airlines (LUV) take a hit. It's happening again this week as airlines are some of the worst performers in the S&P 500.
Related: Airline profits could take off in 2015
It's a similar story for railroads.
"The railroads are doing a lot better than they were a few years ago, but they're driven by what they carry -- coal and oil are slowing down," says Peter Tuz, president of Chase Investment Counsel.
His firm sold out of Union Pacific stock earlier this year after owning it through several years of great gains.
But $60 oil is still very low by historical standards. Oil may be ticking up again, but it's certainly not at the point of choking the economy in some sort of 1970s oil crisis. Only a year ago, oil was trading around $100 a barrel.
The Dow Transports slipping this time doesn't seem to be as much of a red flag about the broader economy. It's a reflection of a beaten-down energy sector that is so far a mostly contained problem.
"Even if you're a believer in the Dow theory, there's maybe a little less to believe from them now," says Stone.