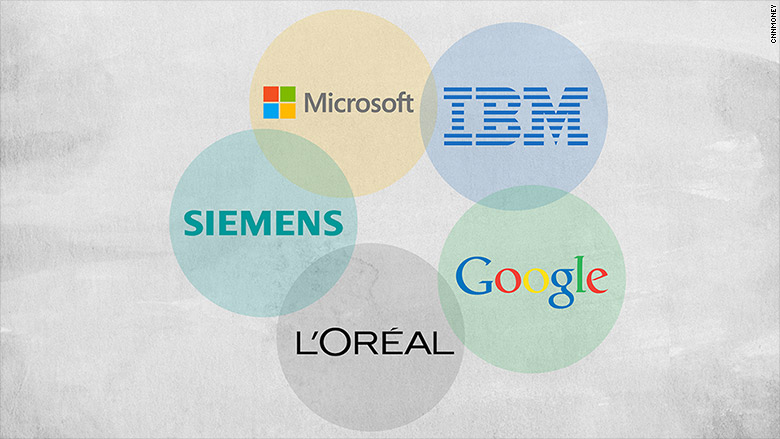 European graduates just can't get enough of Google.
For the fourth year in a row, Google (GOOGL) is the most attractive employer among European business students, and also ranks in the top five for those studying engineering and IT.
According to the latest annual survey by Universum, a research and consulting firm, students still want to work for companies offering cool products and services, but are increasingly interested in the workplace culture.
"Rather than [wanting to work] for companies who just make innovative products, it's about working for companies that foster creative and dynamic environments, so innovation can happen," said Claudia Tattanelli, global director for Universum.
They're looking for employers who encourage team work and provide access to senior leaders.
Students surveyed by Universum on average rank work-life balance as a top career goal, but their understanding of what that means differs from their parents.
Instead of expecting eight-hour working days, and evenings without checking their cellphones, they accept their hours will be longer but are more focused on being able to fit work around family time, said Tattanelli.
Graduating students also say they value workplace diversity, but they're not just talking about racial and gender diversity. Instead, they want to work in an environment where people have different accents, cultural backgrounds and working styles, she said.
Engineering and IT students in Europe now rank IBM (IBM) as their favorite employer, and Siemens (SIEGY) has dropped to second spot in the rankings.
For business students, L'Oreal (LRLCY) comes in second behind Google.
Tattanelli said that these top employers, and others such as EY, PwC and BMW Group, continually tailor their messages to attract the best and brightest.
Below is a short list of the top employers for graduating students in Europe: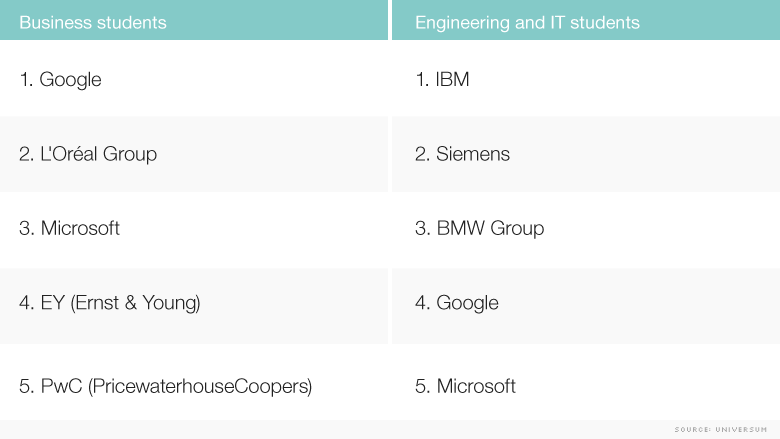 The 2015 Universum rankings were based on a survey of more than 168,000 business, engineering and IT students -- most of them approaching graduation -- across 12 European nations, including Germany, France, Italy and the U.K.