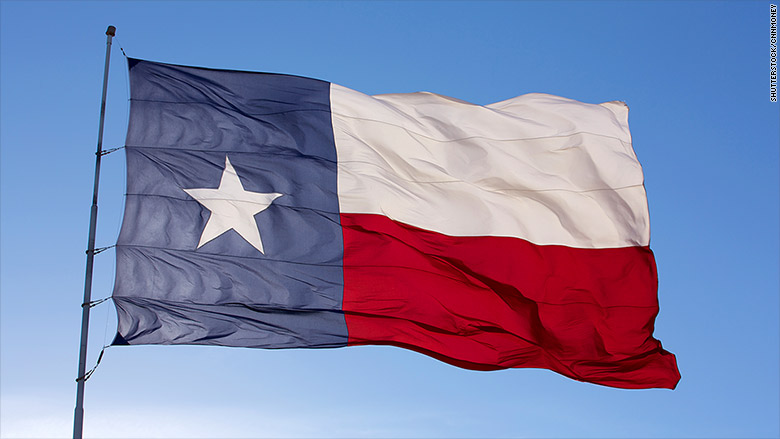 Everything is bigger in Texas, including economic growth.
Texas was America's second fastest growing economy last year, according to the new data from the Commerce Department. The state grew by a stellar 5.2%, behind only North Dakota.
Some argue Texas is the nation's best state economy given its size and low unemployment.
What's driving all this growth? Mining and manufacturing. Texas is producing textiles, food and more these days. Real estate and tech picked up the pace too.
But mining was the leading cause for growth in the Southwest region last year, especially in Texas and Oklahoma.
Related: Fastest growing U.S. cities: Texas is king
What about the oil crisis? Texas managed to keep growing last year despite oil prices crashing. A barrel of crude oil plummeted from over $100 last summer to about $50 by the end of the year. Yet, Texas' GDP -- the main measure of economic growth -- jumped up significantly from 3.7% in 2013.
The concern is whether Texas can stay strong in 2015. JP Morgan (JPM)'s chief U.S. economist Michael Feroli says the state could even fall into recession if oil prices remain so low.
"Although oil prices plummeted in 2014, the negative effects took some time to materialize and have been more noticeable in 2015," wrote Wells Fargo (WFC) economist Michael Wolf in a note.
"More moderation is in store for 2015," Wolf says, noting that employment in Texas is already showing signs of slowing down this year.
Related: Oil bust leaves energy states in the dust
The Texas recipe: Still, three of the top five fastest growing U.S. cities -- Houston, Austin and San Antonio-- are in Texas.
The Texas growth story is deeper than just oil and mining. Many Americans are gravitating to the nation's second-largest state because it offers cheap housing in close proximity to cities as well as ample job opportunities.
It's a story that Governor Rick Perry is trumpeting on the 2016 presidential campaign trail, calling his state "the most successful in America."
The unemployment level in Texas is 4.2% according to the Bureau of Labor Statistics. It is significantly lower than the national level of 5.5% and the best among any big state in the country.
There will likely be some pullback this year for Texas, but experts say the 1980s recession that followed the oil bust is unlikely to repeat again.
Related: Why is everybody moving to Texas?
It'll take a lot to bring Texas down: Even during the 2008 recession, Texans were not too worried about finding jobs because of the shale gas boom. Now, despite the weakening energy sector, Texas' economy continues to exude strength.
"Some of the more recent strength reflects the diversity of the state's economy. The state's tech sector has ballooned and its transportation industry is growing quickly," wrote Wolf.
Still, Wolf remains cautious: "Much softer growth can be expected for 2015. We do not think that the state will see a contraction this year, but real GDP growth will be much lower than the 5.2 percent rate seen in 2014."