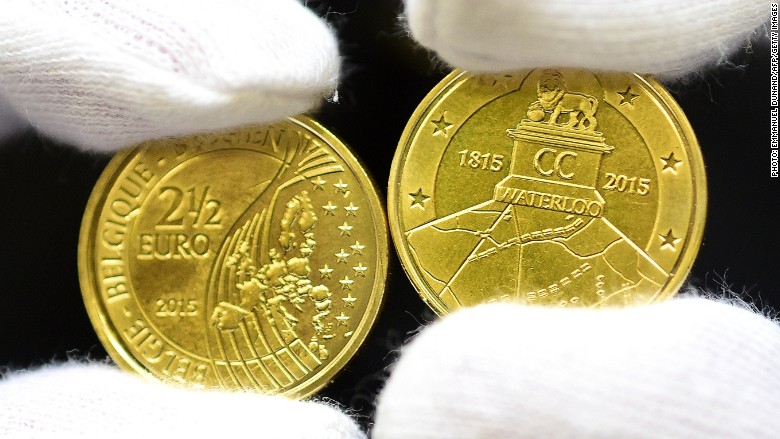 For France, it's Waterloo all over again.
Belgium is issuing a new euro coin to commemorate the 200th anniversary of the Battle of Waterloo -- one of the most painful defeats in French military history.
The French government does not like it at all. Paris objected when Belgium first unveiled its plan for a new 2 euro coin in February, arguing that it could "cause an adverse reaction in France" at a time when the eurozone needs to stand together.
Eurozone countries need the agreement of their partners to issue new coins. So Belgium set about destroying 180,000 coins it had already minted.
But France's much smaller neighbor has now used a little-known clause in European law that allows countries to issue commemorative coins in non-standard values. The result: A 2.50 euro coin commemorating the Battle of Waterloo in 1815.
"The French protest led to the choice of a value that is not common in the eurozone," the Belgian finance ministry said in a statement. "This is the first Belgian coin with such a nominal value."
France was reassured that the new coin will only be used in Belgium, but that did not stop French media calling the spat "a new Waterloo."
Related: Napoleon's hat sells for $2.4 million
Waterloo is a small town a few miles south of the Belgian capital Brussels and about 50 miles from the French border.
The battle marked the final defeat of Napoleon, and the end of 23 years of wars between France and the rest of Europe. An estimated 12,000 people were killed and 35,000 wounded that day.
It overturned Belgium's annexation by France -- ultimately leading to independence from the Netherlands in 1830 -- and brought an end to a period of unmatched French influence over the continent.
The new 2.50 coin depicts the position of troops on the battlefield and is being sold online for 6 euros. A large 10 euro silver coin is also available for 42 euros.