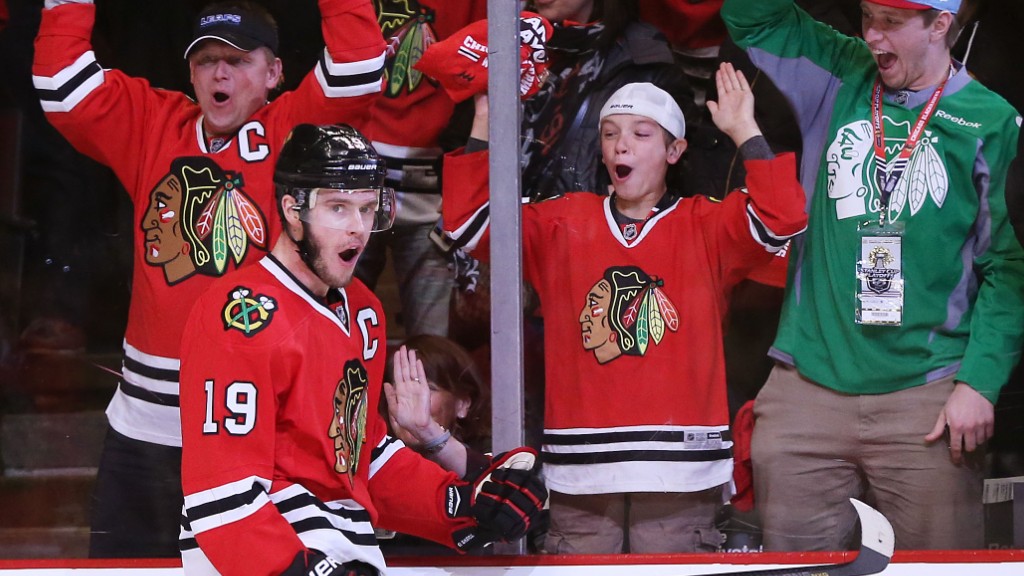 Basketball may be trendier than hockey. There have been more celebrity sightings at the NBA Finals than the Stanley Cup Finals. Rihanna. Floyd Mayweather. Dave Chappelle.
But the hottest sports tickets this June aren't for Stephen Curry's Golden State Warriors versus LeBron James and his Cleveland Cavaliers. It's for the Stanley Cup games in Chicago.
The average resale price for a ticket to see the Chicago Blackhawks take on the Tampa Bay Lightning at the United Center is more than $1,900, according to figures from ticket site TiqIQ.
The NBA games in Oakland and Cleveland are going for about $1,500 a pop.
It really goes to show how dedicated hockey fans are for some of the most storied franchises. Chicago is one of the NHL's "Original Six" teams.
Another -- the New York Rangers -- played in last year's Stanley Cup Finals. The average ticket price on resale sites for games at Madison Square Garden topped $2,100.
The price for tickets in Tampa Bay aren't nearly as expensive though -- at about $1,150 each.
But diehard puckheads appear to be a lot more passionate than hoops junkies. Hockey fans have been paying more to see their team try and win a title than basketball fans have for the past few years.
The average resale price for Stanley Cup tickets were more expensive than the NBA Finals from 2011 through 2014.
Related: Can Golden State's Stephen Curry be an ad star like LeBron?
Tickets for Stanley Cup Finals games in Vancouver in 2011 cost more than $2,000, too.
It makes sense. Hockey is religion in Canada. And the last time a team from the Great White North won the Cup was the Montreal Canadiens in 1993.
Still, it is a bit surprising that the NBA tickets aren't fetching more than hockey games in the Windy City. After all, the long-suffering fans in Oakland and Cleveland should be a lot more eager to see their team win.
Related: NBA Finals is also a matchup of Nike vs. Under Armour
This is the third trip to the Stanley Cup Finals for the Blackhawks since 2010 -- and Chicago wound up hoisting the trophy that year and in 2013.
The Warriors haven't won an NBA title since 1975. Golden State star Rick Barry was shooting free throws underhanded back then!
And the Cavs have never won an NBA championship.
Of course, $1,500 is a lot of money for one ticket. That does show a certain amount of dedication ... and a lot of disposable income.
Related: One fan spent $36,843 for NBA Finals ticket
But wouldn't you expect Golden State fans to be outspending blue collar Chicago natives? Especially when you consider what's going on in Silicon Valley?
There are a lot of wealthy tech execs and startup founders in the Bay Area.
Apple (AAPL)executives were not shy about their love for the Warriors during Monday's Worldwide Developers Conference.
Apple senior vice president Eddy Cue (who was a Twitter phenom Monday thanks to his bad Dad dance moves and salmon-colored shirt) was at both games.
And a bunch of other high-profile tech leaders trekked to Oakland to root for the Warriors. Salesforce.com (CRM) CEO Marc Benioff tweeted photos of himself sitting next to will.i.am.
Oracle (ORCL) chairman Larry Ellison had a courtside seat. That's not surprising. The Warriors play in Oracle Arena.
But maybe all those other rich geeks were too busy coding to care about things as mundane as basketball.