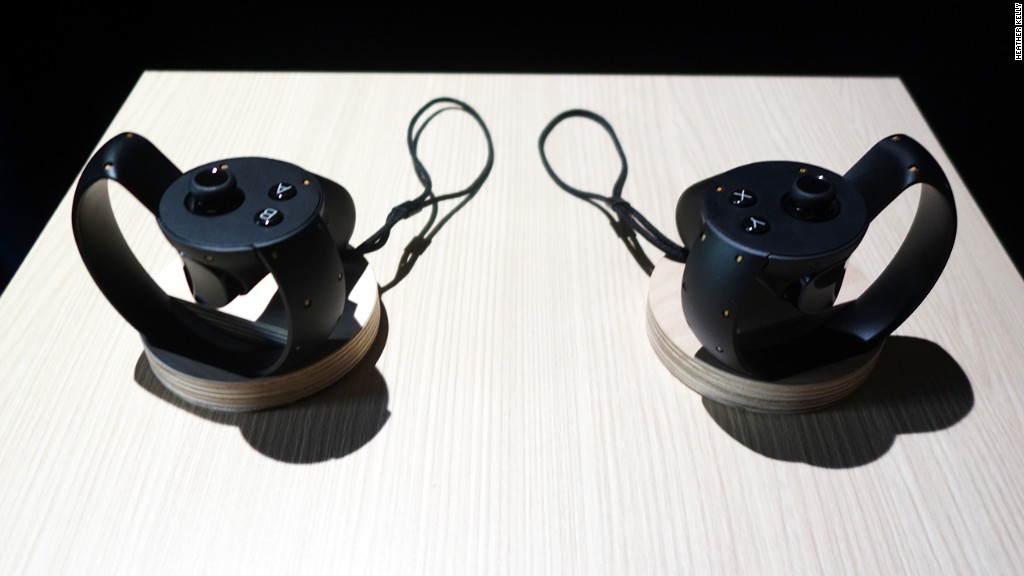 The hottest virtual reality headset is getting closer to being a reality.
Oculus showed a final version of its Oculus Rift virtual reality headset for the first time on Thursday. It also debuted a new pair of circular handheld controllers called Oculus Touch.
The Facebook (FB)-owned company did not announce a price or give hands-on demos of the prototype headset, but said it will start shipping in early 2016.
The matte black Rift is a more polished, consumer-ready version of the developer goggles that have been around for two years. Inside are two OLED screens with a wide field of view, though CEO Brenden Iribe acknowledged that the screens were "maybe not quite as high resolution as you'd one day want."
Google engineer: Humans will be hybrids by 2030
An array of motion detectors in the device track head movement so that video moves in sync with the wearer. A desktop sensor plugs into the back of your computer to track your movements.
The Oculus Touch is a new handheld controller for Rift that tracks motion and gives haptic (vibrating) feedback, allowing you to use your hands in a VR game. Clad in a pair of flip flops, co-founder Palmer Luckey held up a pair of the controllers and said they would give "the sense of feeling as though your actual hands are your virtual hands." The devices will be available in the first half of 2016, right after the Rift comes out. No price was announced.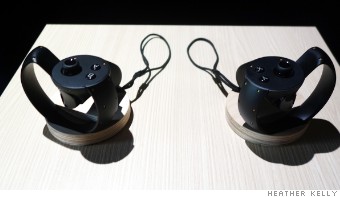 When it comes out next year, the Oculus Rift will ship with a wireless XBox One controller and wireless PC adapter, the company said. It will also work natively with Windows 10.
Other changes to the Oculus Rift hardware include ergonomic tweaks so that the headset is comfortable to wear for extended periods of time, not pulling on your face of throwing off your balance. It's lined in soft fabric and can accommodate glasses better than the beta version. Iribe compared it to tossing on a baseball cap.
When a T-Rex is stomping toward you, the built-in headset's 360-degree sound "tricks your ears" to make it sound like she's the right distance, charging from the right direction.
The San Francisco event was heavy on gaming uses for the Oculus, likely a warm-up for next week's E3 gaming conference. The company previewed some early games coming to the device (in flat 2D), including space dog-fighting in Elite Dangerous, dragon-slaying in Chronos, and icy adventure in Edge of Nowhere. Anna Sweet, head of developer strategy at Oculus, said the company is investing $10 million in a program for independent game developers.