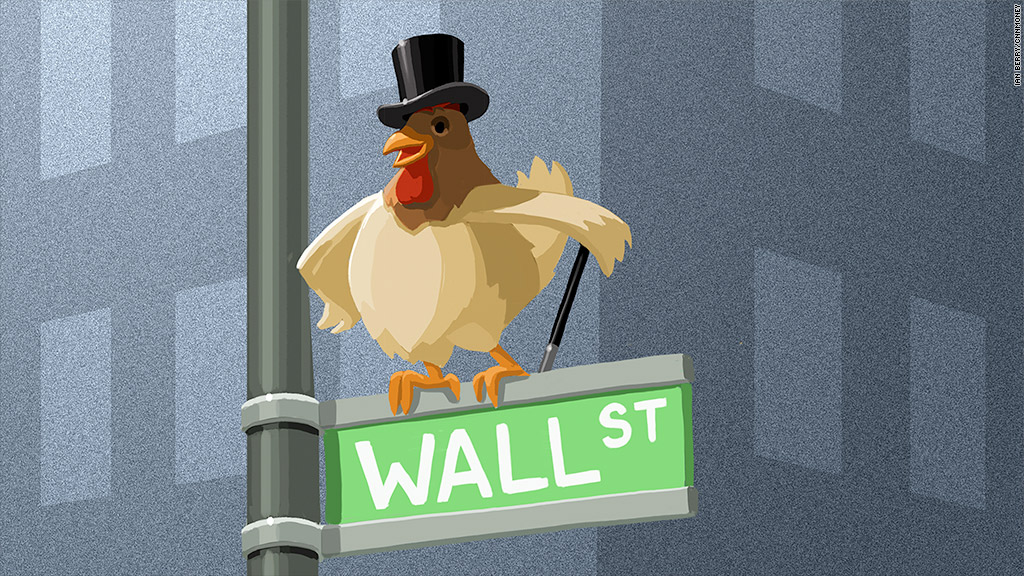 Forget about the burger craze. Investors can't get enough breasts, thighs and wings these days.
Fast food chain Wingstop (WING) started trading Friday morning, and shares skyrocketed 60% from their initial public offering price.
The company, which offers funky flavors like Mango Habanero, Garlic Parmesan and Hawaiian along with more traditional hot wings, has posted consistent growth.
The Dallas-based chain's sales were up 14% in the first quarter. They rose 14% last year and also in 2013. And Wingstop is profitable as well. The chain has 745 restaurants ... 45 of them outside the U.S.
Wingstop is the latest IPO to make Wall Street break out into a chicken dance.
Chicken and biscuits chain Bojangles (BOJA) soared 25% when it debuted last month. Bojangles reported earnings for the first time since its IPO on Thursday.
Related: The best and worst IPOs of 2015
The stock fell a bit Friday but the numbers were great. Total sales were up more than 19% from last year and same-store sales, which measures the performance of stores open at least a year, rose nearly 8%.
Mexican-themed grilled chicken restaurant El Pollo Loco (LOCO) had a "crazy "good first day when it went public last July too. The stock popped 60%.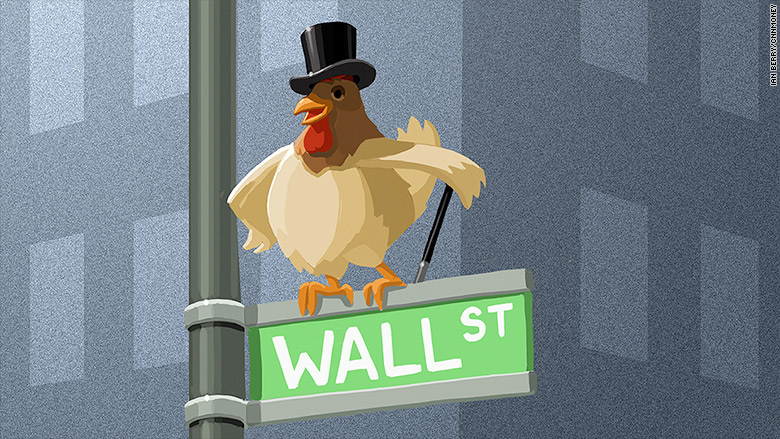 Shares have pulled back from their first day surge but are still 33% above the offering price.
And investors are hoping that the hottest food IPO of 2015 -- gourmet burger joint Shake Shack (SHAK) -- may soon jump on the chicken bandwagon as well.
The stock shot up last month on the news that the company had filed for a trademark for the term "Chicken Shack." Shake Shack does sell chicken hot dogs, but not a chicken sandwich.
Related: Shake Shack stock may give you heartburn
It will be interesting to see if the chicken chains continue to fly high on Wall Street. If they do, expect more IPOs.
Some experts have speculated that Chick-Fil-A could be more likely to go public following the death of its founder last year. And Bojangles competitor Zaxby's has won raves from many chicken fans too.
Check out The Feed for more business stories about what you eat and drink
But it shouldn't be a huge surprise that these companies are doing well.
Even though overall consumer spending has been lackluster, the latest retail sales figures from the government show that people are going out to eat a lot.
Other companies with a big focus on white meat, such as Buffalo Wild Wings (BWLD), Popeye's Louisiana Kitchen (PLKI) and KFC-owner Yum! Brands (YUM), have been Wall Street studs for the past few years as well.
Heck, KFC just resurrected Colonel Sanders in a new ad campaign featuring Darrell Hammond playing the company's famous founder.
Related: KFC is bringing back Colonel Sanders
There are enough chicken stocks out there to create an ETF with a cool name.
Wingstop has already taken the ticker symbol WING. So maybe this fund could trade as FOWL or BIRD?
Now all we need is for someone to make the fictitious Los Pollos Hermanos chain from "Breaking Bad" a real thing and take it public.