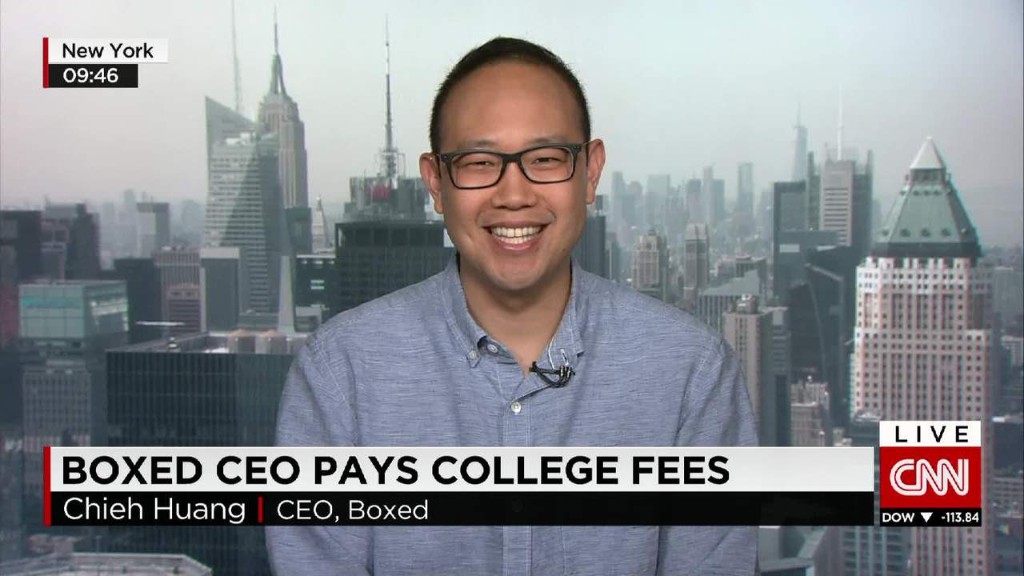 Chieh Huang is using his own money to pay for his employees' kids to go to college.
The CEO of Boxed told CNN's Maggie Lake his decision was one of morality.
Boxed, a mobile commerce startup, is the online version of bulk shopping stores like Costco (COST).
Although technology is one aspect of Boxed's service, Huang said the company would not exist without its warehouse workers who pick, prep and ship the packages.
"These folks have dedicated themselves to our company day in and day out," said Huang. "I'm really nothing without them, so this was just my way of making the situation right."
When Huang made the announcement internally a few months ago, he said there were a few tears in the room, including his.
Some workers texted their wives, who responded with messages like "You can never leave this company ever." Another joked: "This is my green light to have as many kids as possible."
Huang is just the latest example of CEOs who have spoken out about -- and taken action to address -- income inequality.
Earlier this year, Dan Price, CEO of payment processing company Gravity Payments, took a 90% pay cut and slashed his company's profits just so he could give his employees a raise. Price pledged to make sure all of his staffers make at least $70,000 annually in the next three years.
Marc Benioff, the CEO of cloud computing firm Salesforce, has also committed to reviewing everyone's salary and ensuring that men and women in his company are paid equally for the same role.
Huang said his motivations were intended to address similar issues -- but on a long term scale.
Related: Do you owe taxes on your college aid?
When asked why he didn't opt to simply increase pay for his workers, he said it wouldn't make as much of an impact.
Many people who work for Boxed don't have enough to afford a car. Even if he doubled their salary, which is about $13 to $15 an hour, they may be able to buy a car in the short term, but it wouldn't help change the job prospects of future generations.
"There is an issue of inequality of opportunity," he said. "If you can barely afford a car and then you get a double salary, maybe you can afford the car. But can you really pay for four years of education for your children?"
Within the past decade tuition has skyrocketed at public universities across the country. Overall, since the 2007-2008 school year, average annual tuition has increased 29%, or $2,068, nationally.
The silver lining is that while the post-recession years have not been kind to college students, tuition increases have slowed over the last year. The average tuition increase was $107 over the 2014-15 school year, or 1.2%.
Huang told CNNMoney he will provide tuition costs regardless of where the student chooses to go to school, and regardless of the amount.
Currently, 12 employees qualify for the program. The first student to receive a scholarship -- about $20,000 -- will start school in the fall.
Boxed has about 100 workers right now. As that number grows, Huang said he will look for additional ways to increase the educational funds.