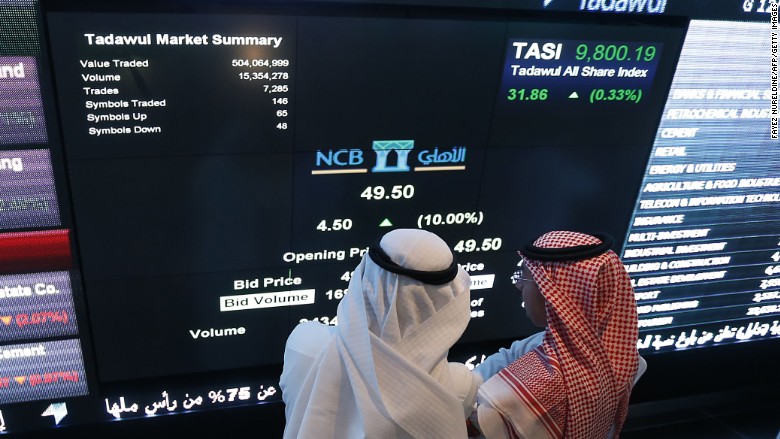 The Saudi Arabian stock market officially opened up to foreign investors Monday.
But there are gobs of restrictions that will keep small investors out.
Only the biggest financial institutions such as banks, brokers and fund managers will be allowed to get into the game.
Here are five key things you should know about the market:
1. It's big: Saudi Arabia has the largest stock market in the Middle East. And the value of all companies listed on the exchange -- roughly $570 billion -- makes it bigger than the main markets in Russia and Mexico, according to the latest data from the World Federation of Exchanges.
It's also one of the last major global stock markets to open up to foreign investors.
2. It's outperforming others: Saudi Arabia's All-Share index -- dubbed TASI -- has risen by 15% since the start of 2015, outperforming all the main U.S. indexes. The MSCI emerging markets index is up a paltry 2.4% so far this year.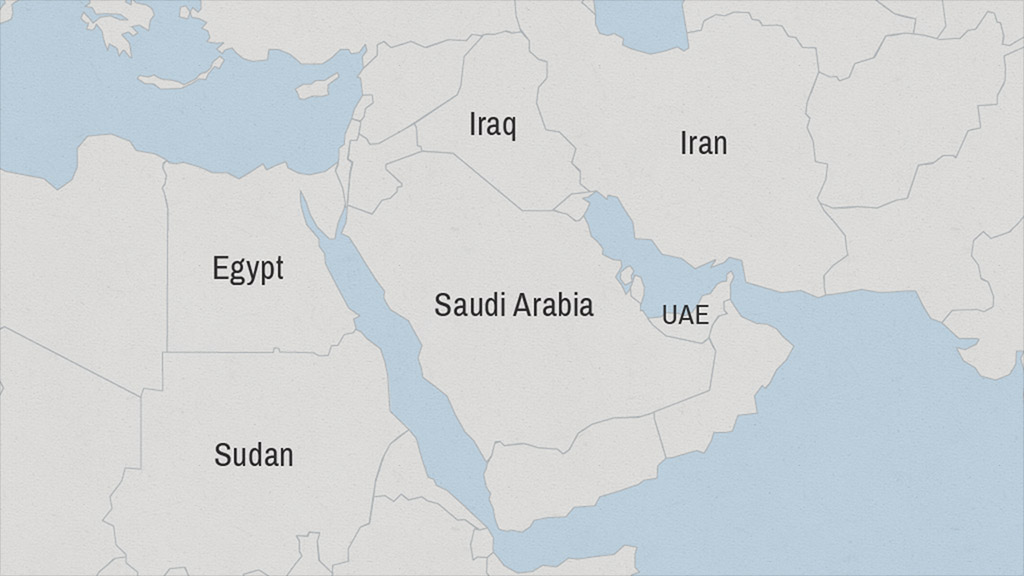 3. There are loads of rules: Even though the market officially opened Monday, investors aren't expected to flood in right away because of a range of restrictions that will keep out the small fry.
Saudi Arabia requires that foreign investors register with its Capital Market Authority before they can begin investing. Only financial institutions such as banks, brokerage houses and fund managers will be considered, and they need to have over $5 billion in assets and over five years of investment experience.
On top of that, approved investors won't be allowed to own more than 49% of any traded company.
4. The little guys can still invest, kinda: Those who can't register as "Qualified Foreign Investors" can still invest through a swap agreement program, but they won't have regular shareholder rights and won't be granted voting rights.
Peter Kohli, chief investment officer at DMS Funds, said he won't be investing in Saudi Arabia because of the restrictions on smaller fund managers.
"When I was told I was locked out of the market, I really didn't look [to invest] because, what's the point?" he said.
5. Why now?: The Capital Market Authority, which oversees the stock market, says it wants to grow its institutional investor base in order to promote market stability and reduce volatility.
The CMA also hopes this "will motivate the listed companies ... to raise their performance by improving the level of transparency, financial information disclosure and governance practices."
Moustafa Zantout, a spokesman for Kuwaiti investment company Global Investment House, believes the ultimate goal is to convince index provider MSCI to include Saudi Arabia in its widely tracked emerging market index.
MSCI benchmarks are used to help investors access a wide variety of global markets and direct billions of dollars into international stock exchanges.