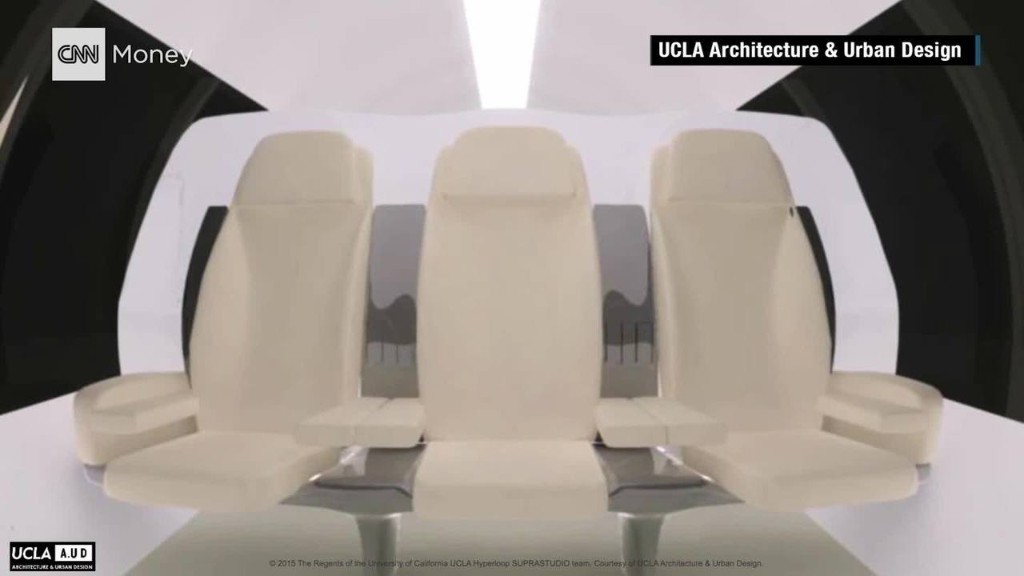 SpaceX announced it's launching a competition to develop the pods that would transport humans and cargo on its high-speed rail concept: The Hyperloop.
In theory, the Hyperloop will shuttle passengers from San Francisco to L.A. in 30 minutes. SpaceX, the space exploration company headed by Tesla (TSLA) CEO Elon Musk, has been looking to develop the concept since Musk first unveiled it in 2013.
To help spur that innovation, SpaceX said it will build a one-mile test track near its headquarters in Hawthorne, California. It's calling on engineering teams and university students to develop the pods, which Musk's concept said should move at more than 700 mph.
SpaceX announced the competition as a way to "accelerate development of a functional Hyperloop prototype." It said the test track should be ready by June, 2016, when the contest is slated to take place. Musk originally said the test track would likely be built in Texas.
The concept for Hyperloop was Musk's response to the news that California was building a $68 billion high-speed rail system with a top speed of 220 mph. Musk said that project was too expensive, and the finished product would be too slow and inconvenient.
The state-sponsored railway is already under construction, but Musk's Hyperloop vision has gained traction. He's said repeatedly that he has no plans for either SpaceX or Tesla to make the Hyperloop commercially viable -- he wants other companies to step in.
So far, at least three companies have already begun working on a version of the Hyperloop.
One of them, Hyperloop Technologies, was formed in 2014 and is run by CEO Dirk Ahlborn, a former SpaceX engineer. That group began construction of its own $100 million 5-mile test track in California recently. The company's twitter feed shows pictures of massive pipes being delivered last week. Ahlborn told Wired in February that his team will use the track to test station setup, boarding procedures and pod design, but not speed.
No one at Hyperloop Technologies was available to say whether the group will be involved in the SpaceX competition, but the company applauded the competition on Twitter, calling it a "great step forward for the advancement of the Hyperloop."
Related: Elon Musk's Hyperloop dream lives on
Entrants in the SpaceX competition must apply before September 15, and in January 2016 the teams will meet at Texas A&M University submit pod design concepts, and get feedback from SpaceX officials, Tesla engineers and university professors. Competitors will also have the opportunity to seek sponsors at the event.
More information about the competition's rules and judging criteria will be released in August, according to the SpaceX website.