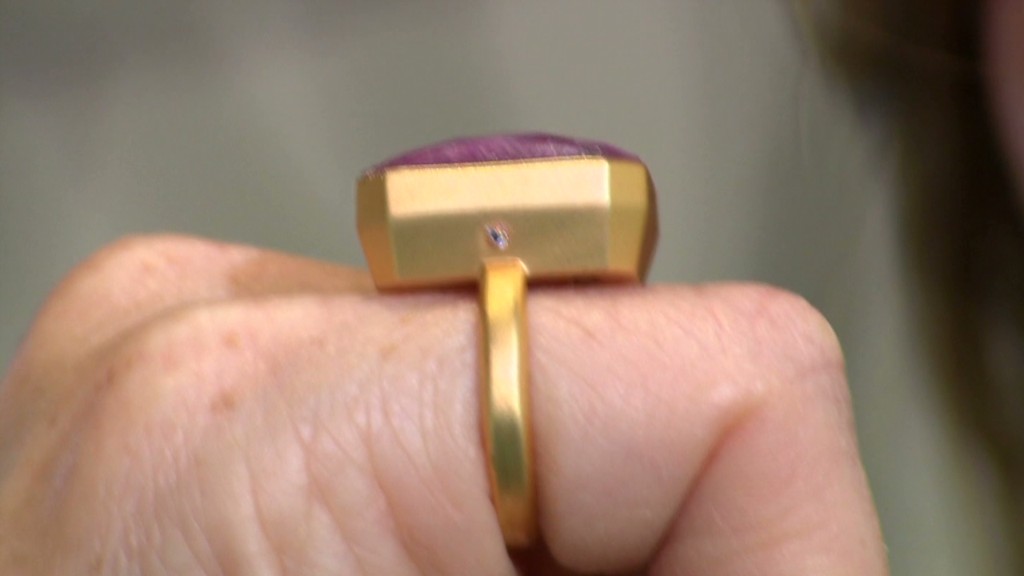 Sometimes your clothes need a little sparkle. And sometimes, they need hundreds of tiny light bulbs that illuminate with messages.
LED-enhanced outfits seem to be creating their own niche in the billion dollar fashion industry lately. Unsurprisingly, celebrities have been among the first to showcase the new light-up fashion.
Earlier this year, House of Fraser's, one of Britain's leading department stores, debuted its "technology enhanced gown" during the BAFTA awards. The gown, embedded with LED lights and motion sensors, detects movement and changes light accordingly.
A London based technology fashion house called Cute Circuit created the first Twitter dress for singer Nicole Scherzinger in 2012. The outfit allows tweets with a specific hashtag to flash across the dress. Cute Circuit has other celebrity clients, including Katy Perry and Sarah Brightman.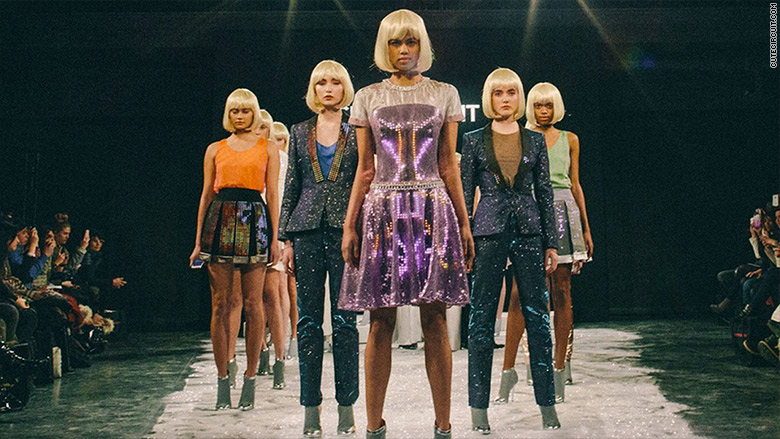 But wild light-up dresses aren't just for the runway or red carpet.
California-based technology fashion company, Electric Styles makes LED-shoes, light-up electro hoodies, bras, neckties and caps for the not-so-famous.
"There is a cultural shift in fashion where the young generation is taking over," said Electric Styles' CEO Nick Kneuper. "Previously, you won't be able to wear them because they were considered weird but people today want to be a little weird. It's a form of expression."
Kneuper projects the company's sales this year to grow two-fold to $2.5 million. Electric Styles has grown to a $10 million dollar clothing brand since its founding in 2012.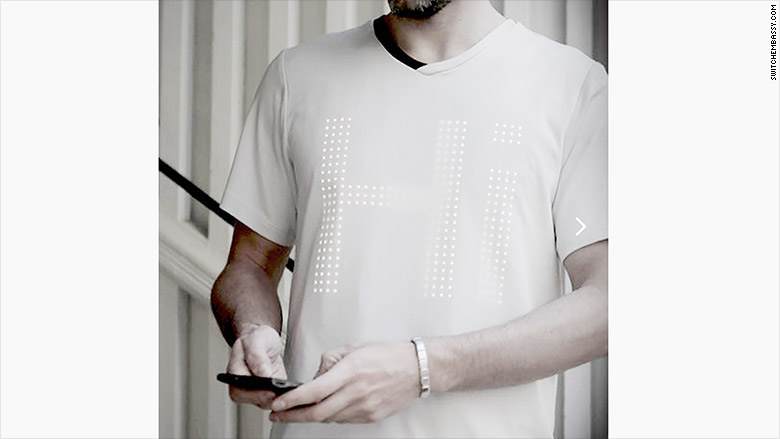 Related: Forget smart watches. Solar dresses are the future
New York based fashion startup Switch Embassy sells outfits that allow you to display customized LED-lit text messages sent from your phone via Bluetooth.
Funded by Scottish whiskey manufacturers Ballantines, Switch Embassy has developed shirts that allow you to say "go away" to unwanted attention without even using your vocal cords.
Using smart fabrics from Swiss textile manufacturer Forster Rohner, these LED embedded textile are durable, versatile and powered by mini rechargeable batteries as big as a "pinky."
Cute Circuit, a pioneer in the wearable technology industry, also created the "hugshirt", an outfit that sends hugs remotely, and the "Twirkle dress". Combining "twinkle" with "sparkle", the Twirkle dress is a micro-LED dress that lights up and changes color according to the movement of the wearer.
"It's a very interactive dress," said Cute Circuit's CEO Francessa Rosella. "It makes you want to move more and be active to showcase the color."
Cute Circuit has embarked to create LED outfits that allow customers to change designs from a selection of patterns from the company's database.
The Italian born Rosella said this allows customers to save on buying multiple cheap dresses and just invest in one with many patterns.