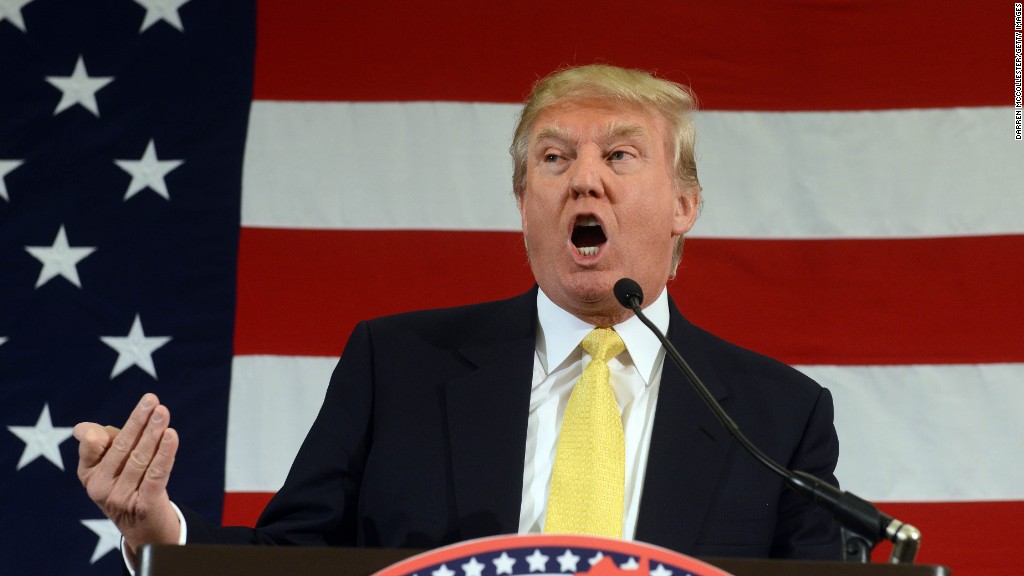 Donald Trump announced his bid for the Republican presidential nomination on Tuesday, and in his speech he harped on one of his best qualities: His money.
Most presidential candidates try to identify with the everyman voter -- Hillary Clinton kicked off her campaign by saying "democracy can't be just for billionaires and corporations." But Trump has always broadcast his wealth.
"I'm really rich," he said.
Just how rich has been a matter of debate for years.
Trump said at the campaign kickoff that he's now worth more than $8.7 billion. Standing at the podium as he addressed the crowd, he waved around a one-page summary of his assets and liabilities.
The document lists $302 million in liquid assets. Beyond that, the assets he lists are hard for the public to quantify, including $3.3 billion in real estate licensing and branding deals. In addition, he lists $3.7 billion in commercial real estate.
Related: Hillary Clinton unleashes attack on Wall Street
Trump promised to issue a complete financial disclosure, including income tax returns, sometime before the first Republican debate takes place.
But third parties that are in the business of assessing the wealth of others have said the real estate magnate is worth much less.
Forbes puts the figure at $4.1 billion. Wealth-X says it's closer to $4.2 billion, though Fauzi Ahmad, a spokesperson for the wealth assessment firm, said the intangible value of the "Trump brand" may boost that number.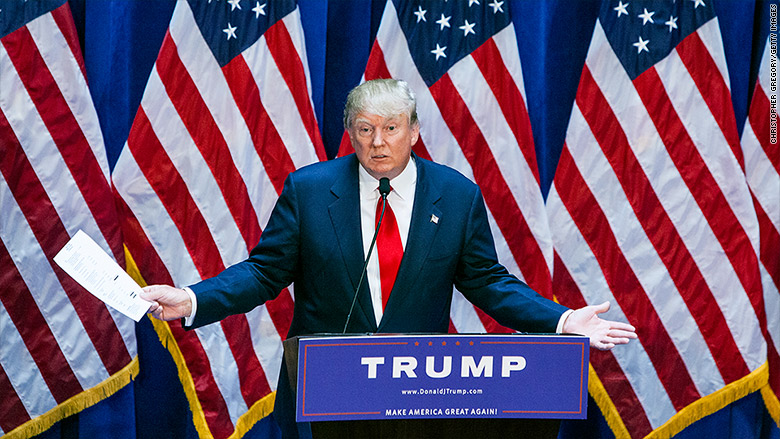 The value of any brand is difficult to quantify, and Trump's is no different. That's where there tend to be the biggest discrepancies between him and third parties. For instance, while Trump values his brand at more than $3 billion, Forbes puts it at just $125 million.
Regardless of the specifics, Trump said his deep pockets are what make him the best person to take over as America's head of state.
"It's not bragging. That's the kind of mindset you need for this country," Trump said. He added that his financial security means he won't be swayed by lobbyists or donors with special interests.
Not everyone is convinced that Trump is that rich, but the Celebrity Apprentice star has staunchly defended his wealth over the years.
Related: NBC to 're-evaluate Trump's 'Apprentice' role
When Timothy O'Brien claimed Trump was only worth between $150 and $250 million in his 2005 book, "TrumpNation: The Art of Being the Donald," Trump sued the author in a $5 billion defamation suit and lost. (The book was published by Warner Books, which at the time was owned by CNN parent Time Warner.)
The next skirmish came in 2011 when Trump first toyed with the idea of running for president. Forbes said at the time that he was worth $2.7 billion, but Trump disputed that publicly.
Related: Jeb Bush 2016: Here's his economic record in Florida
"I can tell you that's a very low number. It's much more than that," he said.
After years of speculation, the public may soon learn the truth. Every presidential candidate has to file personal financial disclosure reports with the Federal Election Commission within 30 days of registering with that agency as a candidate. Despite his public pronouncement, Trump has yet to officially register with the FEC.
But when and if he does sign on, the clock will start ticking.